A day in the life of Nyquist: ice boots, exercise, maybe even acupuncture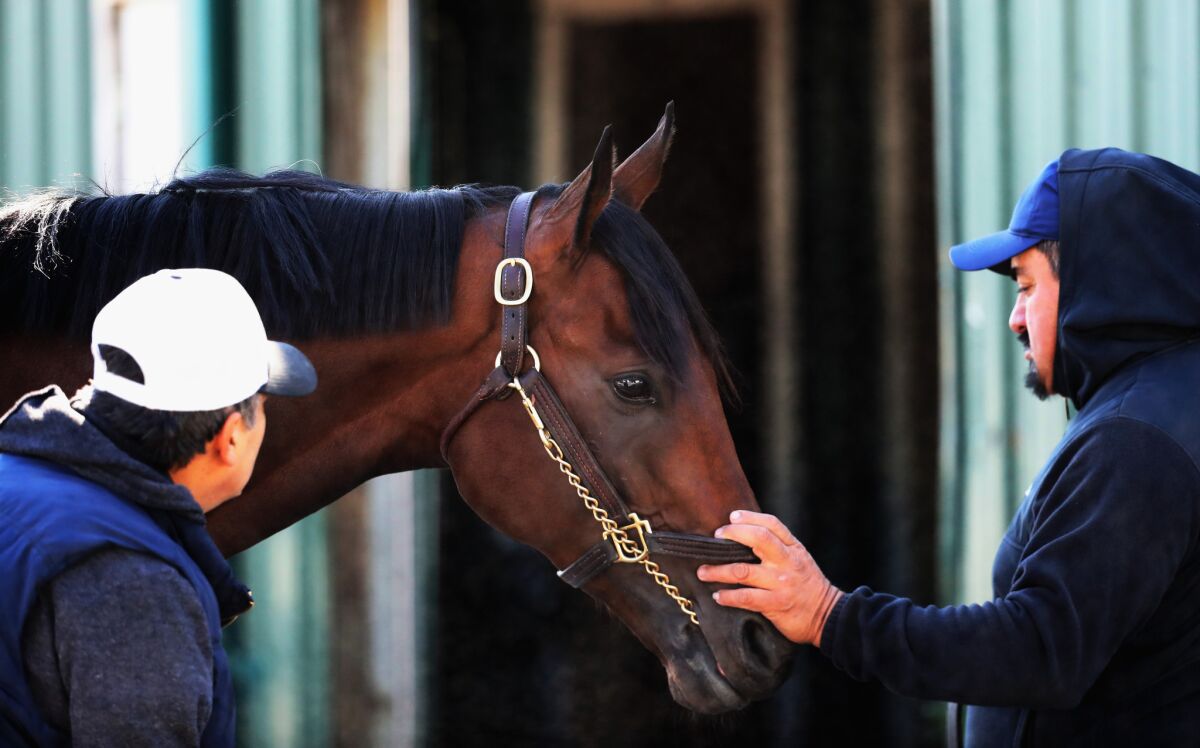 You would think that winning one of the world's most famous races would be life-changing for an athlete: instant celebrity, selfies with adoring fans, fancy meals and even a day or two of well-deserved rest and relaxation.
Not so much for Nyquist, winner of the Kentucky Derby.
As he prepares for this Saturday's running of the Preakness, the second leg of the Triple Crown, the Santa Anita-based colt lives a Groundhog Day existence. Sure, he did enjoy some travel earlier — from California to Florida to Kentucky and now to Maryland.
But his boss, trainer Doug O'Neill, is wedded to routine. So Nyquist's days begin with a predawn wake-up call, followed by a collection of walks, runs, equipment changes, chiropractic work and a vibrating floor. His reward is a bucket filled with grain, molasses and a few carrots.
Here's a day in the life of the sports world's newest star.
4:30 a.m.: Time to rise. Much like parents turn on the lights to get their recalcitrant kids out of bed, the grooms not-so-quietly go about the barn flipping light switches.
Nyquist sleeps lying down a couple hours a night — research says it promotes REM sleep. But most of his time is spent leaning against the left side of the stall — a 12-by-12-foot space — with his head pointed toward the front.
"Some horses you can light off a firecracker and they won't wake up," O'Neill said. "But he's a light sleeper. If he heard anything, he would be at the front of the stall. Most of the good horses have that in common. They want to know what's going on and what they can do to help."
Elias Anaya is Nyquist's groom, and they know each other's rhythms well.
"He's always eager to see Elias," O'Neill said.
Anaya has one day off a week, and O'Neill has five or six grooms who fill in. Incidents of being bitten by Nyquist increase on those days.
4:40 a.m.: Anaya puts the halter over Nyquist's head, turns him around and ties him to the back of the stall.
Anaya takes off Nyquist's stall bandages, which keep the horse from accidentally hurting his legs in the night. Then the feed bucket is taken out of the stall to see how much Nyquist had eaten.
"Horses really communicate through their feed tub," O'Neill said. "If they are eating well, they are doing well."
Each groom has four or five horses, so Nyquist has some alone time as Anaya tends his other horses. But Nyquist is always at the top of Anaya's list.
5:30 a.m.: Anaya unties the 3-year-old colt from the back of the stall, allowing him to roam a bit. Despite the freedom, he usually goes back to his comfort zone on the left side of the stall.
6:15 a.m.: The groom is back to put ice boots, which look like long socks, on Nyquist. They help if there is any inflammation and are also good for circulation.
6:30 a.m.: A horse's version of an electric blanket is placed over Nyquist's back to help warm his entire body.
"He loves it, they all do," O'Neill said.
6:45 a.m.: The ice boots come off.
6:50 a.m.: The electric blanket comes off.
6:55 a.m.: The saddle and bridle go on, and he's taken out of his stall for a short walk around the barn.
7:00 a.m.: Jonny Garcia, Nyquist's regular exercise rider, is aboard, and they align with assistant trainer Jack Sisterson and his horse and walk to the track for about 2 miles of exercise.
A couple days a week Nyquist only jogs for 2 miles; other days, he'll jog for half a mile and gallop for a mile and a half. On occasion he'll have a full workout or an accelerated gallop. The day after a workout he'll just walk.
"He would gallop every day if we would let him," O'Neill said. "Once they start running, you don't want to overdo it."
Back at the barn, the grooms are doing full maid service to his stall.
8:00 a.m.: Nyquist is back at the barn, where he walks for about 30 minutes, stopping every five minutes to get a drink.
8:30 a.m.: He goes back in the stall to rest.
9:00 a.m.: It's back on the shedrow for another walk.
9:15 a.m.: Nyquist returns to the stall, where a good-sized bundle of hay is placed in the back right corner.
"He can just drop his head and graze like he was in an open pasture," O'Neill said. "It helps keep the mucus from building up and is just good for his overall health. It's more leisurely. He won't eat it all in one serving.
"This is when we just let him be a horse and nobody messes with him," he said.
10:00 a.m.: Nyquist pokes his head out of the stall, looking for his next meal.
"He's the first one fed in the barn," O'Neill said. "If we don't feed him first, he gets upset. About once a month we're late, and he lets you know he's not happy."
The meal is about 3 to 5 pounds of grain, mixed with molasses-based feed and carrots. He will eat that in less than an hour. While he eats, Anaya puts the ice boots back on him.
10:30 a.m.: The ice boots come off, and Anaya cleans Nyquist's feet and puts on a mud poultice to keep them pliable. On alternate days, Anaya applies either a liniment hot sweat or a cold poultice from the knee to the ankle to improve circulation.
11:00 a.m.: Anaya takes the feed tub and puts it in the stall, and Nyquist gets four hours of alone time.
"We don't allow any visitors, we just let him rest," O'Neill said. "He'll usually just go to his side of the stall and sleep standing up."
3:00 p.m.: Anaya ties Nyquist up at the back so he can clean up the stall.
3:10 p.m.: Nyquist goes for a five- to 10-minute walk before he's taken to a special stall where he stands for about 15 minutes on a vibrating plate. It's intended to help blood circulation and aid digestion.
"If a horse has good circulation in their feet, it's also good for their belly," O'Neill said. "Horses can't throw up. And if they can't poop it out, then they can get colic. This helps with the gut activity."
The vibrating floors are also used to improve and maintain bone density. "They did show merit in that capacity," said Dr. Larry Galuppo, chief of the Equine Surgery and Lameness Service at the UC Davis veterinary hospital. "Vibrating floors are also being utilized to treat ligament and tendon injuries."
3:30 p.m.: Nyquist goes for another 10-minute walk, and about four days a week, he visits physical therapist Tyler Cerin.
"He'll probably do 10 minutes of chiropractic work and another 20 minutes with different kinds of machines," including lasers and pulse machines, O'Neill said. "It also helps to diagnose soreness. After a session with Tyler, I'm a lot smarter."
Nyquist also sees an acupuncturist on occasion.
4:00 p.m.: He returns to his stall, where he lies down and rolls in the hay in an attempt to realign himself after the physical therapy.
4:30 p.m.: A groom prepares a dinner of oats, grain, bran and crushed corn, all cooked and mixed to form an oatmeal-like consistency. The morning meal is dry, and the afternoon is wet and almost twice as large.
It creates a Pavlovian response among the horses.
"The smell of cooked grain is a beautiful scent for them," O'Neill said. "They can hear the guys cooking it, banging the pots, and they get real excited."
4:45 p.m.: The meal arrives at Nyquist's stall and he gulps it down, then backs off, saving some for later.
After that, stall bandages are put on. He and the other horses hang out, waiting for bedtime.
9:00 p.m.: Nyquist's day comes to an end. He usually lies down in his stall. He may get up and finish his dinner, which is almost always eaten altogether by 10 or 11.
A night watchman monitors the horses, making sure they have enough water and alerting the
training staff if anything's wrong.
4:30 a.m.: It starts all over again — unless he's racing.
Race day: The routine changes and Nyquist, like most horses, picks up on the cues.
"He absolutely knows today is the day," O'Neill said. "He knows when he doesn't go to the track in the morning, and he really knows when we pull that feed tub.
"He knows it's time."
That's when Nyquist puts on his game face.
Follow John Cherwa on Twitter: @jcherwa
---
Get our high school sports newsletter
Prep Rally is devoted to the SoCal high school sports experience, bringing you scores, stories and a behind-the-scenes look at what makes prep sports so popular.
You may occasionally receive promotional content from the Los Angeles Times.