Column: A match they didn't want to play proves to be their most important win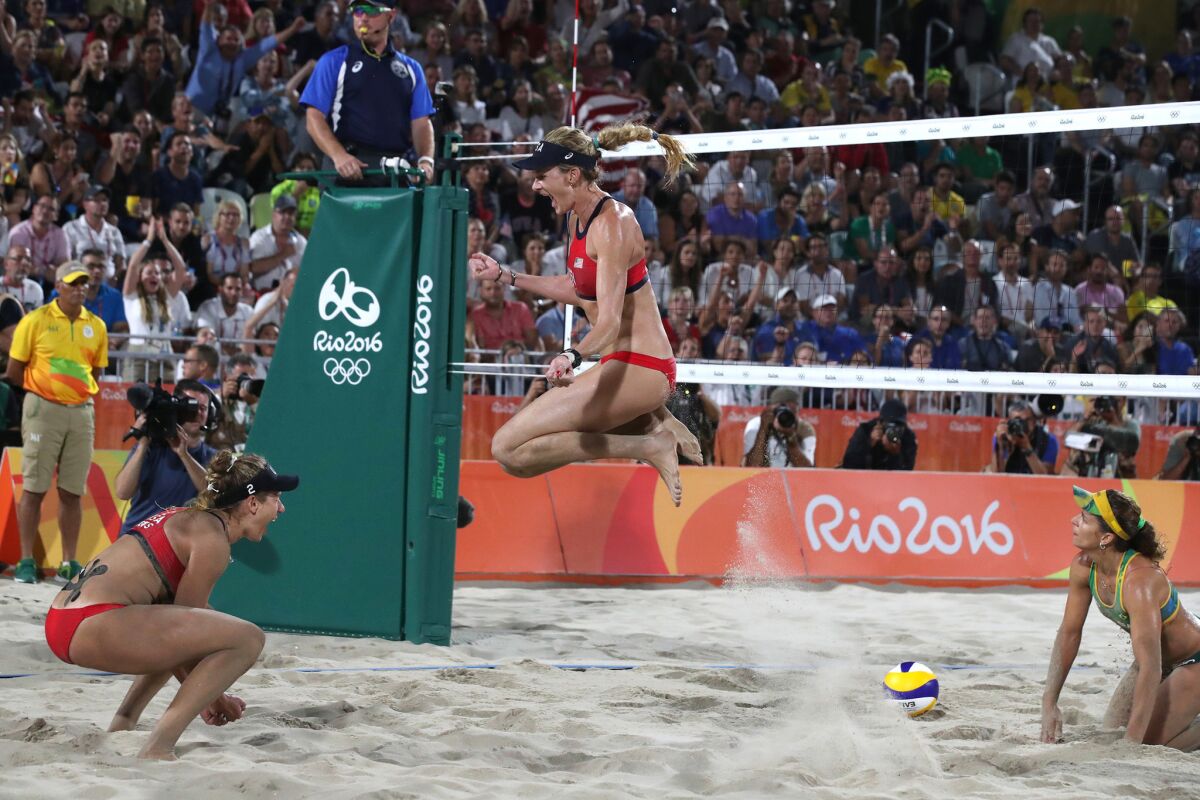 Reporting from Rio de Janeiro —
They didn't want to be here. They didn't want to play this match. Why did they have to play this match?
When Kerri Walsh Jennings and April Ross stepped on to the sand at Rio's beach volleyball arena on Copacabana Beach a couple of hours before midnight Wednesday, they wanted to disappear into the waves that crashed behind them.
This was for a bronze medal. This was a consolation round. This was loser versus loser. Ask any athlete. This is the worst work at these Olympics.
"The hardest match to play in sports," said Walsh Jennings.
Worse yet, they were playing a Brazilian team of Larissa and Talita in front of thousands of booing and jeering Brazilians decked in green and yellow and ridicule.
"Gnarly, so gnarly," said Ross.
Less than 24 hours earlier, their dreams of gold had disappeared with a loss to the Brazilian team of Agatha and Barbara. It was the first loss in four Olympics for Walsh, breaking the 26-match Olympic win streak she had mostly fashioned with Misty May-Treanor, three consecutive gold medals suddenly gone with the tide.
"Devastated is a big word," said Walsh Jennings. "But we were devastated."
Both Walsh Jennings and Ross did not sleep after their loss, both stewing all night in their rooms, staring at the ceiling, both trying to figure out how to get motivated for a match that felt more like an embarrassment.
"Talked to myself all night long, so hard to get up for this match," said Walsh Jennings.
So they stepped on that sand two hours before midnight Wednesday and they didn't get up, they fell, hard, stumbling around, losing the first set, 21-17, while seemingly all of Brazil danced and sang over their vacant expressions.
"I was in shock last night, then it slowly got worse," said Ross.
Then it was nearly over, Brazil taking a 14-13 lead in the second set, seven points from victory, a "U-S-A" chant drowned out by boos, a ball spraying off Ross' fist toward the stands for another lost point.
Then Walsh Jennings chased it down, nearly ran over an advertising board, amazingly knocked the ball back to Ross, leading to a 14-14 tie, and something happened.
Resilience happened. Relentlessness happened. Something that looked like America happened.
"I thought, 'Stop feeling sorry for yourself, it is an honor to have another day to fight for what you want, so go fight for it,'" said Walsh Jennings.
She fought, and Ross fought too, and in that moment, everything changed, the Brazilian team grew tentative, the crowd quieted, and for the Americans, this bronze-medal match was starting to feel like gold.
"I thought about our troops," said Ross. "I thought, to not get up for this would be a dishonor for our country."
So honor America they did, as well as honoring themselves and their sport, two women giving the effort of a dozen, blocking and digging and flying all over the court, thrusting their arms into the air with each little triumph, screaming wide-eyed to each other with each little challenge.
"Kerri chasing that ball down was the little mojo we needed," said Ross.
They outscored the Brazilians 7-3 after that defining moment to win the set, then rolled 15-9 to win the third set, the match, and a medal that defied description.
This battle of "losers" was the most winning thing your correspondent has seen at these Olympics. That bronze medal will mean more to Walsh Jennings than all three of her golds.
"Times a million," she said.
Afterward, Ross and Walsh Jennings stood in the middle of the sand hugging, and separating, and hugging, and separating, and hugging again, like even they couldn't believe that a humiliation could be transformed into a hallelujah so powerfully, so fast. Eventually, the sight moved even the Brazilian fans to put down their flags, stand tall, and cheer.
"It's amazing what 24 hours can do, what we are capable of doing, what the American spirit is capable of doing when you're backed into a corner," said Ross.
The Brazilian team was so stunned, by the time they met reporters nearly an hour afterward, they had not even bothered to brush the dark and crusty sand from their bellies.
Talita was asked, what happened?
"We play against Kerri," she said simply. "She never give up. That's it."
This was indeed a huge moment for Walsh Jennings, who, at age 39 with three children and five shoulder surgeries, might have played her last Olympic match. If so, she said she was not playing alone.
"I had a huge visual of an army of loved ones behind us," she said.
This was also a big moment for Ross, who is trying to fill the huge footprints of May-Treanor. She looked out of place in their semifinal loss, but found herself at just the right moment.
"I just knew we weren't going away," she said.
This was also a victory for their coach Marcio Sicoli, who knew they were down before the match and gave them a memorable pep talk that resonated during their comeback.
"This is for your country, your people, your children, your husband, your family," he told them.
They heard him. They heard themselves. The only thing Kerri Walsh Jennings and April Ross didn't hear after Wednesday night's match was the national anthem, but that's OK.
With a volleyball in their hands and a flag on their chest, they played it.
bill.plaschke@latimes.com | @BillPlaschke
MORE FROM BILL PLASCHKE:
U.S. women's basketball team isn't too good for its own good, it's simply the best ever
Durant gets into the Olympic spirit with a spirited gold medal performance
---
Get our high school sports newsletter
Prep Rally is devoted to the SoCal high school sports experience, bringing you scores, stories and a behind-the-scenes look at what makes prep sports so popular.
You may occasionally receive promotional content from the Los Angeles Times.