Column: DeAndre Jordan is having the time of his life chasing gold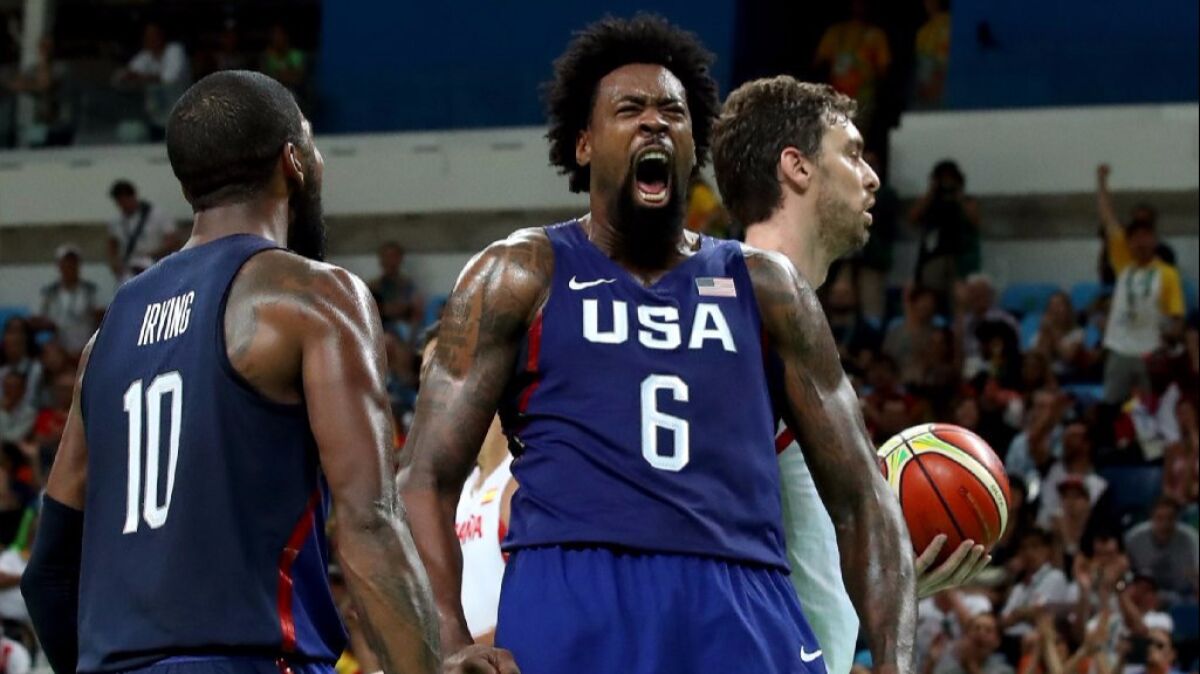 Reporting from Rio de Janeiro —
He's always been third.
As much lovable cartoon character as feared NBA star, his missed free throws as celebrated as his highlight dunks, DeAndre Jordan has spent his career as a giant in a shadow.
For eight seasons with the Clippers, he has never even been the most important player on his team.
Which made it fairly breathtaking Friday when he was the most important player in his country.
Meet D.J., the flying, blocking, board-rattling Olympian.
Meet the wild-haired, deep-laughing dude whose game has suddenly taken on worldwide importance.
On an eye-opening Friday afternoon, a U.S. men's basketball team bogged down by inconsistent defensive energy and a lack of clear leadership pulled both out of that shadow.
Meet the guy who just saved gold, as Jordan grabbed 16 rebounds, blocked four shots, altered a dozen more, slowed former Laker Pau Gasol, and led the U.S. to an 82-76 victory over Spain in the Olympic men's basketball semifinals.
"He played a great game — not a good game, a great game," said U.S. Coach Mike Krzyzewski. "We wouldn't be playing for a gold medal if DeAndre didn't play that well."
DeMarcus Cousins fouled out, Jordan crashed at both ends. Kevin Durant made just six baskets, Jordan scored on putbacks and alley-oops. He had more rebounds than any two players on either team combined, as many blocks as every other player combined and offered 27 minutes of energy that drove Gasol (nine for 19) and Spain mad.
"Our strategy was to attack [Jordan] with Pau, but we could not do enough," said Spain's Nikola Mirotic.
The men's team has 56 consecutive wins in major international events, 24 consecutive Olympic wins, and one of its stars is a guy who, at seemingly the last minute, climbed from behind Chris Paul and Blake Griffin join the patriotic party.
"For me, it's great, starting for your country's team, being a player on your country's team, it's amazing, it's a huge honor to be up here," Jordan said during his first visit to the news conference stage at Carioca Arena.
Imagine that: DeAndre Jordan as a national hero. It's just one game from becoming a reality, as the U.S. team will seek a third consecutive gold medal Sunday afternoon here against Serbia.
If it's anything like Friday, Jordan will start, set the defensive tone, be allowed to move freely inside the paint, be encouraged to swat and soar and even shoot.
"Right now our hearts are bleeding," said Spain Coach Sergio Scariolo. "Their athleticism … their size … their intimidation."
It came from their D.J., who doesn't have Paul tightly controlling the tempo, or Griffin crowding through the middle. He is surrounded by relaxed all-stars who sort of step back and let him do his thing. Since becoming a starter in the last game, the last member of the Clippers' Big Three is treated in Krzyzewski's system as The Biggest One, and he is loving it.
"It's so fun, so cool, I fit into the role so easy, it's perfect," Jordan said after the news conference, hanging out in a hallway, having too much fun to leave.
And oh yeah, because international rules call for two-shots-and-possession for every intentional foul, there hasn't been the embarrassing Hack-a-DeAndre strategy employed here, and his 42% foul shooting in seven games hasn't been a factor.
"I have one job on this team, that's to come out and play with as much energy as I can," he said. "Be me."
On Friday it was a free "me," a joyful "me," the sort of "me" not always seen by Clippers fans as Jordan sometimes struggles on a court crowded with stars. His most famous moment has actually come off the court, last summer, when he was involved in a clanging free-agent tussle during which he agreed to go to Dallas before teammates and Coach Doc Rivers persuaded him to stay in Los Angeles.
"He's such a good teammate," Krzyzewski said. "He's so easy to play with. Not that he doesn't feel that with the Clippers, of course he does, but here, with his peers, to be in this atmosphere, is great."
All this, and he's so thrilled to be on his first Olympic team, he even caused a stir earlier here when he told ESPN that a gold medal means more than an NBA ring. He was just caught up in the Olympic spirit, and probably won't be saying the same thing next April, but still, it's cool that he cares.
"It's amazing, I can't really put it into words," he said of the Olympics. "It's something you watched as a kid, thinking I want to go to a game. Then, now, I'm playing in these Games."
One might think the experience is almost enough to soothe Jordan's memory of the awful endings to the recent Clippers playoff attempts. One would be wrong.
"Hell no! None of that, none of that!" Jordan shouted in that hallway. "I want to be NBA champion, I want to get out of the second round, you know what I mean?"
As usual, his mock anger turned back into a smile.
"This could definitely be a good kick-start to next season, you know?" he said.
It is certainly a kick-start to seeing what DeAndre Jordan can become when he is playing with freedom, working with joy. The biggest man ever to get lost in a Staples Center crowd is not only on the verge of striking Olympic gold, but also changing that nagging perception.
Finally, no shadow. At last, all giant.
Follow Bill Plaschke on Twitter @billplaschke
Get our high school sports newsletter
Prep Rally is devoted to the SoCal high school sports experience, bringing you scores, stories and a behind-the-scenes look at what makes prep sports so popular.
You may occasionally receive promotional content from the Los Angeles Times.