Column: Shaun White is surviving his #MeToo moment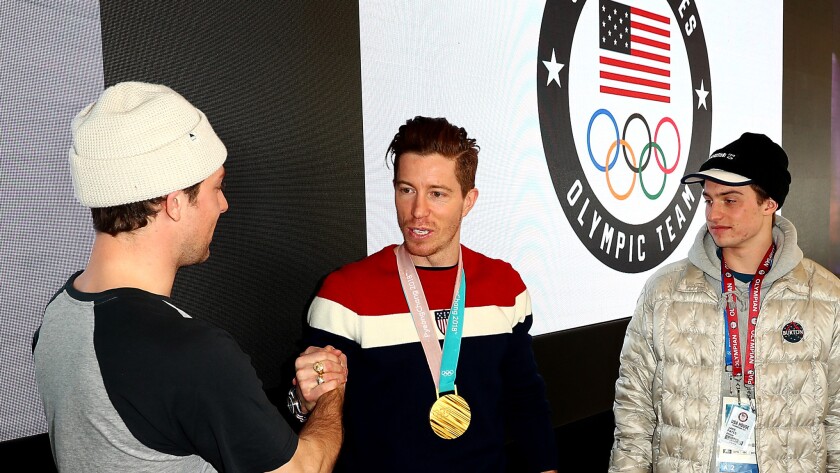 Reporting from PYEONGCHANG, South Korea —
Spectacular performances by the likes of Yuzuru Hanyu and Chloe Kim have obscured the improbable upset that is unfolding at these Games.
Shaun White is surviving his #MeToo moment.
The iconic snowboarder won what was potentially the most expensive gold medal in history, as his return last week to the Olympic spotlight resulted in the resurfacing of two-year-old sexual harassment claims against him. White appeared headed for ruin, but the allegations haven't resulted in lost endorsement deals as of yet.
The lawsuit filed by a former female drummer in his band was settled out of court. From a legal standpoint, White hasn't been found guilty of any wrongdoing, although he did admit to sending inappropriate text messages to his former bandmate.
Perhaps the standard of misconduct necessary to outrage people has increased. The accusations leveled against White were appalling but lacked the shock value of the stories that involved Harvey Weinstein or Louis C.K.
What this really speaks to, however, is the binary prism through which sports are viewed. As evidenced by the public's inability to make coherent sense of performance-enhancing drugs, sports fans aren't wired to deal with complexity. If anything, the absence of complexity is what makes sports appealing to them. Teams win or lose. Athletes are good or bad. The real world is almost entirely gray and psychologically exhausting. Sports provide an escape to a simple world of black and white.
Incapable of reconciling White the snowboarder with White the alleged sexual harasser, society will do what it typically does in these cases, which is to celebrate him as an Olympic champion and relegate his transgressions to an annotated footnote.
On alert
Is this the one?
Many of us covering these Olympics ask ourselves that multiple times a day.
Local governments here send out emergency alerts for just about anything — high winds, fires, pollution. The problem is that most of us have no idea what the messages are about. They are in Korean.
As much as we have conditioned ourselves to ignore these messages, the alarms are a constant reminder of our proximity to North Korea and its nuclear weapons program.
Giving back
It rained Pooh when Japanese figure skater Hanyu completed the short and free skate programs, as fans heaved stuffed Winnies on to the ice. The practice started because Hanyu used to travel everywhere with a Winnie the Pooh tissue-box cover.
So what happens to the hundreds of bears?
Hanyu said he wanted to give them to the people of Pyeongchang and Gangneung, which staged the figure skating competition.
"People might think it's strange, but I would like to show my appreciation for the energy and positive thoughts they gave me," Hanyu said in Japanese.
Lovin' it in Asia
There's nothing like McDonald's after a week of subsisting on Korean and Japanese cuisine, no matter how delicious.
McDonald's is generally better in Asia than it is in the United States, the ingredients fresher and the hamburgers constructed with enough care where the patties are placed in the middle of the bun.
This is a dangerous dragon to chase, however. I made a second visit to the golden arches in the Gangneung Olympic Village and, well, let's just say I had to reach in my backpack for a bottle of antacids.
Limited resources
Participating in winter sports requires access to ice or snow, which immediately rules out a significant percentage of the global population from the pool of potential athletes. The cynic in me wonders whether most of these champions would still be champions if more people had the opportunity to pursue these sports.
What can't be questioned, however, is the courage of Winter Games athletes. The sports fall into one of two categories: potentially life-threatening or, in the case of aerobically based endeavors such as speedskating or cross-country skiing, extremely painful.
Then, of course, there is curling, which is not a sport and has no business in the Olympics.
Crowd pleasers
Figure skating fans applaud anything or anyone. They clap when a skater falls. They even clap for the judges.
Before the men's free skate program Saturday, each judge was introduced over the public address system. The judges stood and waved to the crowd, which politely applauded.
If boxing had a similar ritual, I imagine its judges wouldn't receive such warm welcomes.
Follow Dylan Hernandez on Twitter @dylanohernandez
---
Get the latest on L.A.'s teams in the daily Sports Report newsletter.
You may occasionally receive promotional content from the Los Angeles Times.