Paul Pierce finally reveals what happened during the infamous wheelchair game against the Lakers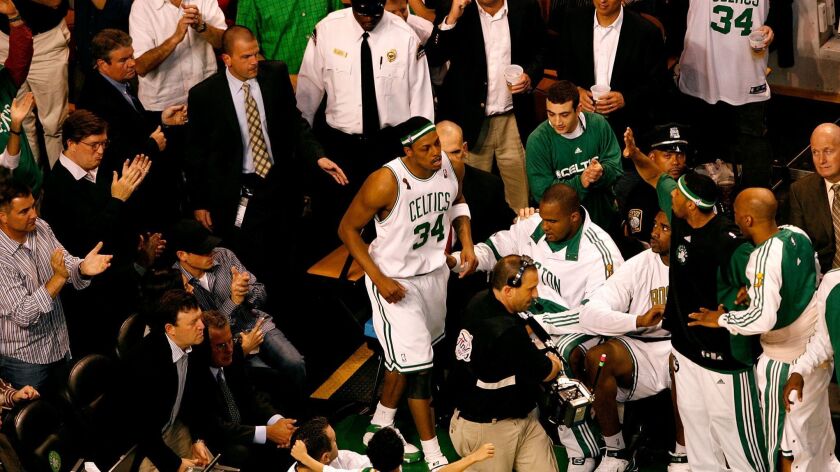 For more than a decade, NBA fans have wondered exactly what went down with Paul Pierce in Game 1 of the 2008 NBA Finals. How was a guy whose knee was apparently hurt so bad he needed a wheelchair to be taken into the locker room able to bound back onto the court minutes later and lead the Boston Celtics to victory over the Lakers?
And now Pierce has finally given us an answer.
Lakers fans surely don't need a refresher on what happened on June 5, 2008, but here's one anyway. Kobe Bryant and company were up by four midway through the third quarter when Pierce fell to the floor and clutched his right knee in apparent agony. He was carried off the court and wheeled away.
But just one minute, 45 seconds of game time later, Pierce was suddenly back in the game as if nothing had happened. As Los Angeles Times columnist Bill Plaschke wrote of Pierce at the time: "He was so hurt, he immediately began sprinting around the stunned Lakers defenders. He was in such pain, he hit consecutive three pointers late in the period that gave the Celtics the lead for good."
Wednesday night marked the 11th anniversary of that infamous game. Pierce, now an analyst for ESPN, took the opportunity to finally offer an explanation. Lakers fans aren't going to like it.
"I have a confession to make," Pierce said during the "NBA Countdown" broadcast prior to the Toronto Raptors' 123-109 victory over the Golden State Warriors in Game 2 of this year's NBA Finals.
"I just had to go to a bathroom."
So there you have it. After all these years, we finally know the truth — if Pierce is, in fact, telling the truth and not just having fun with a popular conspiracy theory that's been out there for a while.
Sign up for our daily sports newsletter »
He never really answered the obvious question of why he needed a wheelchair if all he had to do was use the facilities.
But his latest explanation still makes a lot more sense than the one Pierce offered on that night 11 years ago: "You know, I think God sent this angel down and said, 'Hey, you're going to be all right, you need to get back out there, show them what you've got.' "
Twitter: @chewkiii
---
Get our high school sports newsletter
Prep Rally is devoted to the SoCal high school sports experience, bringing you scores, stories and a behind-the-scenes look at what makes prep sports so popular.
You may occasionally receive promotional content from the Los Angeles Times.