As the likes of USC and UCLA have struggled, tiny Pomona-Pitzer has big basketball dreams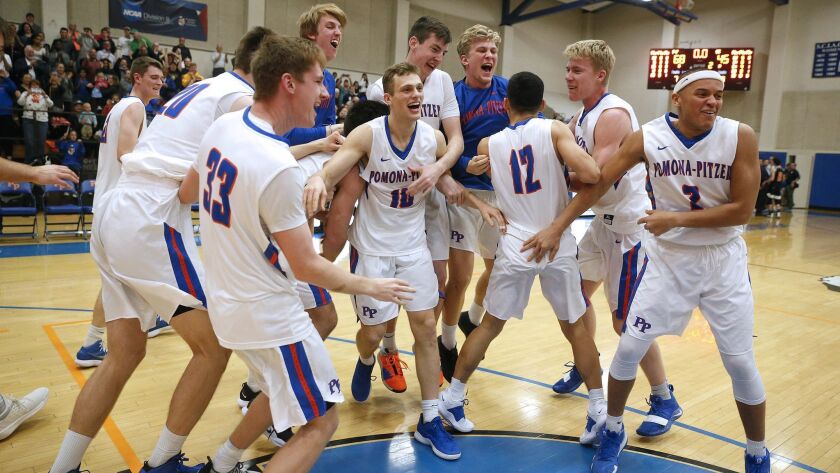 This is what March Madness looks like in Southern California this season.
A small gym on a campus tucked against the foothills of the San Gabriel Mountains. Five hundred or so fans trying to compensate for their numbers by chanting "Defense" as loudly as possible and stamping their feet against the wooden bleachers.
Down on the court, the Sagehens of Pomona-Pitzer are playing for their lives.
"Our coach always says every game is 40 minutes," said Daniel Rosenbaum, the team's star guard. "We just had to keep it solid."
In this dismal winter for local college basketball, UCLA and USC have struggled, as has Cal State Fullerton. A slow start has left San Diego State scrambling. Among big schools, only Irvine seems poised to advance to the NCAA tournament.
All of which makes Pomona-Pitzer an unexpected feel-good story. This obscure squad with no athletic scholarships and no television deals ranks among the best of the small colleges in Division III.
Heading into the Southern California Intercollegiate Conference championship last week, the Sagehens needed only one more victory to guarantee a spot in the postseason.
But it wasn't going to be easy.
Falling 14 points behind Occidental in the early going, they needed a comeback. They needed to get some stops, some steals.
"That's what differentiates us from other teams," guard Corbin Koch said. "Yeah, it's fun to shoot threes and dunk on people … but we place value on little things, like moving your feet on defense."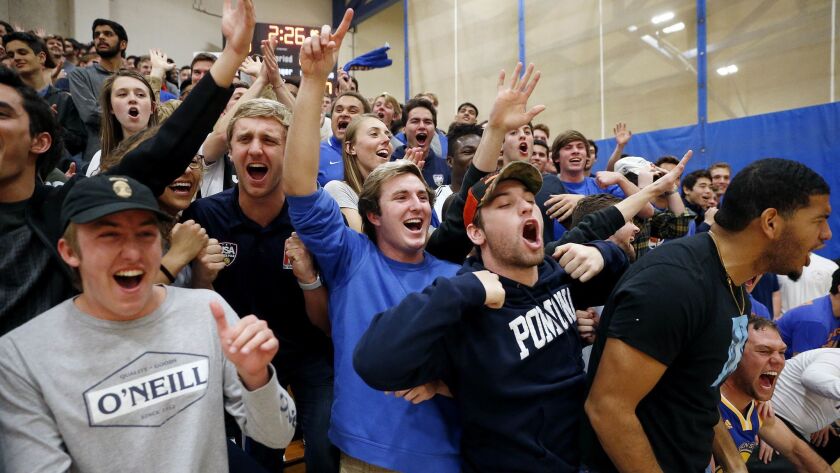 ::
If you need an excuse to root for Pomona-Pitzer, to get excited about a less-than-glamorous version of the college game, start with the coach.
Charles Katsiaficas spends much of the game standing on the sideline with arms crossed, wearing an expression every bit as stern as his dark suit and tie. Occasionally he claps his hands and shouts.
His commands are simple, often beginning with the same exclamation.
"Hey, I want an open shot," he barks. Or: "Hey, you've got to rebound."
Not long after graduating from Tufts, where he was team captain, the Maine native came west to Pomona-Pitzer in the mid-1980s to serve as an assistant for then-coach Gregg Popovich. Yes, that Gregg Popovich.
The long-struggling program was beginning to establish itself as a winner, taking on schools from higher divisions, earning conference championships and reaching the playoffs.
Katsiaficas left for a short time, joining the staff at the University of San Diego, before returning 1988 to replace Popovich, who had chosen a glitzier path with the San Antonio Spurs in the NBA.
"I think the program's in more-than-capable hands," Popovich said at the time.
The Sagehens had an identity that suited Katsiaficas: Defense and rebounding, push the ball upcourt and, if the fastbreak isn't available, slow things down. Lots of passing.
This is basketball at its lowest-common denominator, at a level where there isn't enough blue-chip talent to run constant isolation plays.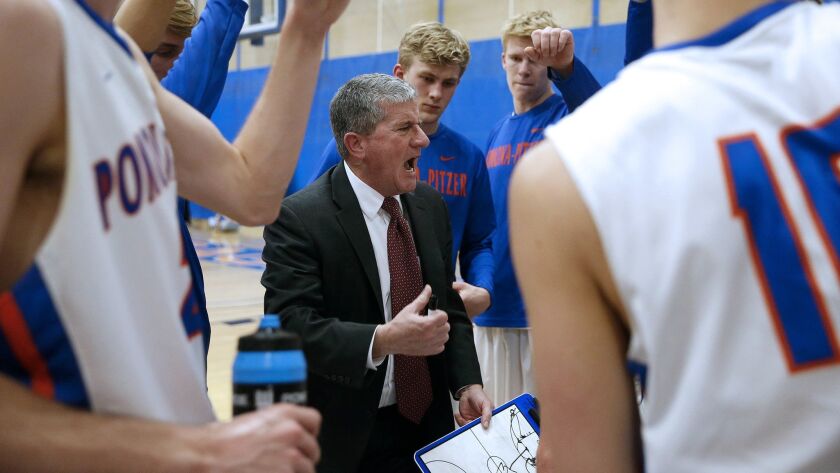 "Really good defensive teams," Occidental coach Brian Newhall said. "They're always in position and that makes it hard to score."
In 32 seasons under Katsiaficas, Pomona-Pitzer has won 488 games and 11 conference championships. Unlike his predecessor, the man known as "Coach Kat" hasn't given much thought to leaving.
He likes dealing with athletes who are smart enough to get into the Claremont Colleges, a consortium that includes not only Pomona and Pitzer but also Scripps, Harvey Mudd and Claremont McKenna. He likes that his players spend as much time in the library as on the court.
"We'll have guys coming late to practice because they have lab," he said. "We'll have guys leaving early because they have night class."
Some coaches might grow frustrated at having to share their team so liberally with the classroom.
"Yes, they might," Katsiaficas said. "And this is not the place where they should work."
::
The Claremont Colleges consistently rank among the best liberal arts schools nationwide, so Rosenbaum says he was "obviously" attracted by the academics. But he also knew about the Sagehens' winning tradition.
"Basketball plays a huge role," the senior said. "Coach Kat has a great legacy and I really wanted to play for him."
It was the fall of 2015 when the lean, 6-4 Rosenbaum and the stockier, 6-3 Koch arrived as freshmen from the San Francisco Bay Area. Both outspoken and driven, they had ideas about where the program might go.
The next season, they helped convince another Northern California prospect to join them.
"Right from the beginning, I knew they wanted to build something special," Micah Elan said. "I could tell I was coming in with two leaders who could take us far."
The three guards formed the core of what would become Pomona-Pitzer's winningest team ever. The process started with buying into their coach's philosophy.
The Sagehens have good length for Division III, which makes them effective in the zone. But the scheme demands more — tenacity away from the ball, with everyone working to be in the right place and closing off passing lanes.
"It's not just one guy getting the steal or making the block," Koch said. "It's just as much about the other four guys and their positioning and what they've done to help that guy get the stop."
This emphasis on defensive has limited opponents to 67.6 points a game and ignited an offense that averages 82.3 points on better than 50% shooting. The unselfish approach can look and feel very different from the NBA or big-time college basketball.
"It feels so good to shut down your man or help your teammate get a stop," Elan said. "And, I mean, rebounding … that's the best feeling."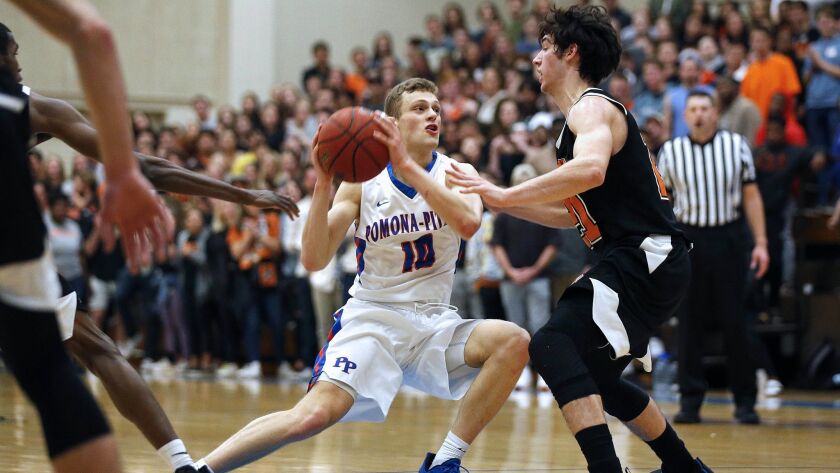 The sagehen, or Greater Sage-Grouse, is a large, ground-dwelling bird with a spiked tail that lives throughout the western U.S. and feeds primarily on insects and sagebrush. It became the mascot at Pomona-Pitzer around 1918.
No one knows exactly why.
Last Saturday night, with the Occidental Tigers visiting Voelkel Gym for the league championship, the Sagehens struggled mightily at first. Katsiaficas was worried but kept it to himself; gathering his players during an early timeout, he urged them to stick with the plan.
It helped when Rosenbaum and Elan began to heat up, hitting from three-point range, but the turnaround hinged on something else.
Pomona-Pitzer forced Occidental to play from the perimeter and contested every jump shot. In one series of possessions, Koch made a steal, a tough rebound and block.
"They just turned up the defense," Occidental star Zach Baines said. "They really locked down."
A 29-6 run gave the Sagehens a comfortable lead that held up throughout the second half as they kept the Tigers to four points in the paint and 34.5% shooting overall.
The 68-45 victory secured a 25-2 record, best in school history. Rising to No. 11 in the nation, Pomona-Pitzer now travels to Walla Walla, Wash., to face the University of Texas at Dallas in a first-round playoff game on Friday.
Katsiaficas is confident, saying: "We've got good depth. I think we're fortunate to have some guys who, in tight moments, can make plays."
Sign up for our daily sports newsletter »
Even better, the Sagehens head into the postseason with a veteran lineup that has a clear vision about how to play.
"We understand the nuances of the game and building a successful team," Koch said. He calls it "that culture where everybody has to play together to get it done."
This season, with the likes of the Bruins and Trojans foundering, needing a conference tournament run to reach March Madness, that kind of basketball might just be worth rooting for.
Follow @LAtimesWharton on Twitter
---
Get our high school sports newsletter
Prep Rally is devoted to the SoCal high school sports experience, bringing you scores, stories and a behind-the-scenes look at what makes prep sports so popular.
You may occasionally receive promotional content from the Los Angeles Times.