11 Images
Quarterbacks who have won multiple Super Bowls
Bart Starr
Bart Starr led the Green Bay Packers to victory in Super Bowl I over the Kansas City Chiefs, and in Super Bowl II over the Oakland Raiders.
(Associated Press)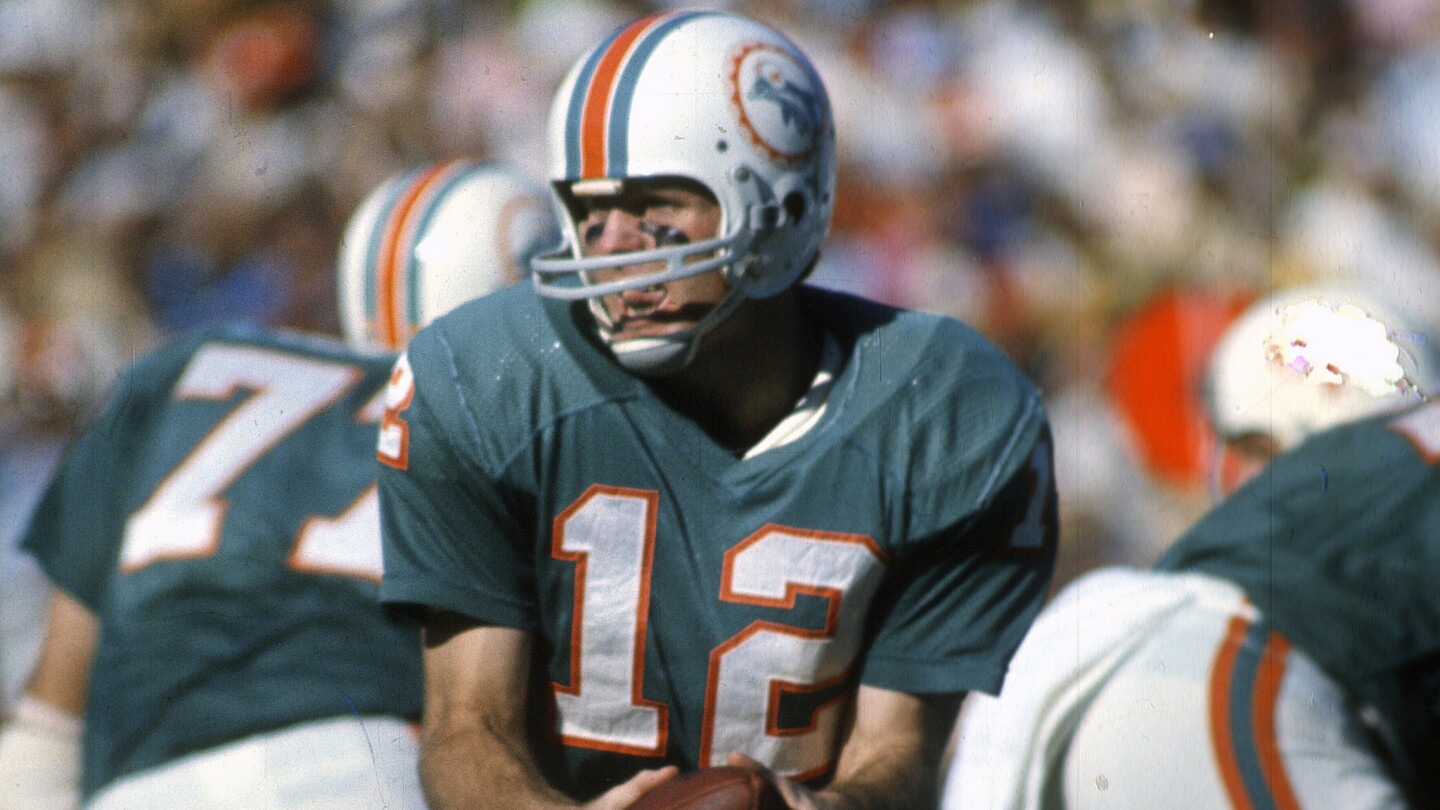 Bob Griese
Miami Dolphins quarterback Bob Griese turns to hand off the ball against the Dallas Cowboys in Super Bowl VI on Jan. 16, 1972. Griese led the Dolphins to victory in Super Bowls VII and VIII.
(Focus On Sport / Getty Images)
Terry Bradshaw
Pittsburgh Steelers quarterback Terry Bradshaw calls a play during a game against the Atlanta Falcons in November 1981. Bradshaw was the first quarterback to win four Super Bowl titles -- IX, X, XIII and XIV -- a feat which was later equaled by Joe Montana and Tom Brady.
(Scott Cunningham / Getty Images)
Roger Staubach
Dallas Cowboys quarterback Roger Staubach looks for an open receiver during Super Bowl X against the Pittsburgh Steelers in January 1976. Staubach played in the Super Bowl four times and won in Super Bowls VI and XII.
(Associated Press)
Jim Plunkett
Los Angeles Raiders quarterback Jim Plunkett warms up before a game in 1983. Plunkett won Super Bowl XV with the Oakland Raiders in 1981 before leading the Los Angeles Raiders to victory in Super Bowl XVIII.
(Al Messerschmidt / Getty Images)
Joe Montana
San Francisco 49ers quarterback Joe Montana rolls out to pass at Candlestick Park in 1989. Montana won all four Super Bowls -- XVI, XIX, XXIII and XXIV -- he played in. Montana, Terry Bradshaw and Tom Brady hold the record for most Super Bowl wins by a quarterback.
(Otto Greule / Allsport)
Troy Aikman
Dallas Cowboys quarterback Troy Aikman throws a pass during a game against the New England Patriots in December 1996. Aikman won three Super Bowls -- XXVII, XXVIII and XXX.
(Eric Gay / Associated Press)
John Elway
Denver Broncos quarterback John Elway throws a pass against the Seattle Seahawks in November 1997. Elway played in five Super Bowls and ended his career with victories in Super Bowls XXXII and XXXIII.
(Ed Andrieski / Associated Press)
Tom Brady
New England Patriots quarterback Tom Brady celebrates after beating the Carolina Panthers in Super Bowl XXXVIII in February 2004. Brady has won four Super Bowl titles -- including XXXVI, XXXIX and XLIX -- to join Terry Bradshaw and Joe Montana in elite company.
(Dave Martin / Associated Press)
Ben Roethlisberger
Pittsburgh Steelers quarterback Ben Roethlisberger passes during a game against the Baltimore Ravens in January 2015. Roethlisberger led the Steelers to victories in Super Bowl XL and XLIII.
(Gene J. Puskar / Associated Press)
Eli Manning
New York Giants quarterback Eli Manning passes against the Philadelphia Eagles on Dec. 28, 2014. Manning has won each of the Super Bowls he has played in, guiding the Giants to victories in Super Bowls XLII and XLVI.
(Kathy Willens / Associated Press)