From the Archives: Ram fans kept the faith while team lost it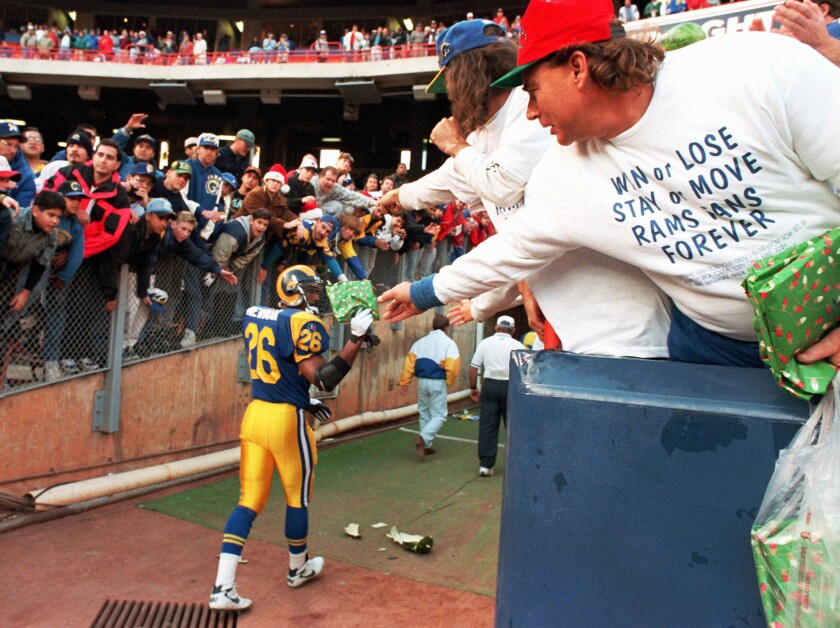 More than two decades after they left town, the Rams will return to Los Angeles for the 2016 season. This column was published more than 21 years ago before the final home game.
It was a tradition in our household, as much a part of the holiday season as those frothy goblets of eggnog, which, looking back, should have been spiked but never were.
Usually, it would happen on a Sunday in late December. My father, my younger brother and I would gather 'round the hearth, say a silent prayer and flick on the television set, where we would spend the next three hours flinching every time Roger Staubach or Fran Tarkenton dropped back to pass with the Rams' playoff lives--and ours--on the line.
And when our suffering was through, and the Rams had been eliminated on a blocked field goal or a bogus offsides penalty or a head-on collision between two Ram defensive backs chasing a sure interception, my father would turn off the TV and the three of us sit there, blinking at the blank screen, trying to wait out the intense stomach pain.
After a minute or so, my father would suddenly lean forward, spring out of his chair and head for the garage.
Soon, he would be back with his legal yellow tablet, on which he had scribbled--in pencil, of course, allowing for personnel moves--the Rams' roster and depth chart.
"OK now," my father would brightly announce as he pored over the pages. "We need a linebacker. There are supposed to be some good ones in the draft this year."
Winter after winter, our football seasons ended this way. Loss, denial, acceptance, start planning for training camp--all before sundown, too, until my brother and I hit our late teens and figured out there were better things to break your heart over, like women, or presidential candidates, or rock bands that were going to save the world and instead wound up selling light beer.
But my father, gifted with the inner resiliency of a Zen priest, has stayed the course, through 25 years of thin and thin, all the way up to the apparent bitter end--Christmas Eve, 1994, with the moving vans' engines idling off in the distance.
I mention this because John Shaw and Georgia Frontiere would have you believe that such a condition is humanly impossible; that there is no such thing as a loyal Ram fan; that the Southern California sporting scene is all played out and the Rams have no choice but to move on to Shangri-La--which, oddly enough, used to be known as St. Louis.
NFL owners voted to allow the St. Louis Rams to move to Los Angeles and give the San Diego Chargers the option to join. The Oakland Raiders will not be moving to Los Angeles.
Shaw and Frontiere have never mingled with the people--the crux of the problem, in a nutshell--and therefore wouldn't know that once upon a time, there were many households like ours. Maybe not quite as obsessive, but devoted enough to have their holidays ruined every year without fail and keep coming back for more.
Ours was an allegiance forged on abandonment and betrayal, and if we had been smart, we'd have walked away that very first day. But I was 12 in 1969 and my father had never been to a professional football game and there we were, standing outside a sold-out Coliseum, hoping to see the Rams play the Packers, searching for the friendly people always there selling spare tickets for reasonable prices, as a neighbor had told us.
We found no sellers--back then, Ram fans clung to their tickets--so my father bought me a program and I rode home, crushed, staring at black-and-white mug shots of Roman Gabriel and Les Josephson.
My father promised to make it up to me, and he bought advance tickets for the Dallas game. Opening kickoff, long Ram runback, and a rookie named Rich Saul hits a Dallas cover man so hard, he nearly somersaults in midair.
Years later, when I have asked my dad what first hooked him, and, more curiously, what has sustained him, he mentions that play. "That impressed me," he says, and he has spent the last quarter-century waiting for another hit to match it.
Since that moment, my father has either watched on television, attended or listened on radio to every game the Rams have played. That's an awful lot of heartache, and what does he have to show for it?
Sore abdominal muscles from "watching the Rams on TV and pressing on the arm rests all game, pushing for an extra yard."
A collection of daily sports sections from the 1978 season, because that was the year my dad was convinced the Rams were going all the way, and the collection ends with an account of the Rams' 28-0 loss at home to Dallas in the NFC title game.
A Ram helmet, a jersey once worn by Doug France, two footballs autographed by the '86 and '87 teams, this year's depth chart and a yellowing stack of RamPages, the Ram fanzine that went belly-up this year when rumors of the move to St. Louis scared off advertisers in droves.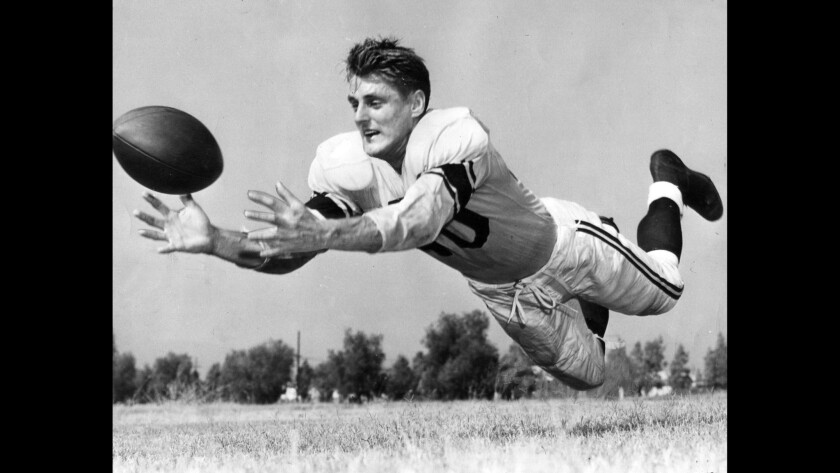 Elroy "Crazy Legs" Hirsch. He was a Los Angeles Rams All Pro end.
()
Hall of Fame quarterback Bob Waterfield with Tom Fears and Norm Van Brocklin of the Los Angeles Rams in 1951.
(Vic Stein / NFL)
Los Angeles Rams halfback Glenn Davis on a carry in a 24-17 win over the Cleveland Browns in a League Championship game Dec. 23, 1951, at Los Angeles Memorial Coliseum.
(Vic Stein / NFL)
Coach Joe Stydahar and members of the Los Angeles Rams celebrate winning the National Football League Championship 24-17 over the Cleveland Browns in game at the Coliseum.
(Art Rogers / Los Angeles Times)
1952 photo of Bob Waterfield, Los Angeles Ram team captain.
(Los Angeles Times)
Norm Van Brocklin of the Los Angeles Rams in an undated photo.
(Associated Press)
Los Angeles Rams quarterback Roman Gabriel (18), with the only clean uniform on the team, calls a huddle with his muddy teammates during a game with Minnesota Vikings in the Twin Cities on Dec. 1, 1968. Gabriel was tackled only once, in the last quarter. Los Angeles downed the Vikings, 31-3.
(AP)
Hall of Fame defensive end David "Deacon" Jones (75) of the Los Angeles Rams during the Rams 10-7 victory over the Detroit Lions on Nov. 3, 1968, at the Los Angeles Memorial Coliseum.
(Associated Press)
Merlin Olsen, right, of the Los Angeles Rams, battles Atlanta guard Gregg Kindle in Olsen's final regular-season game in Los Angeles on Dec. 4, 1976. The 6-foot-5, 270-pound star was retiring with a club record of 207 games. The Rams won 59-0 to take their fourth straight National Football Conference Western Division title.
(Associated Press)
This 1964 handout provided by NFL photos, shows the Los Angeles Rams defensive front four, known as the "Fearsome Foursome." From left to right are Lamar Lundy (85), Merlin Olsen (74), Rosey Grier (76) and Deacon Jones (75).
(NFL )
Steeler and Rams fans at Super Bowl XIV, held Jan. 20, 1980, at the Rose Bowl.
(Ken Hively / Los Angeles Times)
Rams quarterback Vince Ferragamo (15) prepares to pass, but never gets the ball past Steelers Robin Cole (56). Ferregamo is sacked on the play during Super Bowl XIV action at the Rose Bowl.
(Associated Press)
Dec. 26, 1977: Los Angeles Rams defensive end Jack Youngblood walks the sidelines after the Minnesota Vikings scored a fourth-quarter toughdown to take a 14-0 lead in an NFL playoff game. Vikings won 14-7.
(Michael Mally / Los Angeles Times)
Pittsburgh Steelers receiver Lynn Swann (88) goes up for a touchdown catch as Los Angeles Rams defenders Pat Thomas (27) and Nolan Cromwell (21) arrive too late during third-quarter action in Super Bowl XIV in Pasadena.
(Associated Press)
Tom Mack of the Los Angeles Rams watches from the sidelines during the game against the San Francisco 49ers at Candlestick Park on Nov. 20, 1977, in San Francisco. The Rams defeated the Niners 23-10.
(Michael Zagaris / Getty Images)
"Mean" Joe Greene #75 of the Pittsburgh Steelers and Jackie Slater #78 of the Los Angeles Rams joke around on the field after Super Bowl XIV at the Rose Bowl on Jan. 20, 1980. The Steelers defeated the Rams 31-19.
(Focus On Sports)
Head coach John Robinson at a Rams full squad workout in 1991.
(Gary Ambrose / Los Angeles Times)
Wide receiver Isaac Bruce #80 of the Los Angeles Rams enters the field at an exhibition game against the Oakland Raiders at the Oakland/Alameda County Coliseum on Aug. 12, 1995. The Raiders won 27-22.
(George Rose / Getty Images)
Los Angeles Rams running back Eric Dickerson (29) breaks away from Tampa Bay Buccaneers defender Ricky Easmon (26) for a big gainer Oct. 6, 1986, in Anaheim. Dickerson scored two touchdowns, the final one coming on a 42-yard run in overtime giving the Rams a 26-20 win.
(Lennox McLendon / Associated Press)
Chuck Knox coaches the Rams against the Raiders during a preseason game on Aug. 20, 1994, in Anaheim.
(Steve Dykes / Los Angeles Times)
From left, Giants Mike Fox, Erik Howard, and Michael Strahan try to stop Rams running back Jerome Bettis (36) in the fourth quarter Oct. 16, 1994, at Anaheim Stadium.
(David Fitzgerald / Los Angeles Times)
Rams owner Georgia Frontiere with her team during picture day in 1993.
(Los Angeles Times)
Jackie Slater says goodbye to his fans at the last home game on Christmas Eve 1994.
(Alex Gallardo / Los Angeles Times)
Rams owner Georgia Frontiere is applauded in 1995 by Rep. Richard Gephardt and former Sen. Thomas Eagleton, two of the many who were responsible for getting the Rams to move to St. Louis.
(Mark Boster / Los Angeles Times)
Oh, he also has a copy of "Hard Knox."
But there are no golden Super Bowl moments, no championship season video. And, quite possibly, after Saturday, no home team.
I asked my father this week if he planned to go to the last game.
"I thought about it," he said, "but it's Christmas Eve and I didn't like the New Orleans game. I went to it and it made me sick. They used to be so much fun to watch. They don't look like they're playing with any emotion.
"I'll probably watch the Raiders game and listen to the Rams on the radio."
And after that?
"I'll still follow them, even if they're in St. Louis," he said. "I'll keep my subscription to Pro Football Weekly and watch them when I can. I'll never root for the Raiders or the 49ers, though, because I hate them too much."
Saturday will be a sad day, but it isn't like he hasn't been prepared for it. "The last five years, it's been very difficult to be a Ram fan," he says. The last five years, there have been far too many sad days.
"I think Georgia and John Shaw don't care about football, not the way a real fan does. Once the Super Bowl's over, I start getting ready for the exhibition games."
Next year, those exhibition games will probably be held in Missouri. And all Anaheim will be left with is a headstone that reads "Los Angeles Rams, 1946-1994, Done In By Fan Indifference."
The worst casualty will be the truth.
ALSO FROM THE ARCHIVES: Remembering when the Rams left
She's St. Louis' misery, and it can have her
---
Get the latest on L.A.'s teams in the daily Sports Report newsletter.
You may occasionally receive promotional content from the Los Angeles Times.