Whether Rams return or not, they're still family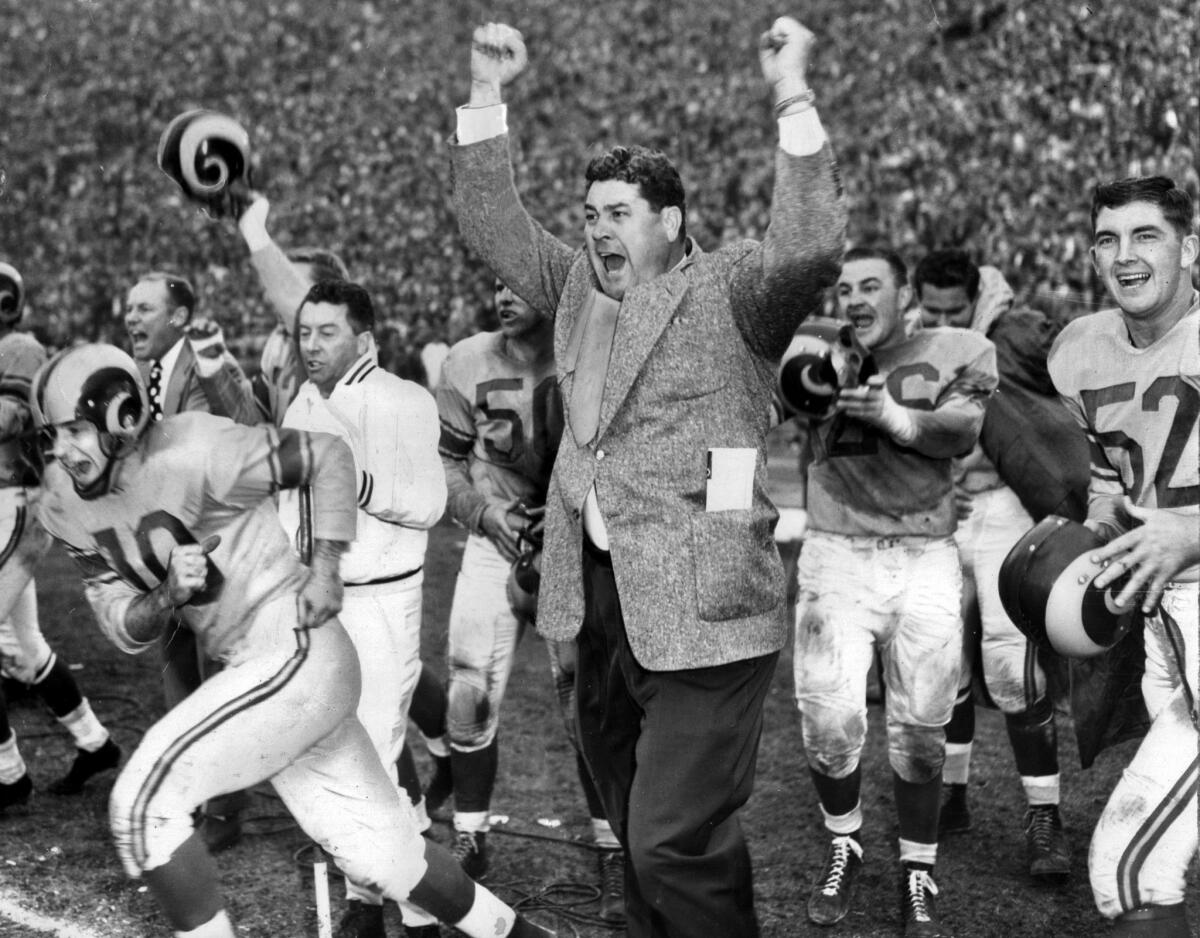 The biggest tease in this latest NFL news isn't that another rich guy is planning to build another stadium on another perfect site like Hollywood Park.
The biggest tease is that this rich guy would be bringing home the Rams.
The Rams are family. The Rams are legacy. The Rams are the Dutchman, Crazy Legs, Mr. Outside, Night Train, Hacksaw, the Fearsome Foursome, the Bull Elephant backfield and, of course, those seedy Melon Heads.
The Rams were in town for 49 years, and many here still hold them as dearly as Tom Fears clutched that 73-yard touchdown pass from Norm Van Brocklin in 1951 to bring Los Angeles its first pro sports championship.
For Stan Kroenke to blow off the stadium idea and keep those Rams in St. Louis would make this the cruelest hoax in 20 years of dirty NFL tricks.
The Rams were our first major pro team. They were our first big crush. They were our first Showtime, our first Lob City, the first marriage of sport and Hollywood, the first pro team to truly love L.A.
"I've often thought the history of team underplayed over the years," said Pete Donovan, former longtime Rams publicity guy and current keeper of the Rams flame. "They were the big deal in town. They had the superstars. They had the glamour players. They had it all."
Everything that our current pro sports franchises have accomplished, the Rams did it first, and did it with more flair.
One year before Jackie Robinson broke baseball's color barrier in Brooklyn, Kenny Washington broke the NFL's color barrier with the Rams. He signed shortly after the team moved here from Cleveland in 1946, and it was no coincidence. The Rams wanted to play in the Coliseum, but officials would agree to host an NFL team only if it was integrated, so Washington and then UCLA teammate Woody Strode were quickly added to the roster.
Long before the Dodgers moved to Los Angeles and set all sorts of attendance records, the Rams had been there and done that. Their first game at the Coliseum drew 95,000 fans. It was an exhibition. The Rams were the first NFL team to surpass 1 million in attendance. They were the first NFL team to have all its games televised.
"Truly, Los Angeles was a Ram town," said Hall of Fame defensive end Jack Youngblood. "It was our place."
You want Showtime? The Rams epitomized Showtime so when Jerry Buss wanted to go into the big-time sports business, he quietly told friends his first choice was to buy them. When the Rams weren't for sale, Buss "settled" for the Lakers.
The Rams looked cool, as they were the NFL's first team with a logo on their helmets, horns that remain there today. The Rams played hot, with a daring offense that set off fireworks whose embers still burn today. At one point, they actually rotated Hall of Fame quarterbacks Van Brocklin and Bob Waterfield. In all, they had 24 Hall of Fame players, coaches or executives.
"You go through the rosters of all those years and the names are just phenomenal," said Youngblood. "We had so many great players, so much talent, so much that resonated with the L.A. fan base."
The 38.8 points-a-game average by the 1950 team is an NFL record that has stood for 64 years. Van Brocklin's 554 passing yards in 1951 are a record that also remains intact. Tom Fears' 18 catches in one game in 1950 were a record that stood for a half-century. And, of course, the NFL's most glamorous single-season record is still held by a Ram, with Eric Dickerson's 2,105 rushing yards in 1984 still unmatched.
"The Rams realized what everyone else eventually learned, that it's not enough to win in this town, you have to win with superstars, and they had all the ingredients," Donovan said.
Those superstars were the first to merge with the movie stars. Bob Hope once owned part of the team. The appearance of Kirk Douglas and Doris Day at the Coliseum gave Buss the idea of saving seats for celebrities. Waterfield was married to sex symbol Jane Russell. Linemen Merlin Olsen and Fred Dryer became regulars on TV shows.
"I remember one of my first jobs when I came to town was being in a movie," said Hall of Fame tackle Jackie Slater, who worked on "Rooster Cogburn." "It was like everybody on the team was busy doing something like that. We were all over town."
While history notes that the Rams never won a Super Bowl here, Hollywood says otherwise. In 1978, quarterback Warren Beatty led the Rams to a Super Bowl win over the Pittsburgh Steelers in the movie "Heaven Can Wait."
The Rams lost some of their luster, not to mention an entire San Fernando Valley fan base, when they foolishly moved from the Coliseum to Anaheim in 1980. But they never lost their edge; witness possibly the greatest example of the Rams' endearing place in Los Angeles history.
It's "Ram It," a 1986 music video, arguably the most hilariously bad music video in the history of sports.
Said Donovan: "I don't think that's big on my resume."
Said Youngblood: "It was horrible, just horrible. Nobody had any rhythm and nobody could sing."
The video lasts an excruciating 5 minutes 24 seconds and features a group of uniformed players including Dickerson Slater bumping, grinding and rapping to a song that borders on the obscene.
"We'll be rockin' L.A., so let's Ram it today, let's Ram it," the players sing.
Slater pretends to play a saxophone and chants, "We can't sing and our dancing's not pretty, but we'll do our best for the team and the city."
The video is the perfect metaphor for what the Rams once meant here: great talent, nutty plays, swinging for the fences, entertaining even when awful, always crazy fun.
Given the 20-year history of the NFL's failed flirtations with Los Angeles, anybody who gets their hopes up for the Rams' return is as silly as Slater on sax. But whatever Stan Kroenke does with his team, he needs to know they would be welcomed home.
Twitter: @billplaschke
Get our high school sports newsletter
Prep Rally is devoted to the SoCal high school sports experience, bringing you scores, stories and a behind-the-scenes look at what makes prep sports so popular.
You may occasionally receive promotional content from the Los Angeles Times.