Rams' Todd Gurley aiming to have bigger impact on field, in community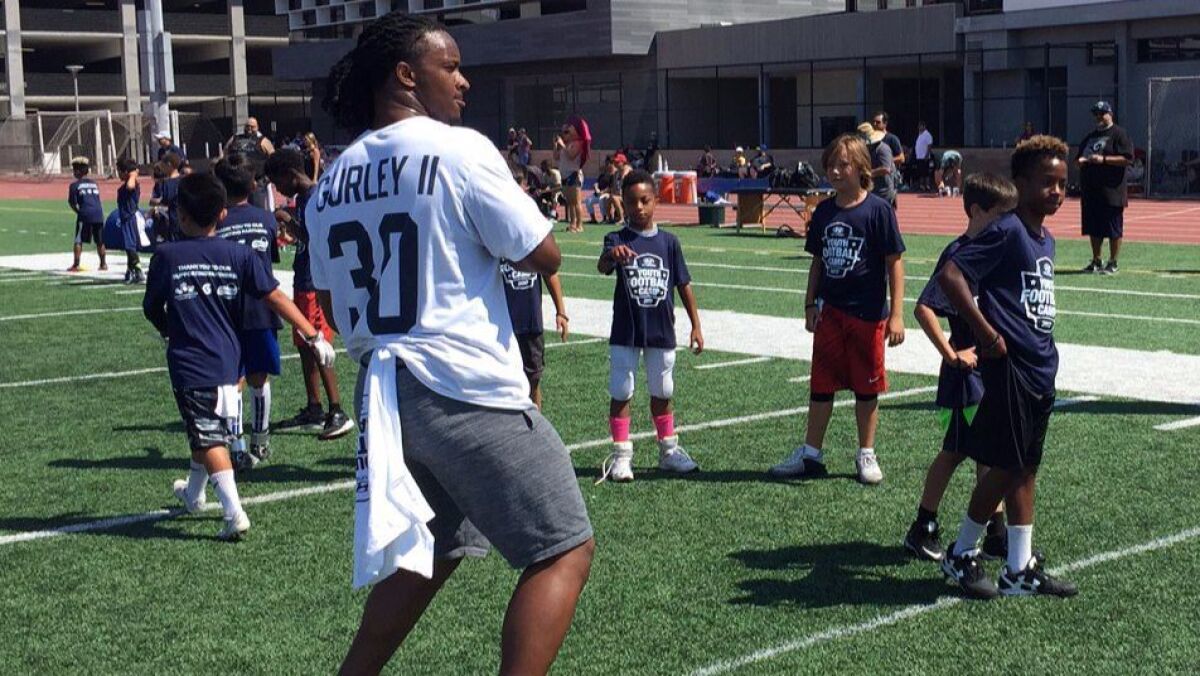 It was a scorching Saturday afternoon in Southern California, but Todd Gurley wasn't at the beach and he wasn't lounging in the new home that he had recently shopped for.
The Rams running back stood on the 25-yard line at Santa Monica College's football field surrounded by hundreds of elementary school-aged kids. And he wasn't just observing.
He was set to run a short route for pint-sized quarterback Nicholas Plascencia.
Gurley's work at the youth clinic offered a break in the preparation for his third season with the Rams, when he hopes to return to the form he flashed in 2015 as the NFL's offensive rookie of the year.
His debut in Los Angeles last year didn't go nearly as well. He rushed for fewer than 1,000 yards in the season and failed to reach 100 yards in a game as the team stumbled to a 4-12 finish, costing coach Jeff Fisher his job.
"It can't get any worse than it did last year," Gurley said.
Gurley, 22, has spent the offseason preparing to become a focal point of new coach Sean McVay's offense, and he's also been trying to make an impact in the Southland and beyond before he reports to training camp at UC Irvine on July 28.
"My objective each offseason is to try to have a better offseason than I had before and just try to go back into the season healthier and feeling better," Gurley said.
At the clinic in Santa Monica, the 6-foot-1, 227-pound Gurley burst into a short sprint as Nicholas threw him a five-yard pass. Gurley made the reception, wiped sweat from his brow, tossed the ball to the next kid in line and prepared to run again.
Nicholas looked for his parents on the sideline and smiled from ear to ear. "A dream come true," the 10-year-old from La Mirada said after the 2 1/2-hour clinic. "I always wanted to be a quarterback and I threw to Todd Gurley."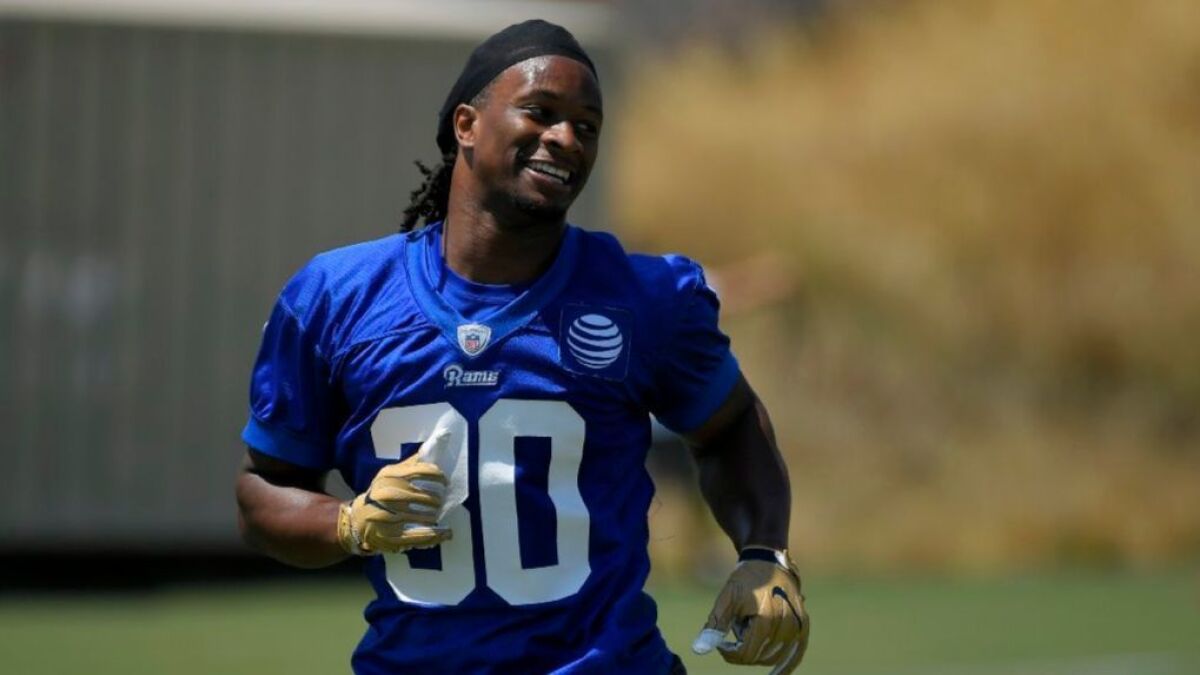 Between the Rams' offseason training programs, Gurley has traversed the nation appearing at youth football clinics.
He rallied nearly a dozen NFL players to his hometown of Tarboro, N.C., to help coach a free youth camp, his first in that area since the Rams selected him with the 10th pick in the NFL draft.
Gurley then assisted friends and NFL players at camps in Georgia, Missouri and Pennsylvania before he returned to Southern California for several clinics, including an event where Golden State Warriors forward Draymond Green made an appearance.
"I love doing stuff like this," Gurley said. "You never know how far this will take you or how far it will take a kid just by being able to talk to them for a little bit and just give back for a little bit.
"It's just a cool thing to do, to give the kids a good opportunity to come out and meet a bunch of ball players."
Gurley, who played at the University of Georgia, said he never attended a sports camp until late in his high school career, and he couldn't recall ever meeting a pro player — which became part of his motivation to spend off days in the community.
"For us, it's really exciting as well," said Armando Plascencia, Nicholas' father and a longtime Rams fan. "Anytime you get a chance to meet a professional player and get tips from them, it's awesome."
More than 400 kids attended two sessions in Santa Monica that spanned seven hours. Gurley never stopped throwing or running the football and winding around the field in an attempt to interact with each camper, becoming drenched in sweat.
"I know our schedules are busy and a guy like Todd is probably twice as busy," said Rams second-year receiver Nelson Spruce, who stopped by the camp with teammate Tyler Higbee. "The fact that he comes out here and does this for kids, I think shows where his priorities are and what this means to him."
Said Gurley: "The kids might not remember this day for the rest of their life, but it might put a smile on their face just for the day and just to be able to come out here and have fun."
Follow Lindsey Thiry on Facebook and Twitter @LindseyThiry
ALSO
Rams cornerback Trumaine Johnson will play out season with franchise tag
Rams receiver Thomas suspended for four games; tight end Higbee gets plea deal
Rams aim for attendance of about 70,000 and improved fan experience at Coliseum
Get our high school sports newsletter
Prep Rally is devoted to the SoCal high school sports experience, bringing you scores, stories and a behind-the-scenes look at what makes prep sports so popular.
You may occasionally receive promotional content from the Los Angeles Times.