After Olympic-sized goof, Ryan Lochte begins a new chapter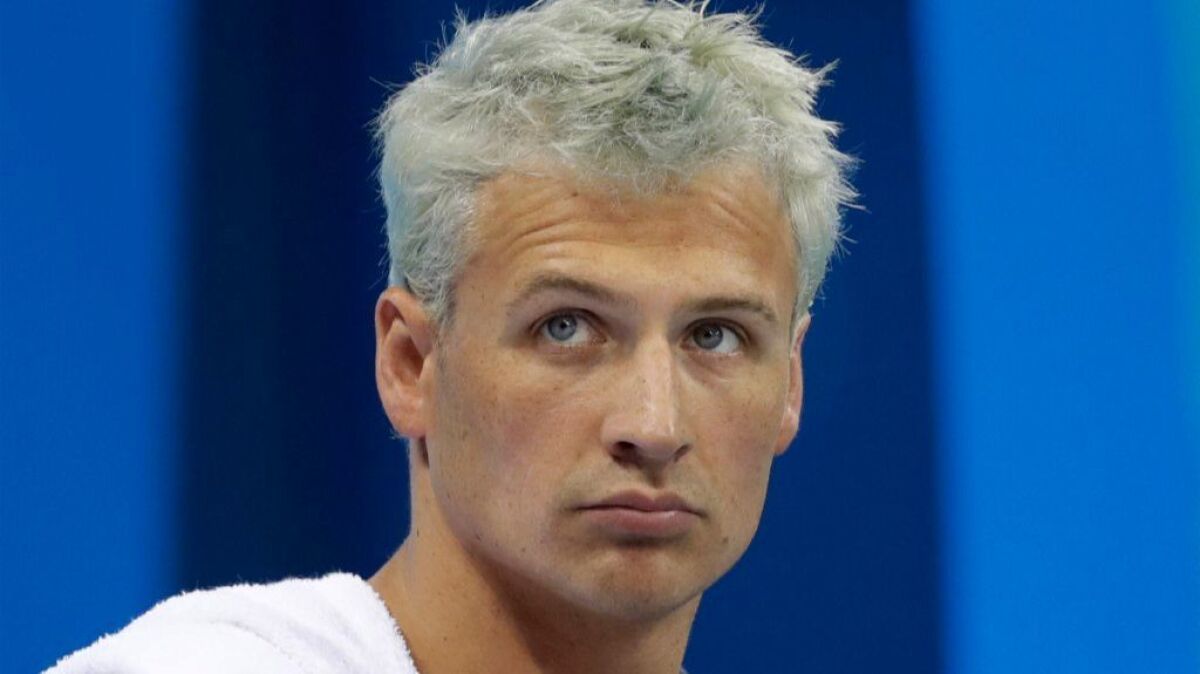 Don't cringe or shake your head or stop reading this story. Not just yet.
Give the man a chance.
That's all Ryan Lochte wants as he ambles across the pool deck on a bright Southern California day, looking tanned and relaxed, if a bit weary from his morning workout.
"This is definitely a new chapter in my life," he says.
The last chapter didn't end so well.
Not with a disastrous trip to the 2016 Summer Olympics in Rio de Janeiro, where he swam poorly, then triggered a scandal of global proportions with a night of drinking and alleged vandalism, followed by accusations that he lied to Brazilian police.
The four-time Olympian known for brash talk and brightly colored hair made headlines for all the wrong reasons. It got so bad that when he came home to be a contestant on "Dancing with the Stars," protesters barged onto the set.
"The lowest low of my entire life," he says. "When you fall in a dark hole like that, it's hard to see the light again."
Lochte now finds himself living in Los Angeles with his pregnant fiancée and training at USC with thoughts of a comeback. Under suspension by the U.S. Olympic Committee and USA Swimming until August, he will return to the pool for lower-level competition in Riverside this week.
The grin on his face suggests a lot has changed over the past few months. At least, that's what he says.
You be the judge.
::
There isn't much use in reiterating what happened in Rio. Here's the condensed version:
After a fifth-place finish in the 200-meter individual medley — his dissatisfaction hardly assuaged by a gold in the 800 freestyle relay — Lochte partied with three teammates at the French team's hospitality house.
Trouble arose when their taxi back to the Olympic Village stopped at a gas station.
Lochte initially told authorities they were pulled over and robbed by armed men posing as police officers.
The claim angered Brazilian authorities already sensitive about media reports of crime in their country. Rio police subsequently alleged the Americans had not been robbed at all, but instead had stopped at the gas station, damaged a bathroom and been confronted by security guards.
As security video from the gas station went public, the swimmers apologized, accepting their sanctions from chagrined U.S. officials. Lochte suffered an additional blow as Speedo and other corporate sponsors walked away.
Part of him still bristles at the media, insisting they turned the incident into "something much bigger than it was." He says the experience proved to him that he could endure "the whole craziness."
It also taught him about his weaknesses.
"I'm human and I make mistakes," he says. "I have to live with that."
To critics, he had always seemed too outlandish, not quite serious enough, for elite competition. This was an athlete known for dying his hair silver and wearing glittery dental grills over his teeth on the medals podium.
In that light, the scandal made perfect sense.
Lochte offers a different perspective, contending that Rio was the culmination of a dark period in his life.
His medal haul at the previous Summer Olympics in London — two golds, two silvers, a bronze — had been a high point. After that, his passion for the sport faded.
"You could say I took four years off after 2012," he recalls. "I was still swimming, but I was mentally not there."
The Rio debacle pushed him into depression. He had committed to "Dancing with the Stars" months earlier, but when the show began in the fall and two protesters rushed the floor during the first telecast, he had a change of heart.
"I wanted to quit," he recalls. "I told my family, 'This was a mistake.'"
::
If you are looking for a single motivation, one moment that turned Lochte around, it isn't that simple.
Start with the morning after the protest, when he awoke and told himself: "I can't let them win."
The show became a second family as fellow celebrities, dancers and crew offered their support. If anything, the incident might have made Lochte a more sympathetic figure in public.
It also boosted his confidence when he survived on the show longer than expected, outlasting six contestants.
Bigger changes were on the way as his girlfriend — Playboy model Kayla Rae Reid — became pregnant and the couple announced their engagement.
"Greatest feeling ever," he says. "I was on cloud nine."
Like a lot of athletes, Lochte had never been able to separate competition and personal life. If one suffered, so did the other. By the same token, when his mood brightened, a forgotten urge arose.
"I wanted to get back in the water," he said.
This thought lingered, never far from mind, as he and Reid started a new life together in Beverly Hills.
If Lochte needed an extra push toward the pool, it might have come from a visit to the doctor with his fiancée. They saw an ultrasound image of their child in the womb.
The boy will be about 3 when the 2020 Tokyo Olympics come around, Lochte figured.
"After Rio I could have thrown in the towel," he says. "But what would I be teaching my kid? That it's OK to give up?"
::
People ask him: Do you have any regrets about Rio?
It would be easier to say yes, to play the contrite role, but it would not be the truth.
"I needed something to knock me down to the lowest," Lochte says. "I wish it had happened in a different way, but Rio definitely did that."
Over the past two months, he has resumed swimming at USC with coach Dave Salo and elite-level swimmers such as Ous Mellouli and Conor Dwyer.
The younger guys tease him about having "old-man strength," but Lochte cannot train as hard as he once did. On the morning of his interview with a reporter, he skips a particular routine, knowing "my body would have collapsed."
This weekend's meet is something of a lark — a friend talked him into it, explaining the 10-month national team sanction would not apply to the U.S. Masters Swimming championship at the Riverside Aquatics Complex.
Scheduled to compete in several events beginning Friday, Lochte feels jittery about racing for the first time since the Olympics. He doesn't even figure to be in top shape by summer when his suspension ends.
"I'm just trying to get back in the groove," he says. "But this is a good starting point."
There are obvious questions about whether he will be able to make the 2020 American team at 36. Add it to his lists of motivations.
The thing is, Lochte doesn't entirely fit his renegade image. Part of him cares what you think.
"It's crazy how one incident could change the way people perceive you," he says. "That's why I keep fighting. I'm not going to let them judge me that way."
Follow @LAtimesWharton on Twitter
---
Get our high school sports newsletter
Prep Rally is devoted to the SoCal high school sports experience, bringing you scores, stories and a behind-the-scenes look at what makes prep sports so popular.
You may occasionally receive promotional content from the Los Angeles Times.