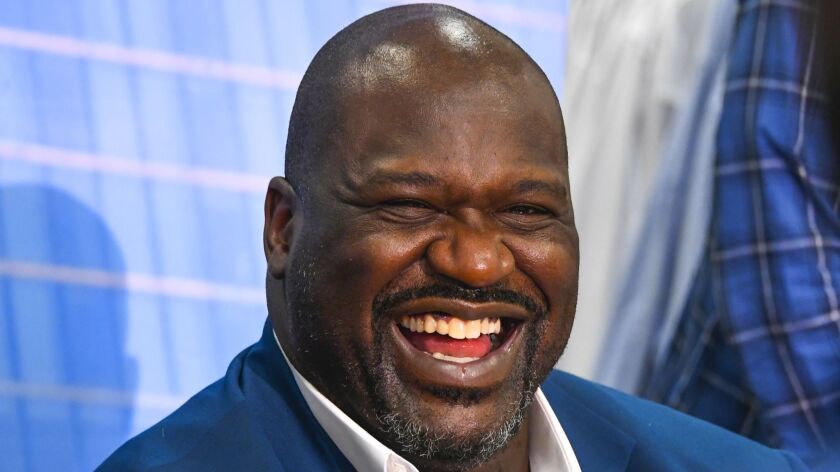 A Georgia mom was struggling to get shoes for her 13-year-old son with size 18 feet.
It was a story all too familiar to Shaquille O'Neal.
"Mom couldn't afford shoes. The kid had big feet," the former Lakers star told WGCL-TV in Atlanta. "That used to be me, my mom and my dad."
So Shaq decided to help out. He bought 6-foot-2 teenager Zach Keith 10 pairs of shoes, including a special pair for an upcoming eighth-grade dance.
Keith described his reaction to the basketball Hall of Famer's generous offer. "Like, whoa," Keith said. "He wants to buy me shoes, out of all people?"
His mother, Brittany Keith, added: "For me, it was very touching ... to know that there's somebody out there that has his back."
O'Neal didn't take Keith just anywhere to buy shoes. He took him to Friedman's Shoes in Atlanta, where owner Bruce Teilhaber once gave an 18-year-old Shaq a pair of size 18 penny loafers to wear to his prom.
"I remember the price. It was a $180 pair of shoes, and my father asked Bruce about a layaway program," O'Neal told the TV station. "Bruce said, 'Don't worry about it. We'll take care of it.'"
Sign up for our daily sports newsletter »
Now, nearly 30 years (and four shoe sizes) later, O'Neal has paid the gesture forward.
"I thought this was a good thing to do. Mom and kid, kid plays basketball," O'Neal said. "Bruce did it for me, I just wanted to return the favor."
Twitter: @chewkiii
---