Column: Japanese baseball star Shohei Ohtani could be double threat in big leagues
The best player on the baseball team pitches and bats fourth. Not on a Little League team. Not on a high school team. On a professional team that plays at this country's highest level.
Shohei Ohtani has the kind of extraordinary talent that could change the sport. He's done it here, and he soon could do it in the major leagues, all the while maintaining the innocence of a boy playing a kids' game despite the scrutiny and pressure he faces as Japan's most-popular athlete.
He is a physical specimen — 6-foot-4, 215 pounds — yet at 23, his frame is nowhere near as developed as the Nippon-Ham Fighters pitcher who wore jersey No. 11 before him, Dodgers right-hander Yu Darvish.
Ohtani has an unusually graceful delivery for a pitcher his size. Like Darvish, he nearly always starts from the stretch position, and with no visible sign of strain, the baseball explodes out of his right hand. Last season, one of his fastballs was clocked at 102.5 mph, the fastest pitch recorded in Nippon Professional Baseball.
Equally fluid and dynamic is his left-handed swing, which has produced several home runs of 500 feet or more. He kicks his front leg and turns his back enough that his uniform number is visible to the pitcher, then shifts his weight forward as he drives his bat through the strike zone with a slight uppercut.
The technique is similar to that of many contact hitters from Japan — only they haven't launched a ball through the open roof of the Tokyo Dome as Ohtani did in November as a member of Japan's national team in a game against the Netherlands. If he had launched a similar ball at Dodger Stadium, it would have cleared the right-field pavilion and landed in the parking lot.
He can run too. Scouts have timed Ohtani in as few as 3.8 seconds from the batter's box to first base. That's as quick as Billy Hamilton and Dee Gordon, two of the fastest players in the majors.
Babe Ruth, the legendary player with whom Ohtani has been compared, was a Hall of Fame-caliber pitcher and a hitter in his day. But Ruth would not have covered the ground from the plate to first base in anything close to 3.8 seconds.
Major league teams don't allow their scouts to give opinions on players publicly, but one who watched him recently offered this about Ohtani's athleticism: "An absolute freak."
Different, for sure. And not just in talent.
Ohtani was born in the rural town of Oshu in the northern prefecture of Iwate, which is known for its hot springs resorts and national parks, as well as livestock that produces high-grade beef. The area is about a three-hour train ride from Tokyo, but might as well be on another planet.
There is plenty of open space, with rice field after rice field after rice field. The narrow roads are rarely occupied. There are small clusters of homes here and there, and many households burn their own trash, creating billows of smoke visible every few miles.
This time of year, the region's landscape is a lush green, but everything turns white in the winter, perhaps why the area hasn't produced many baseball stars.
"There's a lot of snow," said Seibu Lions left-hander Yusei Kikuchi, another Iwate product. "You can't run. You can't throw."
Ohtani is the youngest of three children. His father, who worked at a local automobile manufacturing plant, used to play baseball in Japan's semi-professional industrial league. Ohtani's mother was a national-level badminton player in high school. The family resided in a nondescript two-story house that is typical of the region.
From last year to this year, as a hitter, he's gotten better. It's scary.

— Chris Martin, a former major leaguer and Fighters teammate of Shohei Ohtani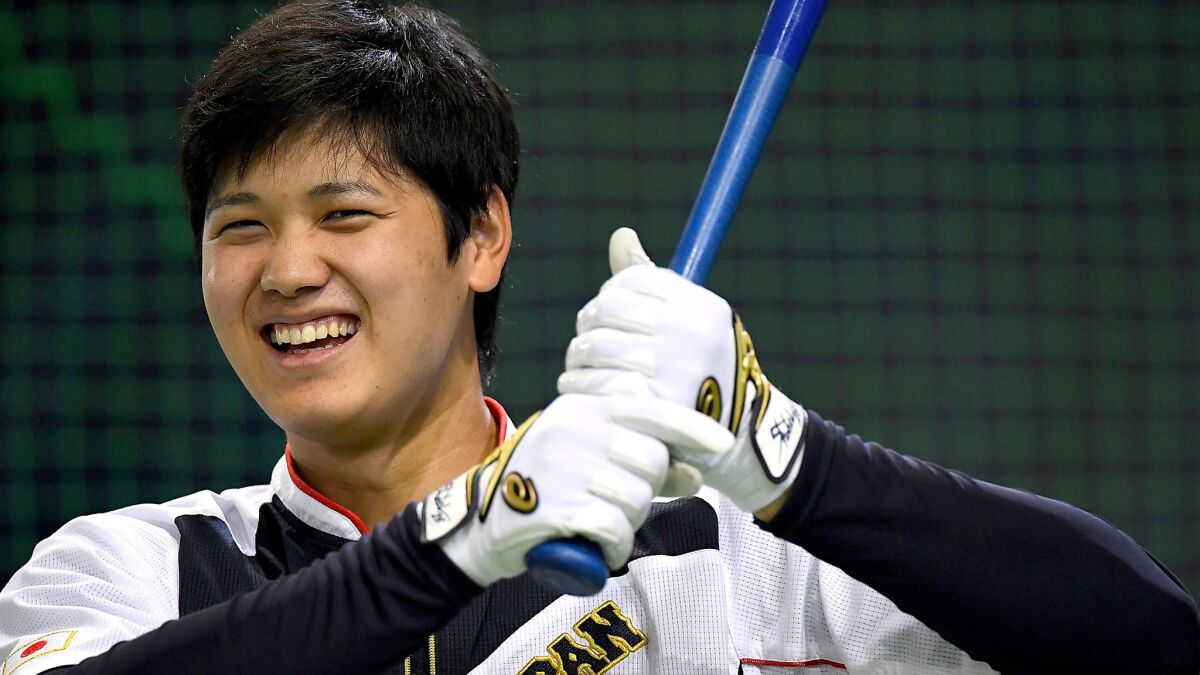 Ohtani was what Japanese call a "yakyu shonen" — basically, a kid who lives, eats and breathes baseball.
Coached by his father, he displayed an aptitude for the game at an early age. As a seventh-grader, Ohtani recorded all but one of 18 outs in a six-inning regional championship game.
Even now, as Japan's most celebrated athlete, Ohtani continues to project the image of a "yakyu shonen," a charming country boy with a warm smile who somehow hasn't been changed by fame and fortune.
He is polite and soft-spoken. With his height and wide shoulders, he towers over almost anyone he encounters, but his boyish facial features make him look younger than he is. If he has interests outside baseball (besides video games), they remain safely guarded secrets.
Asked what he likes to do when he's not playing baseball, he paused before replying, "Work out."
That's not a put-on, according to people close to him. Ohtani is a fifth-year pro but continues to live in the Fighters' dormitories, team spokesman Hisashi Hatanaka said.
Ohtani doesn't even have a driver's license. He is handsome and adored by women, but Japan's notoriously relentless tabloids have failed to link him romantically.
"Anybody else would want to get out of Nippon-Ham's dorms in a hurry, move into their own place, call over a girlfriend," said Hiroshi Sasaki, Ohtani's former high school coach who remains a trusted advisor and confidant. "He's not like that. He doesn't go out to eat or drink. He just likes to be close to somewhere he can train."
Ohtani has asked his parents to oversee his finances, including his $2.4-million salary from the Fighters. His mother, hoping to develop his financial sense, deposits about $1,000 into Ohtani's personal bank account every month.
"But he barely touches it," Sasaki said.
The perceived ambivalence toward money is one of the reasons major league teams, including the Dodgers, expect Ohtani to move to the United States this winter.
Fighters general manager Hiroshi Yoshimura has said Ohtani will be made available to major league teams if he asks. The team that signs Ohtani would have to pay the Fighters a posting fee for his rights; the maximum under the current agreement between MLB and NPB is $20 million.
Ohtani could take a pay cut. Under Major League Baseball's international player acquisition guidelines, the largest bonus a team could extend to him would be between $3 million and $4 million. The Dodgers are one of 12 teams that could offer only $300,000 as a penalty for how much they spent on prospects in previous years. Ohtani would have a standard minor league contract, which would call for him to earn the major league minimum of $545,000 if he made a big league roster.
However, if he waited two years, until he was 25, Ohtani would be free to sign a contract of any length or value. Some major league executives project he could then earn around $200 million.
Sasaki looked out the window of a room at Hanamaki Higashi High, where he is the baseball coach. Asked how much land $200 million could buy in the Iwate countryside, he gestured toward the forest-covered mountains and rice fields beyond the school's all-dirt athletic grounds.
"Probably beyond anything you could see," he said.
He dropped his head and laughed again, recalling a recent conversation with his protégé. "That's what I told him," Sasaki said: "You could earn 200 times as much as I will make in my entire life."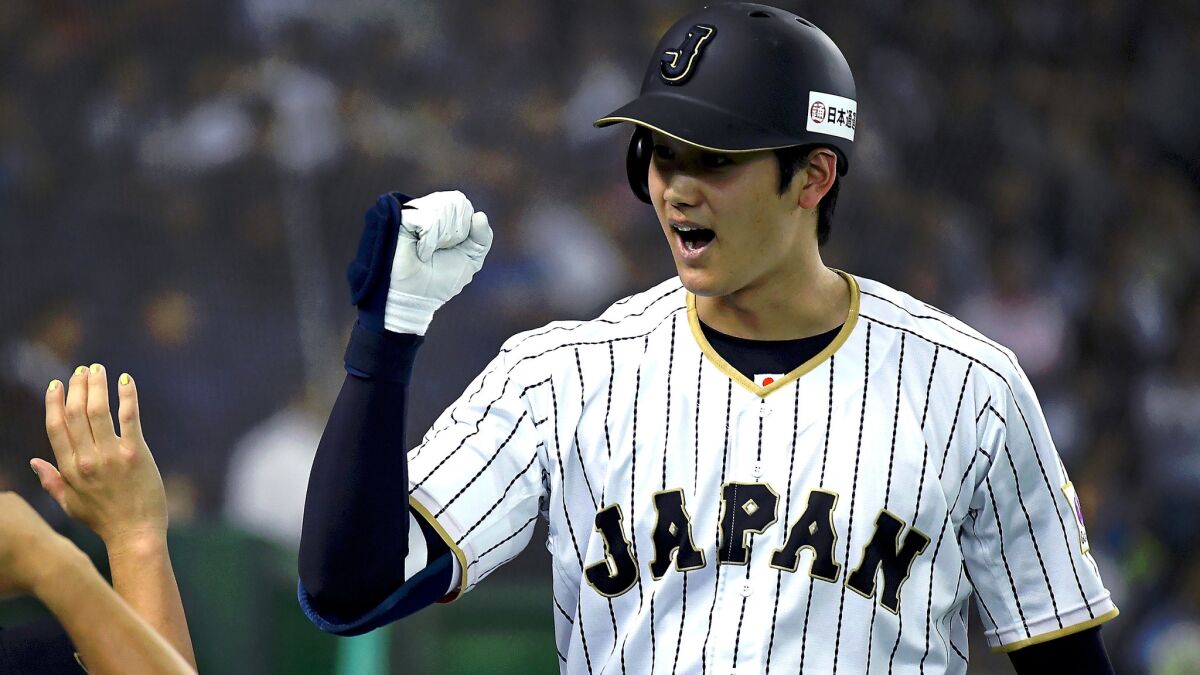 Money and opportunity were the reasons the coach said he felt obligated to have a heart-to-heart conversation with his former student.
"Dreams are important," Sasaki said he told Ohtani, "but you're in the real world now."
Sasaki made his case for Ohtani to stay in Japan for two more years to secure his financial future. Sasaki reminded Ohtani of the number of Japanese stars who have been injured in the major leagues, of the ankle injury that sidelined him for most of the season and could require surgery, of how American mounds are harder and how that could affect his foot.
And there was the possibility he wouldn't succeed in the big leagues. "Money isn't everything, but the financial situation will change completely in two years. Why don't you wait?" the coach said.
Ohtani listened intently and respectfully. Then, when it was his turn to speak, said: "I still want to go."
Sasaki smiled and shook his head as he recalled their talk.
"That's so like him," he said. "He hasn't changed."
He is reserved, even shy. But Ohtani's image is omnipresent — on advertisements posted everywhere from train cars to department store windows — and even non-baseball fans are aware of his celebrity.
So it was a major news story when multiple media outlets reported that Ohtani was determined to leave Japan after this season and play in the major leagues. The reports cited anonymous sources.
Two days earlier, Ohtani was asked whether he knew where he wanted to play next year. "Not at all," he replied. "I just want to do my best through the end of the season."
The game that night, on a Wednesday in the middle of September, was of no importance. It matched the Fighters — who were in fifth place in the six-team NPB's Pacific League — against the Rakuten Golden Eagles. Therefore, instead of watching the game from the Sapporo Dome's media section, the 20 or so reporters who routinely cover the Fighters were staked out in a lobby near the players' parking lot.
In Japan, pitchers between starts don't have to stay for the game. Ohtani wasn't scheduled to hit in this one, either. So the wait was on.
Sure enough, a couple of hours into the game, he appeared with a companion. Chaos ensued. Ohtani headed directly toward the parking lot with his head down, reporters sprinting after him and cameras flashing, lighting up an otherwise dark area.
Ohtani slipped into the passenger seat of a white vehicle and was driven off into the night.
The reporters closest to him heard him say, "Sumimasen," which could mean, "I'm sorry," or, "Excuse me," depending on the context. Was he sorry he couldn't comment, or asking the crowd to part so he could enter the car? Nobody knew, or cared. What mattered was that he said something.
That one word, "Sumimasen," was in reports all across Japan over the next hours and day.
The national high school baseball tournament in Japan is a star maker, the equivalent of college basketball's March Madness in the U.S. Powerhouse teams recruit players from all over the country, and the best become household names.
Ohtani could have played for a team in a big city such as Osaka or Yokohama. Instead, he stayed local, selecting a school in Hanamaki, about 20 miles from his home, which fielded a team composed entirely of players from Iwate. Kikuchi, the left-hander with the Lions, had elevated the school's baseball program to national prominence.
"We want to be a team that is loved by the locals," Sasaki said. "Our goal is to be No. 1 in Japan, with only players from the prefecture."
High school in Japan is three years, from the 10th grade through the 12th. In his first year at Hanamaki Higashi, Ohtani started out playing right field and batting cleanup. Later in the school year, he moved to the mound with a fastball that touched 90 mph.
"He didn't have any muscles and could pitch like that," Sasaki said. Ohtani's father already had taught him how to use his body to generate velocity. Now he needed to physically mature.
Sasaki made sure the boy ate extra bowls of rice, as well as the leftovers of other players. "He ate until he looked as if he couldn't eat any more," the coach said.
An injury to his left hip, attributed to a growth spurt, prevented Ohtani from pitching for this 11th-grade season, but he touched 99 mph as a senior and became a national sensation.
He also learned lessons that would benefit him later.
Hanamaki Higashi's players live on campus, returning home for only six days a year. Sasaki assigns them chores. The pitchers clean toilets.
Sasaki had a reason this particular assignment never changed. "The mound is the most elevated place on the field," he explained. "It's a stage. If you're on that stage, you receive the most attention. You get interviewed and written about the most."
The coach wanted to teach his pitchers humility, but the symbolism of the task extended beyond that.
"If you go to a nice department store, the toilets are magnificent. If you go to a nice hotel, the toilets are important," Sasaki said. "If you see a toilet, you can see the value of a place, the purpose with which the people there approach their work. It's the most important place in an establishment, just like the mound is the most important place on the field.
"It might be a little different than what you do in the United States."
Had Ohtani stuck to his original plan of moving abroad out of high school, there's a chance he would be preparing for the National League playoffs right now.
Many MLB teams were courting him, but he was thinking of signing with the Dodgers.
"I can't say that for sure, but there's a strong possibility that's what would have happened," he said.
The Dodgers scout in Japan at the time, Keiichi Kojima — now a consultant for the Arizona Diamondbacks — had gained Ohtani's trust by attending Hanamaki Higashi's practices on nearly a daily basis.
Ohtani's dilemma then had one striking similarity to his present-day one: There were new limits on how much MLB teams could pay amateur players. The most the Dodgers could offer him was around $1 million, which was less than he could get from an NPB team.
"I still want to go," Sasaki recalled Ohtani telling him.
One of the reasons was that American teams saw him as a pitcher; Japanese teams wanted him to hit.
The Fighters disregarded the request Ohtani made to NPB teams to not draft him and offered him an alternative: Do both.
Ohtani was sold on the idea. "He was a special player who required a special plan," said Yoshimura, the Fighters' general manager.
Asked how his career might have unfolded had he signed with an MLB team, Ohtani replied, "I wonder. I've only played in Japan, so it's hard to say."
As someone who encouraged Ohtani to abandon hitting, Sasaki is grateful the Fighters intervened. "Maybe we shouldn't be saying that Ohtani is incredible because he can do both," he said. "Maybe there are players, both in the majors and in Japan, who could have done both but were forced to choose one or the other."
As a pro, Ohtani developed more quickly as a pitcher than a hitter. In his second year, he had a record of 11-4 with a 2.61 earned-run average. The following season, 2015, he went 15-5 with a 2.24 ERA. Already established on the mound, he turned more of his attention toward hitting last season, resulting in a breakout performance. He batted .322 with 22 home runs and 67 runs batted in over 104 games as a designated hitter and still went 10-4 with a 1.86 ERA as the Fighters won the Japan Series. Ohtani was the Pacific League's most valuable player.
This season, injuries have limited Ohtani to four starts as a pitcher, but he entered the weekend batting .342 in 62 games as a designated hitter.
"I've been gradually making adjustments, dating back to last season," Ohtani said. "Really, looking back over the last five years, I feel I've done well."
Fighters pitcher Chris Martin, who played for the Colorado Rockies and New York Yankees, was less restrained in his assessment.
"From last year to this year, as a hitter, he's gotten better," he said. "It's scary."
When he's hitting, I see a 'yakyu shonen' having fun in the batter's box. When he's on the mound, he thinks of it as his job. It's a business, his true work.

— Hiroshi Sasaki, coach of the Hanamaki Higashi High baseball team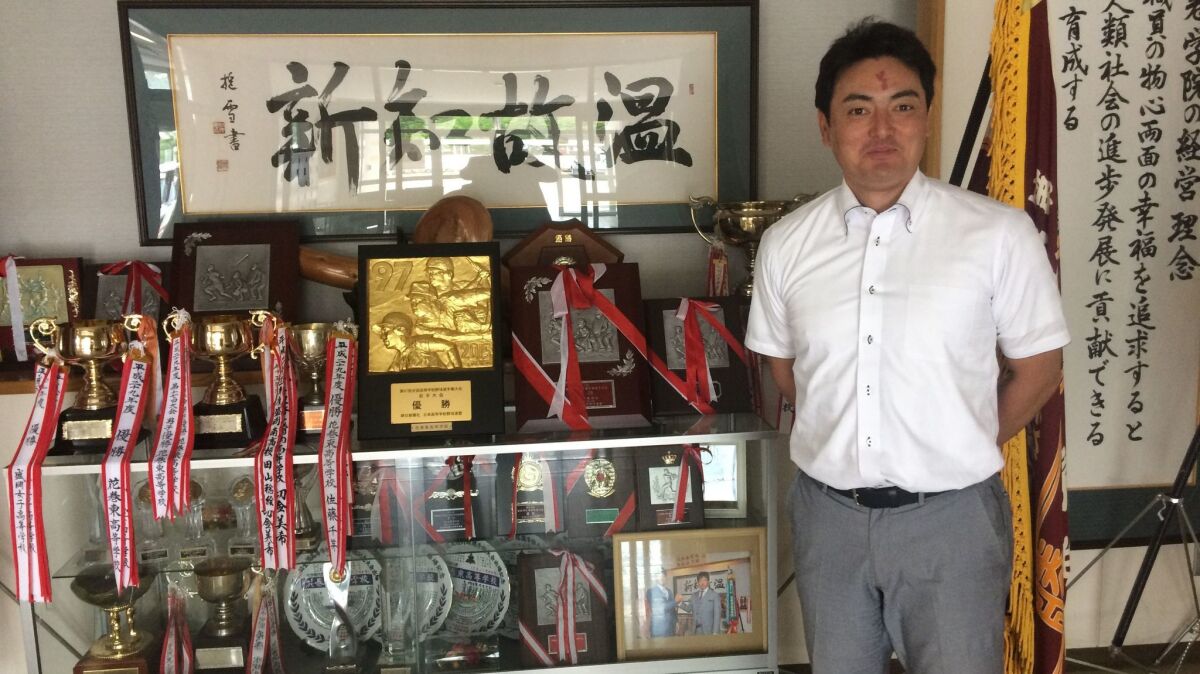 So, does he pitch, or does he hit?
"It's easier to project him as a pitcher because he throws 100 [mph]," a high-ranking MLB executive said.
Counterpoint: Former batting champion Ichiro Suzuki has said Ohtani is a more talented hitter than pitcher.
Sasaki's view: "When he's hitting, I see a 'yakyu shonen' having fun in the batter's box. When he's on the mound, he thinks of it as his job. It's a business, his true work."
Ohtani has said he prefers to remain a two-way player, and most MLB teams have become convinced they will have to present him with that opportunity in order to land him.
"I'm interested to hear what the teams have to say," Ohtani said.
Creativity will be necessary. Starters in Japan pitch once a week compared to every five days in MLB. When Ohtani was healthy last season, he often was the Fighters' designated hitter from Tuesday to Thursday. He spent the next two days preparing to pitch and started Sunday. He rested Monday, which is generally a day off across NPB.
MLB teams could create a similar schedule by expanding their rotations to six or seven pitchers. The Dodgers have the depth to try something like that, only they would have to play Ohtani in the outfield or at first base instead of as a designated hitter.
Other National League teams are pondering the strategy of playing Ohtani in right field for eight innings, then using him as a closer.
Rival organizations view the Dodgers and New York Yankees as the most likely destinations for Ohtani because they are perennial playoff contenders that have extensive histories with Japanese players. But Sasaki didn't sound convinced, noting that Ohtani chose to play for his local high school instead of a national powerhouse.
The coach recalled what a Fighters executive told Ohtani when he was a high school senior deciding between moving to the United States as a pitcher or remaining in Japan as a two-way player: "Let's be pioneers and do something no one has ever done before."
In five NPB seasons, Ohtani redefined what was possible. By next year, he could be doing the same in the major leagues.
Follow Dylan Hernandez on Twitter @dylanohernandez
Get our high school sports newsletter
Prep Rally is devoted to the SoCal high school sports experience, bringing you scores, stories and a behind-the-scenes look at what makes prep sports so popular.
You may occasionally receive promotional content from the Los Angeles Times.