Bishop High hockey reaches JV championship game of Kings high school league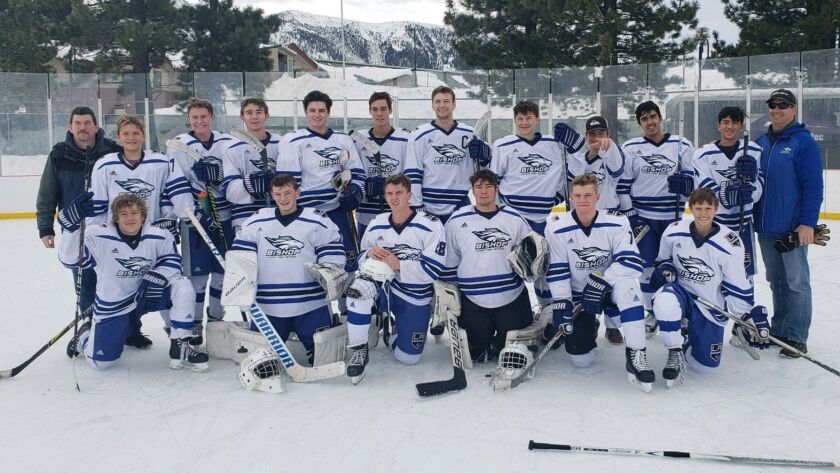 The odds are stacked against the Bishop (Calif.) Broncos High School hockey team in many ways. The nearest hockey rink is an uncovered outdoor rink in Mammoth Lakes, and it's often unusable because of snow or the glare of the sun on the ice. To practice on an indoor rink the Broncos must travel three hours north to Lake Tahoe or three hours south to Valencia. The school is small, and travel hockey is an expensive and time-consuming sport.
Yet this high school with an enrollment of about 550 has put together a team that Saturday at Staples Center will play for the JV championship of the Kings' High School Hockey League. The Broncos will face the JV South County Panthers, who are a district team. That means players come from throughout Ventura County, from Camarillo to Calabasas. The game will start at 1:45 p.m., and admission will be free. "We have a really committed bunch," coach Cronus Dillard said in a phone conversation.
The hockey program began with an inline hockey league with 300 kids, Dillard said. Eventually, there was enough interest to take to the ice. "After two years, we found people in Tahoe who would scrimmage with us," he said. The team joined the Ducks' high school hockey league and spent one year in the developmental division but switched to the Kings' league the last two seasons for geographic reasons. There are 17 players on the team; this season's roster is all boys, but girls have played for the team in past seasons. "It would really be something if we'd have enough kids for two teams," Dillard said.
The Broncos were 11-4-1-0 (wins-losses-overtime wins-overtime losses) and were the No. 2 seed for the playoffs behind the South County Panthers (11-3-1-1). The Broncos made eight trips of two games each, typically traveling and playing Friday and playing again Saturday afternoon before traveling back home. Games start in September with practices in Lake Tahoe. "The kids get up Saturday morning. We drive a little over three hours, practice for an hour and a half, and then drive back," Dillard said. "Sometimes, I'm just amazed. It's hard to get teenagers out of bed for anything, but these kids get up for these practices."
Sign up for our daily sports newsletter »
NHL glory is an extremely long shot for any of these kids, but that's not why they play. "It really is just for fun. There's a lot of good things they can experience from the program," Dillard said. "The great thing is it's the same group of kids. They're all friends or have known each other since they were young." And now they'll share the experience of playing at Staples Center. "This is really awesome, especially for the younger kids," Dillard said.
---
Get the latest on L.A.'s teams in the daily Sports Report newsletter.
You may occasionally receive promotional content from the Los Angeles Times.