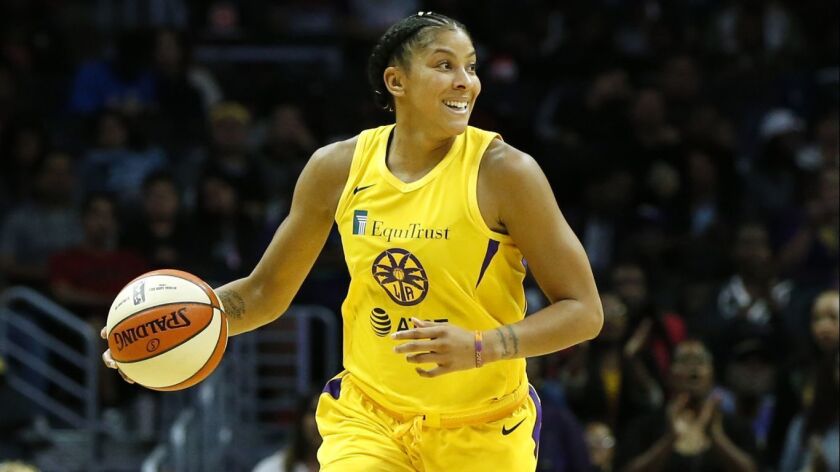 The Sparks ended a four-game skid Thursday night by defeating the Las Vegas Aces 86-74 in a rematch of their season opener.
The last time the teams met they both were without their star players, as the Sparks' Candace Parker and the Aces' Liz Cambage were recovering from injuries.
With both stars back, defense was the point of emphasis for the Sparks. Coach Derek Fisher's call for toughness was answered by his team.
"The only takeaway I really care about tonight is seeing Sparks players fighting and knocking people around and being very physical and competitive," Fisher said before the game.
The Sparks (5-6) also found their offense in their first win of the season with both Parker and Alana Beard in the lineup. Parker, Chelsea Gray and Riquna Williams led the Sparks with 18 points each.
The Sparks, spearheaded by two-time defensive player of the year Beard and Parker, converted defensive stops into offense. The Sparks began the second quarter on a 13-3 run to take a 30-21 lead with 7:17 remaining in the first half. Beard and Parker reached career milestones in steals, earning their 700th and 400th, respectively.
"Because of our IQ, we tend to overthink on offense a lot of things. We're trying to convince everyone to keep it simple," Fisher said.
"Because of Candace, Chelsea, Chiney [Ogwumike] , Nneka [Ogwumike], Riquna, the tendency is to do all the things you could do. Great teams and great players are fundamentally sound. They keep it simple and do those things well."
Rookie center Kalani Brown played extended minutes after Nneka Ogwumike was ruled out due to load management. The Sparks' "baby enforcer" filled in the gap and battled with the league's top front court in A'ja Wilson and Cambage. Brown finished with 12 points, including a put-back at the buzzer to give the Sparks a 40-34 lead at halftime.
"I went from being a student of her game to playing against [her]. She's a great player. She used her size well, so she was definitely a challenge," Brown said of Cambage, who scored 18 points for the Aces (6-5). "A goal of mine was to challenge her and be as aggressive with her as I could, and frustrate her a little bit."
Brown earned praise from Parker. "I was really proud of her tonight," Parker said. "The thing that I love about her is [that] she battled, knocked down some shots, made some nice layups, and she was able to affect people on the block … to me that just really showing her growth and her ability to adjust. I'm having a lot of fun playing with her."
In the third quarter, the post matchup between Brown and Cambage got heated after Cambage struck Brown with an elbow to the face. Brown was charged with a technical foul while Cambage received a flagrant foul.
The Sparks continued rolling in the third quarter, outscoring the Aces 26-19.
"Starting or coming off the bench really doesn't matter. Whatever to help us win and go in the right direction. I'm open to doing it," said Williams, who started Thursday. "We play off one another. We trust one another. We all have a role and a job to do."
The Sparks celebrated "Pride Night" in front of 10,295 fans at the Staple Center with the theme of authenticity.
"I think it means respect. In this league we learn to respect and each other no matter what our differences are. We come from all different walks of life," Chiney Ogwumike said. "The WNBA is the most progressive sports league in the world. It's ahead of curve not because we planned it but because it's who we are ... it has been engrained in us. ... We care and we always try to use our platform to empower."
---