Column: Fox Sports 1 has a fond attachment to the Big East and college basketball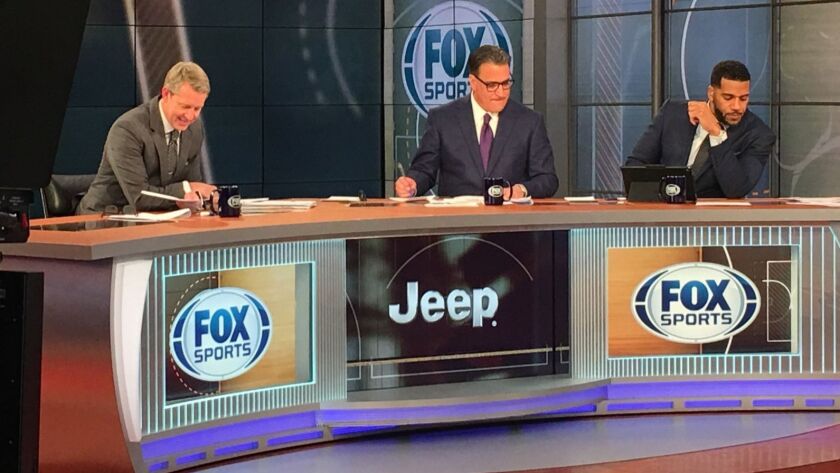 Steve Lavin, Jim Jackson and Rob Stone fixated on a bank of large flat screens along the back wall of Fox Sports' famous Avocado Room, somehow managing to keep sauce stains off their TV-ready shirts as they caught their breath between forkfuls of spaghetti and meatballs while commenting on the bevy of college basketball games playing out in various stages.
Eating alongside a dozen other production crew members, this constituted a brief dinner break for the FS1 studio trio during this particular Big East doubleheader on Wednesday night, after a Seton Hall upset of No. 16 Marquette in New Jersey and rolling on with DePaul's quick start against Georgetown in Chicago.
The wall of hardcore hoops included No. 10 Louisiana State finishing an overtime win at Florida on ESPN2, Clemson going up at Notre Dame on ESPNU, Ohio State tipping off against Northwestern on the Big Ten Network and Creighton about to head into overtime against visiting Providence on CBSSN.
If you're in search for the pulse of college basketball in Los Angeles this season — surprise. It starts with the second floor of the 101 Building on the Fox Lot on Pico Boulevard. It would make a Las Vegas sports book owner envious.
While Fox has sweet rights deals with the Pac-12 and Big Ten, it's the fifth year of their exclusive long-distance romance with the Big East Version 2.0 that makes this whole setting even more goofy.
"Geographically it probably doesn't make a lot of sense, but we don't feel detached at all if you want to say the epicenter of East Coast basketball is based in Century City," said Bardia Shah-Rais, Fox Sports' senior coordinating producer.
The Seton Hall alum is one of several in the room with Big East ties. Lavin, the former UCLA head coach, put in five seasons at St. John's between a seven-year run as an ESPN analyst.
Sign up for our daily sports newsletter »
Having been at Fox the last four years, the Venice-based Lavin said he frequently gets asked if he's in New York doing this Big East studio coverage. He actually will be at Madison Square Garden on the set with Stone for the Big East Tournament, while Jackson also goes to call games starting Wednesday.
Lavin and Jackson are also getting into NCAA tournament mode, preparing to work together with Brad Nessler on opening-round games for the CBS/Turner coverage starting March 21.
"What's great for me and Steve is the opportunity to dissect games here and then carry that into the actual games we call, so this studio creates a great balance," said Jackson.
Adds Lavin: "Working as an analyst in studio and courtside at various games throughout the country informs a perspective. The closer we get to the tournament, you sense the energy levels rising because every game is more significant and that creates a palpable energy we feed off of with our work here in studio."
When FS1 launched in 2013 at the same time as the revised edition of the Big East, the network invested in Gus Johnson and Bill Raftery as its nationally recognized voices. It also gives Raftery more reps before he joins the CBS/Turner top team of Jim Nantz and Grant Hill.
Fox's other special touches for its Big East coverage vary from experiments with a tri-screen presentation, where cameras focus on the game's coaches. It has also gone old school by licensing the rights to the iconic "Roundball Rock" bumper music that used to punctuate NBA games on NBC in the 1990s. Fox also hired Howie Schwab, the former ESPN stats guru, as its NCAA tournament bracketologist.
As this FS1 night was about to morph into a third game and go past midnight on the East Coast with an Oregon-Washington State contest, Stone said he credits the chemistry developed with Lavin and Jackson over the last four seasons as a way to get them all through these expanded rapid-fire TV productions.
"When you have a tripleheader that goes deep into the night, you can get a little loopy," said Stone, who also anchors Fox's soccer coverage. "But this plays right into the fact we're enjoying the heck out of all this and are having fun. We'll walk out of here each night still talking and laughing about some of the things we saw and said and talked about."
Tune it in
— The Grammy Museum at L.A. Live launches a new exhibit, "Take Me Out To The Ball Game: Popular Music and the National Pastime," with a conversation and guitar performance by L.A.-based former Cy Young Award winner Barry Zito on Thursday at 7:30 p.m. ($25 admission). More information can be found here.
— ESPN's coverage of the Special Olympics World Games from Abu Dhabi begins with the opening ceremony (Thursday, 8 a.m., ESPNEWS) and includes a live show nightly at 11 p.m. starting Friday through March 21 (ESPN3, ESPNEWS, ESPN2 and ABC).
— The Clippers have designed their final game of the regular season, April 10 against Utah, as "Ralph Lawler Night," when he will also be paired on the Prime Ticket broadcast with former longtime partner Bill Walton. The team plans to distribute Lawler talking bobbleheads that night in which he sits at a desk with his stick microphone and yells out "Oh me, oh my," "the lob, the jam" and "Bingo!"
Tune it out
— ESPNEWS will step aside from, ahem, real news to become the strange home base for the "Daily Wager" gambling show, starting Monday at 3 p.m. opposite "SportsCenter" on ESPN. It expands the network's wagering-slanted programming that already includes the "Bad Beats" segment on Scott Van Pelt's nightly "SportsCenter," an ESPN+ show called "I'll Take That Bet" via the Action Network, and two podcasts. Said ESPN executive Norby Williamson: "The sports betting environment has changed and interest is increasing at unprecedented levels. ESPN is going to have a strong and vibrant presence across our platforms, and the launch of 'Daily Wager' is the next step in what has already been underway for some time."
---
Get the latest on L.A.'s teams in the daily Sports Report newsletter.
You may occasionally receive promotional content from the Los Angeles Times.