Column: It just feels right to pick the Atlanta Falcons to win Super Bowl LI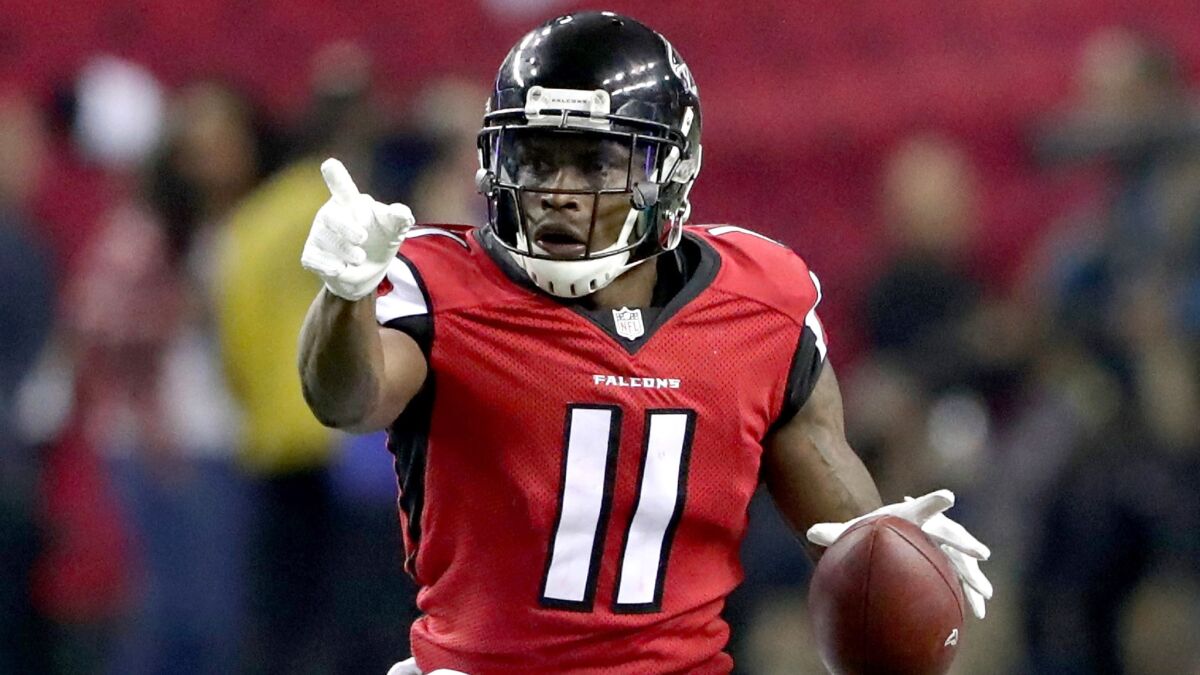 Reporting from Houston —
There is only one certified lock in this Super Bowl prediction column.
It's going to be wrong.
In my three decades on the job, I have predicted 17 Super Bowls, and been correct three times. Three. Seriously.
That's a .176 batting average, worse than even that of Carl Crawford last season, although barely.
I pick Super Bowls like the Lakers pick free agents, like the Chargers pick cities, like the Clippers pick mascots.
I was once wrong on 11 consecutive predictions. I once picked the Buffalo Bills for three consecutive years. I picked the Denver Broncos to win just hours before they lost to the San Francisco 49ers by 45 points. I picked New England before New England was any good. I picked Atlanta when Atlanta stank.
I even picked the wrong team on the week of the birth of my youngest daughter. At the start of Super Bowl week in 1995, I picked the San Diego Chargers, received a panicked phone call, rushed home from Miami just in time to witness the early arrival of Mary Clare Plaschke, and was later holding her while watching those Chargers lose to the San Francisco 49ers by 23 points.
My problem is, this always being the most emotionally charged event on the sports calendar, I pick with emotion. I don't use my head, but my heart. I don't pick facts, I pick feelings.
It is thus with great sadness that I acknowledge a strong feeling that the Atlanta Falcons are going to defeat the New England Patriots on Sunday in Super Bowl LI.
The Falcons seem like such a nice bunch of folks, it's a shame to jinx them like this, but all the human signs point to a huge upset of arguably the greatest dynasty in NFL history.
Most experts down here aren't just picking the Patriots to win, they're picking them to win a blowout. They say no way the Falcons' young defense can figure out Tom Brady. No way will Matt Ryan handle the pressure. No way are the Falcons prepared for this coronation of Brady and Bill Belichick as the greatest quarterback and coach ever.
A Patriots victory seems like such a done deal that the biggest controversy this week is not about how they will win, but how they will act after they win! Will they scowl and taunt when they are handed the Lombardi Trophy by Commissioner Roger Goodell less than six months after Goodell suspended Brady for four games for cheating?
To all that I say, Quintorris.
That is the name of one of the Falcons' most important players, and if you haven't heard of him , that's my point.
Quintorris is the real first name of Julio Jones, and the Falcons are like that. We think we know them, but we don't. We stereotype them as being the same failed organization whose only other Super Bowl appearance was ruined when their Man of the Year was busted for soliciting a prostitute, and we don't look in front of us.
These aren't the same old Falcons. And these aren't the same old Patriots.
Did you know Ryan has has a considerably better postseason than Brady? His quarterback rating is more than 30 points higher. He hasn't thrown an interception while Brady has thrown two. While Brady has had his moments — that flea-flicker against Pittsburgh being one — Ryan has looked fresher, sharper, less harried, more efficient. I'm going with Matty Ice.
Did you know that while the Patriots are legendary for milking contributions out of numerous players, it is the Falcons who are more diverse? An NFL-record 13 different Falcons caught touchdown passes this season. They have not just one, but two running backs in the league's top seven in rushing yards this postseason. They're not just the league's highest scoring team, they are its broadest scoring team. I'm going with Devonta and Tevin.
Did you know that while the Patriots statistically had the league's best defense, they played against the statistically weakest collection of opposing offenses? They didn't play anybody! Meanwhile, the Falcons defense caused only one fewer turnover and had just as many sacks. The Falcons defense looked and sounded more like the Seattle Seahawks defense in wiping out both the Seahawks and Green Bay Packers in the playoffs. The last time Brady faced a group that hit this hard, he was knocked out of the playoffs last year in Denver. I'm going with Vic Beasley Jr.
The Falcons have proven nearly impossible to stop. The Patriots have gone through stretches where they clearly can be stopped. And when it comes down to making the big play, the Patriots still miss Rob Gronkowski, while Falcons have the biggest-play guy on the field, one Quintorris Jones.
The Patriots are a three-point favorite, but it says here they lose by double digits, and it's not because I dislike them — which I do for many reasons — but because they just don't feel right, while the Falcons feel perfect.
If it's any solace to Falcons fans, I've had this feeling before and been right. One of the three Super Bowls I picked correctly was in 2008, when the Patriots were 18-0, and the Giants didn't have a chance and, yeah, ahem, I wrote a column picking a close Giants victory.
That was the second greatest upset in Super Bowl history. What happens Sunday will rank as another legendary stunner, only slightly less surprising than the fact that I actually picked it.
Get more of Bill Plaschke's work and follow him on Twitter @BillPlaschke
Get our high school sports newsletter
Prep Rally is devoted to the SoCal high school sports experience, bringing you scores, stories and a behind-the-scenes look at what makes prep sports so popular.
You may occasionally receive promotional content from the Los Angeles Times.