No. 23 UCLA gets back to basketball with victory over South Carolina State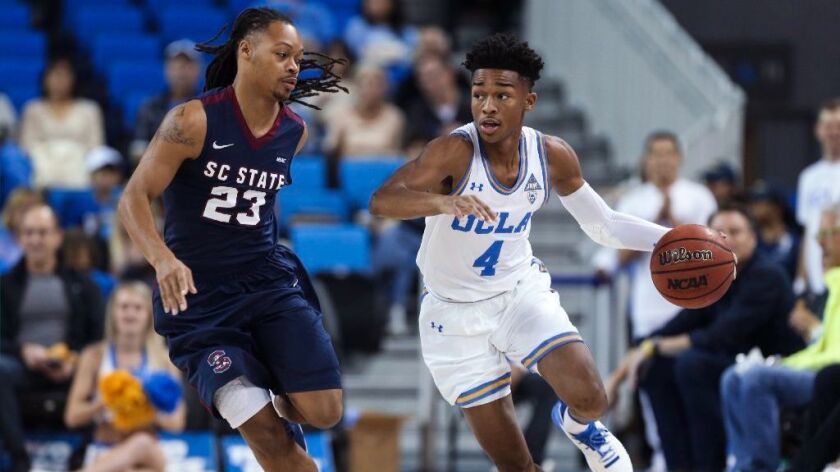 A week into the season, everything about UCLA continues to revolve around three freshmen.
Their names Friday night were Jaylen Hands, Chris Smith and Kris Wilkes. The trio generated the kind of feel-good buzz that the Bruins had not enjoyed inside Pauley Pavilion since last season.
Hands made almost every shot he took, Wilkes showed some interior toughness and Smith was strong across the board in leading No. 23 UCLA to a 96-68 victory over South Carolina State.
There were smiles all around in the final minutes as the Bruins momentarily exhaled following a chaotic stretch that has included the indefinite suspension of freshmen LiAngelo Ball, Cody Riley and Jalen Hill for shoplifting during the team's recent trip to China.
"We win as a team, we go through adversity as a team," Smith said, "and whatever happens, we're a team."
UCLA (3-0) pulled away after a taut first half, not looking nearly as sloppy or lethargic as it had in season-opening victories over Georgia Tech and Central Arkansas. The Bruins outscored the Bulldogs 55-33 in the second half and 10-0 in fast-break points for the game.
"Our main thing is to get out and have fun and run," said Hands, who threw down two tomahawk dunks that were generated by steals, "so I think if we get [more] comfortable with each other it will become easier, so that's what we really did in the second half."
The Bruins didn't seem short-handed against the Bulldogs (0-4) thanks to their "other" three freshmen. Hands led the Bruins with 22 points on nine-for-12 shooting, Smith scored 15 points off the bench and Wilkes had 14 points that included a couple of putbacks while surrounded by defenders.
Smith made the most of his season-high 21 minutes, aggressively driving to the basket, making two of three three-pointers and zipping a pass inside to forward Gyorgy Goloman for a layup.
"Coming off the bench, the main thing you've got to bring [is] energy," said Smith, who earned a hand slap and a pat on the rump from coach Steve Alford when he left the game. "So when I came in that's what I wanted to do, bring energy on the offensive side, defensive side and help however I could, whether it's rebounding, passing, scoring, whatever."
UCLA certainly needed a spark after a sluggish first half in which it couldn't get much separation from a team had been blown out by an average of 35 points in its first three games. For more than an hour it seemed the biggest cheer of the night might belong to a tiny tot who faked out a defender for a slick pull-up jumper in a halftime exhibition.
Then it was as if UCLA remembered the four letters across its chest. The Bruins were more active and energetic while capitalizing on their massive height advantage. UCLA outrebounded South Carolina State by 21 for the game while blocking eight shots and grabbing six rebounds.
"I thought we saw some growth in the second half defensively, and that's good, because we're obviously getting ready to crank up the competition," Alford said, alluding to his team's game against unbeaten Creighton on Monday.
UCLA center Thomas Welsh tallied 15 rebounds, 13 points and two blocks while moving up in the record book. He surpassed Charles O'Bannon to move into third place on the school's all-time blocked shots list with 120. Only Dan Gadzuric (184 blocks) and Jelani McCoy (188) have more.
Bruins forward Alex Olesinski had eight points and 10 rebounds off the bench, though he potentially cost Smith two points when he tipped in a layup that might have fallen through the basket after Smith had made a hanging up-and-under move.
"I think I looked up and I was like, 'I thought I had two more,' " Smith said of his scoring total. "But he was crashing the boards. That thing was rolling forever so somebody had to tip it in."
Follow Ben Bolch on Twitter @latbbolch
---
Get our high school sports newsletter
Prep Rally is devoted to the SoCal high school sports experience, bringing you scores, stories and a behind-the-scenes look at what makes prep sports so popular.
You may occasionally receive promotional content from the Los Angeles Times.