USC vs. UCLA in men's water polo sets up another matchup between coaches Jovan Vavic and Adam Wright
Above the blaring speakers, cheering fans and sloshing water, two piercing voices cut through the noise of each USC-UCLA men's water polo match — Trojans coach Jovan Vavic and Bruins coach Adam Wright.
"If you come to the game, you can hear them from the parking lot," said Marko Pintaric, co-head coach for USC. "Both of them."
From a dispute over the lights going out at a match to controversial calls by referees, the two coaches have clashed along with their schools. Pintaric said the in-game conflict stems from their shared personality traits — each coach is fiercely competitive and loathes losing.
Vavic and Wright will go head to head Saturday when No. 1 USC (27-1) hosts No. 2 UCLA (20-2) in the first match between the teams since last year's national championship match, which the Bruins won. The winner Saturday in the final game of the regular season has a chance to earn the top seed for the Mountain Pacific Sports Federation tournament, which will be held next week at USC.
The NCAA championships will held Dec. 1-2 at Stanford. USC and UCLA have played each other in six of last nine championship matches, with each team winning three times.
Pintaric said playing UCLA requires extra mental preparation. The crowd is larger, the players tenser. To Wright and Vavic, the intensity defines years of rivalry matches.
"It was battles, always," Wright, 41, said. "Physical battles, battles between the coaches."
Said the 57-year-old Vavic: "Those are really the biggest games."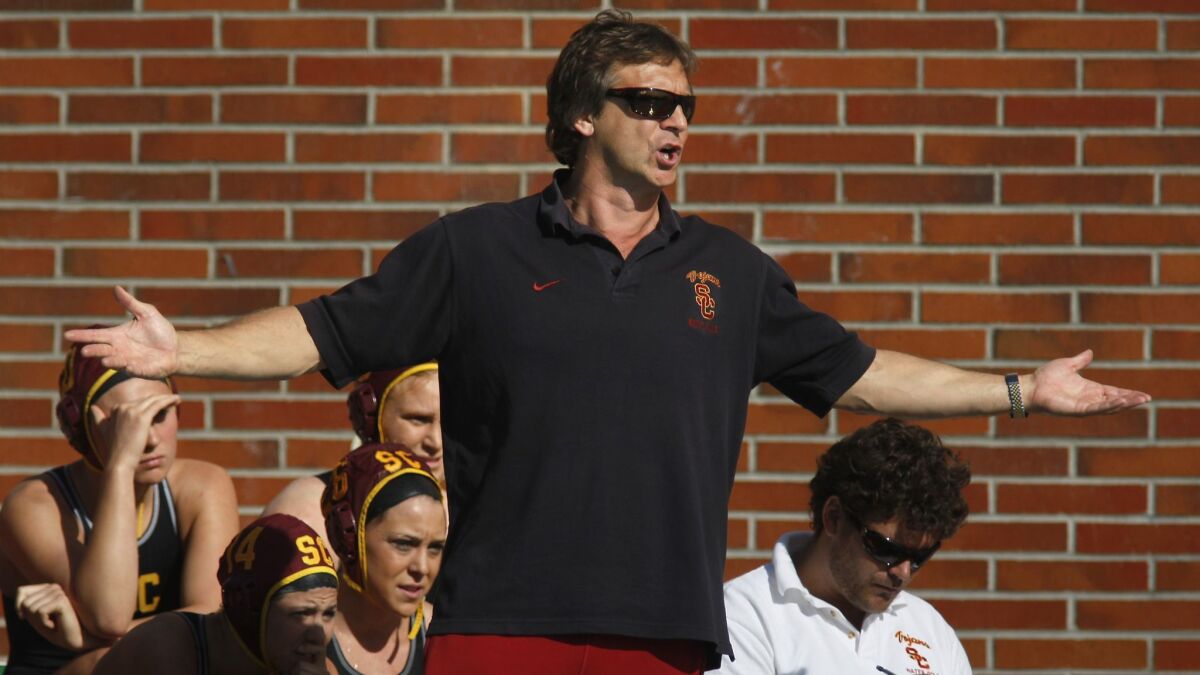 Vavic and Wright first met when Vavic was a young co-head coach at USC and Wright was a star player at Long Beach Wilson High. The prospective recruit caught Vavic's eye with his passing and selfless style of play.
"He was one of the best high school players," Vavic said. "Very, very talented."
They spoke several times over the phone and Wright visited USC, greeting friends who played for the Trojans and meeting with Vavic in his office by the pool. But when Wright watched his brother win consecutive national championships at UCLA, he sought to follow suit and committed to the Bruins.
As a player, Wright considered Stanford and California the teams to beat. USC was not a consistent powerhouse when Vavic led the Trojans to their first national championship in 1998.
The team Vavic inherited in 1995 as co-head coach was talented, but he said some players fell short of the dedication he envisioned.
He raised expectations for effort and cut anyone who did not meet them, setting an example through his own work ethic. By Pintaric's first year playing for USC in 1997, Vavic created a culture where players poured themselves into the sport, motivating each other with common passion.
"He really puts his time and effort into everything he does," Pintaric said, "and it's contagious."
Vavic called out his players' mistakes in team huddles and shouted at them as they competed in the pool; his outspoken style was off-putting to Wright and his Bruins teammates.
"Fast forward to where I am now," Wright said, "I get it."
Wright won titles in his final two years with the Bruins (1999, 2000), then moved overseas to play for the U.S. national team after graduating in 2001. He watched a couple of UCLA matches when he was home but only loosely followed the collegiate game, as professional play captured his focus.
Meanwhile, USC's prominence kept growing under Vavic.
Wright was playing professional water polo in Italy when he was offered an assistant's position UCLA. He accepted and returned after the Beijing Olympics in 2008, the year USC went undefeated and won its fourth national title.
Vavic has won more team national titles than any USC head coach — nine for the men's team and five for the women's team, including the women's title in 2018. The USC men won six straight titles from 2008 to 2013, and have played in the last 13 title matches.
"I was shocked," Wright said. "But then at the same time, I was immersed in our world here … why weren't we consistently competing with them or challenging them?"
When Wright became UCLA's head coach in 2009, he built his players' confidence by challenging them in practice. He shortened tactical preparation in the film room and used the time for conditioning and strength training. There were no rest days, because Wright wanted to prove to his players they could perform through exhaustion.
"They termed it, 'The grind of '09,' " Wright said.
UCLA lost to USC twice in the regular season but defeated the Trojans in the MPSF tournament by four goals, the Bruins' largest margin of victory over their rival since 1989. Wright has won three national championships for UCLA in the last four years, all against USC.
"They always get, always … some of the most talented players in the nation," Vavic said. "And that's a challenge."
Vavic keeps Wright busy by employing a style unlike any other the Bruins face. A typical collegiate water polo team runs formal plays after a break, like a timeout, goal or penalty. But Vavic integrates play-calling into the game's flow, making the offense unpredictable.
Wright estimated the Trojans run 70 to 90 plays in a season, sometimes 100, along with varying defensive schemes.
"If you're not prepared for USC," Wright said, "then you don't have a chance."
Wright, who also took over the Bruins' women's program in 2017, pores over film of his opponents, and Vavic and Pintaric do the same. The mutual familiarity separates UCLA from other opponents for the Trojans. Wright prepares like Vavic does, so by game time, each team knows the strengths and weaknesses of the opponent.
"Those games will always be close," Pintaric said, "just because you have those two coaches study each other."
Wright's meticulous study, competitiveness, powerful voice and even tactical style resemble Vavic. In establishing UCLA, Wright has learned by watching Vavic maintain his dynasty.
Despite the in-game disagreements the two are friendly. Wright said they both understand the heat of the moment sparks tension and talk through disputes when needed. They talk on the phone and at tournaments about Vavic's four children, issues with the collegiate game and ways to grow water polo.
"It doesn't have to be that way," Wright said, "because we don't have to talk to each other ... but then, man, that would kind of be a shame, too, with I believe two people that are heavily invested in a very small sport."
---
Get our high school sports newsletter
Prep Rally is devoted to the SoCal high school sports experience, bringing you scores, stories and a behind-the-scenes look at what makes prep sports so popular.
You may occasionally receive promotional content from the Los Angeles Times.