Memory of young friend gives USC's Kenechi Udeze new outlook on life
Taylor Hammond's favorite hat still smelled like him. His father, Brian Hammond, wore the USC cap last Saturday for the first time since losing his 11-year-old son to leukemia in December. He was the guest of honor at a tailgate on campus for children waiting for kidney or bone marrow transplants, named for Taylor.
The event launched a campaign encouraging fans to join donor registries, to help kids like Taylor. Kenechi Udeze, a leukemia survivor who is the Trojans' defensive line coach, is the voice of the campaign, leading a call to action on behalf of Taylor, his close friend.
When he saw Taylor's photograph on Twitter, Udeze knew he had to meet the boy with lively brown eyes and tiger pajamas, who grinned in a hospital bed the day of his bone marrow transplant in 2016.
That day, July 16, is celebrated annually by Udeze with a family dinner. He considers it a second birthday. It's the day Udeze received a bone marrow transplant from his brother, helping to cure his leukemia in 2008.
"I know that I was put into Taylor's life for a reason," Udeze said, "and I know that he's been in mine for a reason."
Udeze learned that Taylor and his father were USC fans, and that Taylor received the transplant at Los Angeles Children's Hospital, about five miles from the school.
Udeze connected with Brian Hammond over Twitter, and they planned a meeting.
After his bone marrow transplant, Taylor was quarantined in the hospital for 42 days. He challenged visitors to play "H-O-R-S-E" on a Nerf basketball hoop. Otherwise, his only companionship was two stuffed animals, a bird called "Birdie" or "Jamie Foxx" and a green dragon named "Larry."
Udeze entered Taylor's room wearing a hospital gown and blue latex gloves.
Taylor was given a small USC helmet Udeze had carried with him since college, adding it to a collection of Trojans gear a school official brought the day before. The two discussed their shared experiences — pain, hospital food, medications and treatments.
"Being 9 years old, he's looking up to this guy as like, superhuman …" Brian Hammond said. "He walked in his shoes ... it means a lot to him."
I know that I was put into Taylor's life for a reason, and I know that he's been in mine for a reason.
— Kenechi Udeze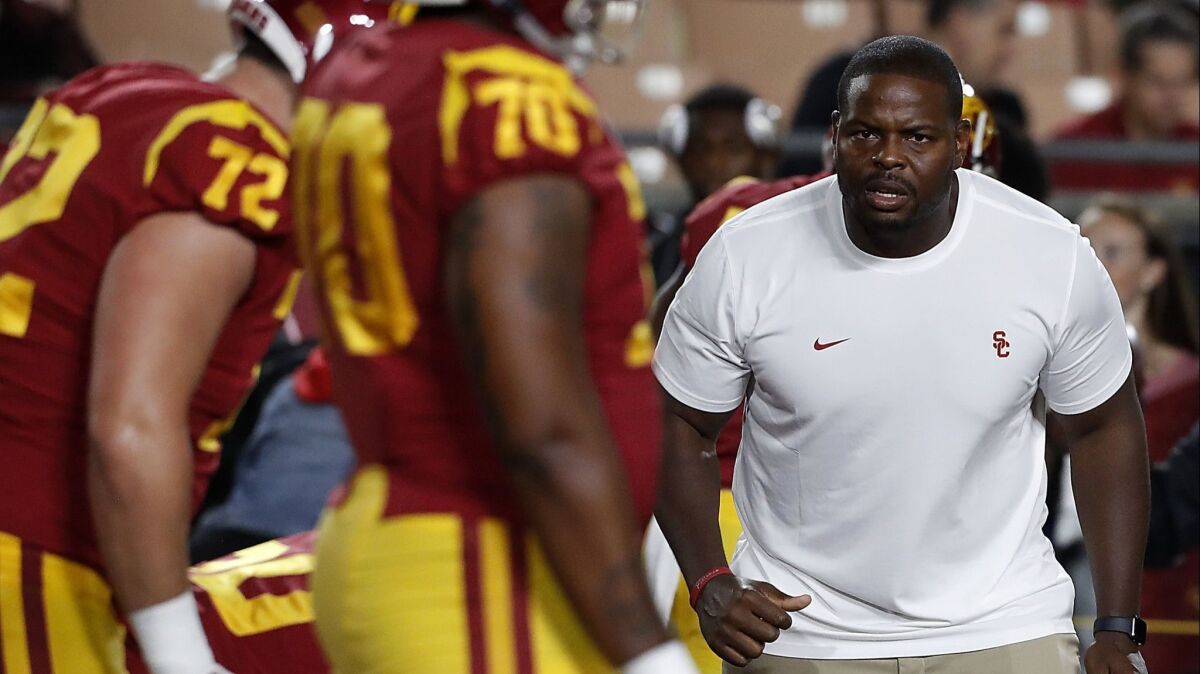 ::
Udeze was a first-round draft pick by the Minnesota Vikings in 2004 after an All-American season at USC, but his fourth year in the league was marked by constant pain. After the 2007 season, he was diagnosed with leukemia — which he overcame after the bone marrow transplant in 2008.
He tried to return to the NFL in 2009, but he developed peripheral neuropathy in his feet from chemotherapy, causing painful numbness that made playing football impossible. He retired before the season started.
"I miss the game every day," Udeze said.
Determined to help other players reach their dreams, Udeze turned to coaching. He landed at USC as an assistant strength and conditioning coach in 2015. He was named interim defensive line coach in December of that year, and the position became permanent about a month later.
After they met, Udeze sent Taylor encouraging messages, spoke with him over the phone and introduced him to James Conner, the Pittsburgh Steelers running back who survived Hodgkin's lymphoma. Udeze and Taylor were only in the same room a handful of times but connected immediately over their shared perseverance.
"I was always taught if somebody tells you you can't do something, it's your God-given right to prove them wrong," Udeze said, "and that's what I feel like I've been doing my whole life."
Said Brian Hammond: "All [Taylor] ever thought he was gonna do was just keep on fighting, no matter what. He would never give up."
The Hammonds welcomed 3-year-old Taylor into their Las Vegas home from foster care in 2010, one of six foster children the Hammonds adopted. Three of Taylor's siblings are related to him biologically. All have special needs.
Taylor was exposed to drugs and alcohol prenatally. He had nightmares about foster care, learning difficulties and a fear of water.
"We asked him what his name was," Brian Hammond said, "and he said people call him 'Tay.' "
He exuded love. Taylor delighted in family movie nights, the card game Uno and car rides. He enjoyed playing Legos with his brother and asking his father questions. He obsessed over superheroes; his favorite was Black Panther, followed by Hulk, Hawkeye and whoever wore his favorite colors, purple and green.
Most of all, he loved making people smile.
If I had big enough arms... I would give the whole world a hug.
— Taylor Hammond
::
In February 2013, Taylor had a fever that the Hammonds thought was flu. Then he woke up from a nap screaming.
Nicole Hammond took her son to the emergency room. Taylor prayed in the back seat. About a day later, he was diagnosed with a rare, aggressive form of leukemia. The Hammonds were told he had a month to live.
"The thought never crossed our mind that he wasn't gonna make it," Brian said. "Even though they said it, we just didn't believe it … like, 'They don't know him.' "
For nearly five years, Taylor lived in constant pain. But when asked how he was feeling, Taylor said, "Great." He sang camp songs with his father during spinal taps and comforted kids he met in hospitals. When he left the hospital after his bone marrow transplant, Taylor danced down the hallway and onto the sidewalk.
"It was amazing how this young man was able to give this much life and this much hope to so many people," Udeze said.
In June 2017, the Hammonds learned they had exhausted all treatment options for Taylor and prepared for the worst. Taylor made a life list, since the word "bucket" reminded him of nausea. The Hammonds completed adventures, from meeting boxing champion Floyd Mayweather Jr. and New York Yankees slugger Aaron Judge to having Taylor take part in a USC football practice.
For one afternoon in August, Taylor toured the school's athletic facilities as if he were a recruit. He played catch with quarterback Sam Darnold before a scrimmage.
During the scrimmage, Taylor pulled a pass from Darnold into his chest and tore down the field past players three times his size. He spiked the ball triumphantly and danced after he crossed the goal line. A player hoisted him onto his shoulders and the team surrounded him, hooting in celebration.
"That day," offensive lineman Jordan Austin said, "was probably the best moment of my life."
That day was probably the best moment of my life.
— USC offensive lineman Jordan Austin
Last October, Taylor fulfilled the final item on his life list: moving to Hawaii.
A few weeks later, he contracted pneumonia. He was put on hospice care, but his condition steadily worsened. He died Dec. 7, 2017, about a month after his 11th birthday.
His mother wrote in a Facebook post, "If love could've saved him, Taylor would've lived on this Earth forever."
::
The day Taylor attended USC practice was the last time Udeze saw him. Udeze was a pallbearer at Taylor's funeral and keeps a photo of Taylor on his desk. He regularly sends Brian Hammond biblical devotionals and encouraging messages; they cry and reminisce on the phone.
At the practice, as the workout stretched on, Udeze and Taylor peeled off to the side. The burly former NFL player and the smiling boy with a button nose paced the field together, engrossed in conversation.
When Taylor had a rare good day on hospice care, his parents got their video camera. A family friend asked Taylor questions about his memories, favorite things and attitudes on life, footage that became the basis of his eulogy — a video that begins and ends with Hawaiian waves crashing.
In the video, Taylor sits with his legs crossed on a brown cushioned chair. His once-rounded cheeks are sunken, revealing a narrow face. His limbs are wiry, his skin splotchy from sickness.
But his eyes shine.
Taylor only mentions his hardship to emphasize the importance of persevering. He praises people around him — his nurse, his parents, friends he lost to cancer and others. His love for every life he touched inspired his constant joy.
"If I had big enough arms..." Taylor says, "I would give the whole world a hug."
---
UPDATES:
9:58 a.m.: This article was corrected to take out a reference that Udeze was a walk-on at USC. He was a scholarship athlete.
This article was originally published at 7 a.m.
---
Get our high school sports newsletter
Prep Rally is devoted to the SoCal high school sports experience, bringing you scores, stories and a behind-the-scenes look at what makes prep sports so popular.
You may occasionally receive promotional content from the Los Angeles Times.