Column: Los Angeles' Latina club is trying to change the face of women's soccer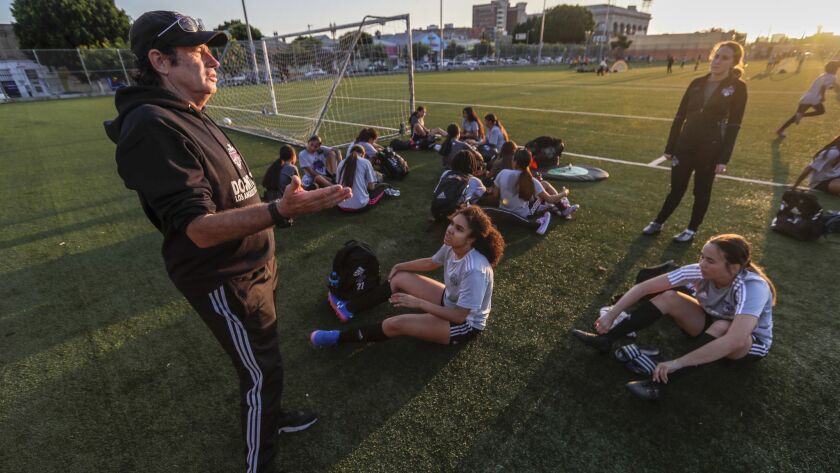 It's a steamy Saturday morning in Norco, and the girls from downtown are flying.
April Flores streaks downfield, smoothly passes the ball to Nayelli Barahona, who kicks it over to Michelle Bracamonte, who boots a 20-yard laser past a diving goalkeeper.
They leap, they hug, they squeal, and four minutes later, they win. The game is decided by that one goal, the Downtown Los Angeles Soccer Club's team of 15- and 16-year-olds having slayed another giant in a 1-0 victory over Chino's champion Legends FC team at the SilverLakes Equestrian and Sports Park.
"It was pretty good," says a sweaty Bracamonte as she walks away from field 12 with her exhausted teammates. "They body us … we need to body them back."
For this group of mostly Latina athletes facing economic and cultural battles that have long kept them on the soccer sidelines, the fight continues.
Downtown, as it's commonly known, is fueled by 175 girls trying to crack the grass ceiling. They are attempting to alter the current women's soccer portrait of rich and white. They're hoping to eventually change the face of a World Cup champion U.S. women's national soccer team whose 23-person roster was missing a key piece in its celebration of diversity.
During a victory speech in New York City this week, U.S. star Megan Rapinoe said, "We got white girls, black girls and everything in between."
Actually, they don't. The team had five players of color, but no Latinas. The girls from Downtown found it hard to relate to a group that doesn't look like them.
"No, they don't,'' says Barahona, Downtown's 15-year-old striker. "That's why … I like watching them and everything, but I still say my idol is Lionel Messi."
Their dreams are distant ones. They come from households that can't afford normal soccer club fees that range from $2,000 to $5,000 annually. They are raised in a culture that has not traditionally embraced sports for women. They live in city areas from where top women's academies spread throughout Southern California are not easily accessible.
"We're constantly told, 'Only boys can play soccer,' and then we're told, 'It costs too much money for you to play soccer,'" says Kim Surio, a former Downtown player and now an assistant coach at the club. "These girls watch the World Cup and wish that could be them, but don't think it could ever happen."
Yet under the direction of club president Mick Muhlfriedel, who helps run the all-volunteer operation out of the Liechty Middle School field in Pico-Union, it's slowly happening.
In his 10th season with the club, which also has about 450 boys, the retired TV and movie composer has built a steady girls program by convincing neighborhood parents of the athletic worth of their child, and then using donations to pay for most of their uniforms and tournament fees. Some of the girls contribute $25 a month. Most pay nothing.
"We have one motto," Muhlfriedel says. "If you can play, you can play."
Oh, how they can play.
"Downtown! … L.A.!" they scream together before every game, resounding in pride over a journey that is taking them places.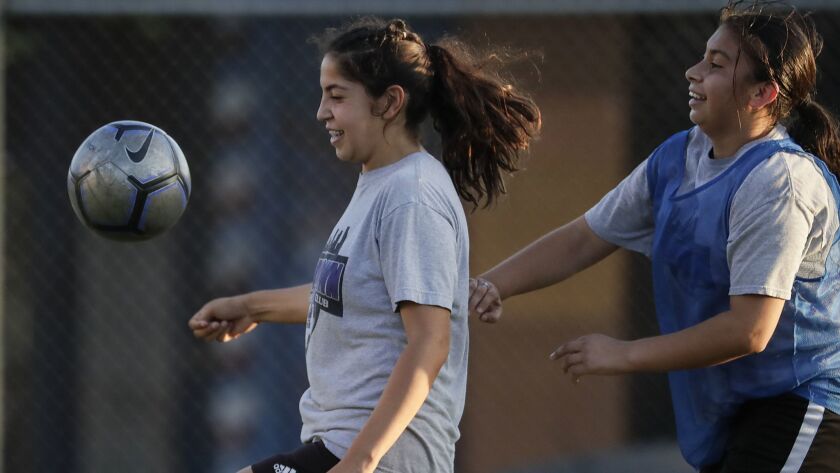 They play fast, with skills honed from backyard games with their brothers. They play hard, their edge honed from bouncing around in games on the street. One of them learned to play from watching YouTube videos and dribbling around her dogs. Several others played on boys teams.
They're from Paramount, Compton, Bell, South Los Angeles, East Los Angeles and Pico-Union. They live in ancient duplexes and modest bungalows. Their daily path is filled with homeless encampments and the looming threat of gangs. Yet from these humblest of surroundings, they have come together to create a most powerful force.
In the last two years, Downtown's top team of 15- and 16-year-olds has won three of their eight major tournaments and played in the finals three other times. This fall they will compete in the prestigious Premier division of the Coast Soccer League, and then compete in the celebrated California Regional League.
"There is an exciting stylistic difference about their team," says Nicole Moreno, Oakwood High and LA Surf club coach who once followed this same difficult path from Montebello. "It's a strong team."
The strength comes from their differences, ones that become apparent every time they step on to a pitch in the Orange County suburbs or Los Angeles beach communities while dressed in donated cleats.
"It can seem intimidating, but we never let it get to us," Barahona says. "They come in very nice cars, their equipment is very fashionable. … We're not as privileged as these other people."
They're shorter than everyone else. They're darker than almost everyone else. They not only look different, but, in some places, they are treated different, the occasional object of racial taunts hurled from the sidelines.
"Many parents yell at us during games when they're really mad," Barahona says. "They always say, 'Go back to your country, you don't belong here, you don't deserve to be on this playing field.' It's really hard."
They respond, simply, by swarming and suffocating and eventually owning those fields.
"The world of soccer … won't look at me for how I look," Barahona says. "They'll see the way I play."
***
On a recent Monday evening practice at Liechty, the quick team from Downtown plays lights out, because, well, they never know when the lights will go out.
"I've counted 23 lights that have gone out in the last three years on us," Muhlfriedel says, chuckling as he looks out over the rented turf field in the middle of a loud and cluttered neighborhood. "It's getting darker and darker."
It's never easy for the girls and their 65-year-old father figure. The difficulties begin before practice, when Muhlfriedel climbs into his sports car and leaves his Westside home for the seven-mile drive to the field. It sometimes takes him nearly three hours, because he drives all over Los Angeles to pick up five or six of his players.
If he didn't drive them, they couldn't play. If he didn't buy their equipment, they couldn't play. He has paid parents' insurance bills to allow their kids to play. He has paid for their repossessed cars. He has paid off payday loans. He has paid immigration attorney bills.
"If you want their girls to play for you, you have to be more than just their coach," he says.
But the struggles are not confined to money. There is also the issue of motivation.
Sign up for our daily sports newsletter »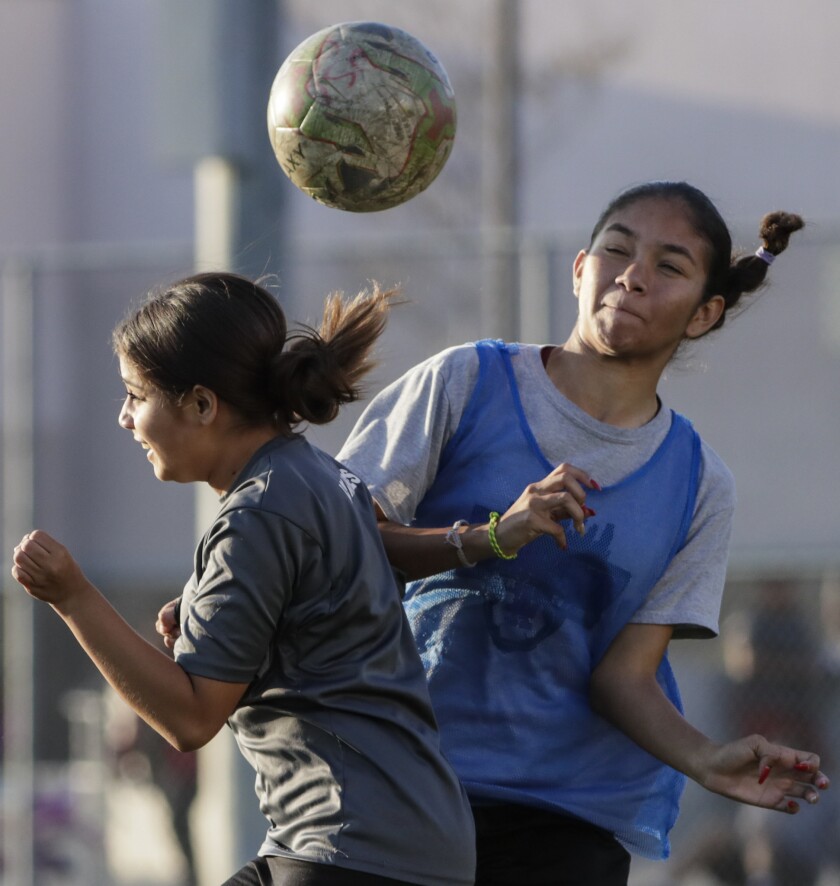 "The hardest job we have, the first job we have, is convincing parents that the best player in your family might not be one of your sons," Muhlfriedel explains.
His players have been late to practice because they have to cook dinner for their brothers. His players have missed practice because they had to baby-sit siblings while their brothers played on other teams. He has pleaded with parents to give their daughters the same sports priority as their sons.
"In our culture, this is a sport loved by the male community, your best player is your son. If you're a woman, you stay at home, you do the chores, you wash the dishes," says Jimena Torres, former club player and one of the program's coaches. "We try to get the girls out here and give them wings."
It was only by necessity that Muhlfriedel began doling out those wings. He was born in Germany, moved to the United States when he was 3, and played club soccer in college. He began coaching his son Kyle on an American Youth Soccer Organization team in Beverly Hills and Hollywood. Then, when Kyle decided to play baseball, Mick was asked to fill in on a girls' team.
"They didn't have a coach, I raised my hand," he says. "I was immediately hooked. I loved the smart and intense way they played."
That AYSO team, which practiced on the Liechty field, eventually became his first Downtown club team, which eventually drew the Latino players from the neighborhood.
"Girls would just be walking past and want to be part of this," Muhlfriedel remembers. "They had to go through so much to play, yet they came from everywhere to be out there. I fell in love with their commitment."
That commitment has been passed down through siblings and neighbors and friends. Muhlfriedel has never held a tryout camp. He has never recruited a player from another team. If he has an opening, he just asks if somebody knows someone, and they always do.
Barahona, the team's top scorer, just showed up one day with her cousin. It was six years ago. She had never played organized soccer. She had learned the sport while watching Argentina's Messi on YouTube. She had practiced in the backyard of her South Los Angeles home while dribbling around her two dogs Max and Loba.
"I see many people different from me, but I still see the game of soccer," Barahona says. "The game will never change."
Their parents now crowd the sideline for games. Like their children, they hear the racist remarks and sometimes feel the stares. But they celebrate the empowerment and have seized the opportunity.
"I know parents who say soccer is not for girls, they should be home cleaning," says Hector Navarro, father of 14-year-old forward Julissa Navarro. "For me, if you play soccer, you could get a good scholarship. For me, this is her chance."
The first team to "graduate" from his program placed 14 players in college, including five on scholarship. This current teenage team reportedly has college recruiters already checking them out. But the pipeline for Latino women is still far from filled, and progress is slow.
According to the latest NCAA reports from 2017-2018, while 14% of the NCAA soccer players were Latino men, only 8% of female soccer players were Latino women.
While 13% of the current U.S. men's national team that played in the Gold Cup is Latino, the percentage of Latinas on the women's championship team is zero.
Growing up in Montebello, Moreno, 40, had to drive nearly an hour in traffic every day to the nearest strong club in Cerritos. She eventually played for Cal State Fullerton, but she says she was the anomaly.
"The club system needs to change big time before underprivileged kids can move into the system," Moreno says. "Right now, the Latino girls are totally underrepresented."
As the Liechty field empties after a recent practice, Muhlfriedel's work is just beginning. He walks up to a cluttered patio to mingle with weary parents and sweat-soaked players. There is a mother who needs reassurance. There is a family that needs rent. There are five girls who need a ride home.
It is during these conversation when he repeats that club motto, practically shouting those seven words throughout Pico-Union, coaxing a new generation out of their backyards and off their streets and into dreams they didn't know existed.
"If you can play," booms the voice from inside the Downtown LA Soccer Club as it opens its door wide, "you can play."
Get more of Bill Plaschke's work and follow him on Twitter @BillPlaschke
---
Get the latest on L.A.'s teams in the daily Sports Report newsletter.
You may occasionally receive promotional content from the Los Angeles Times.