Bob Baffert is back in the U.S. and back at work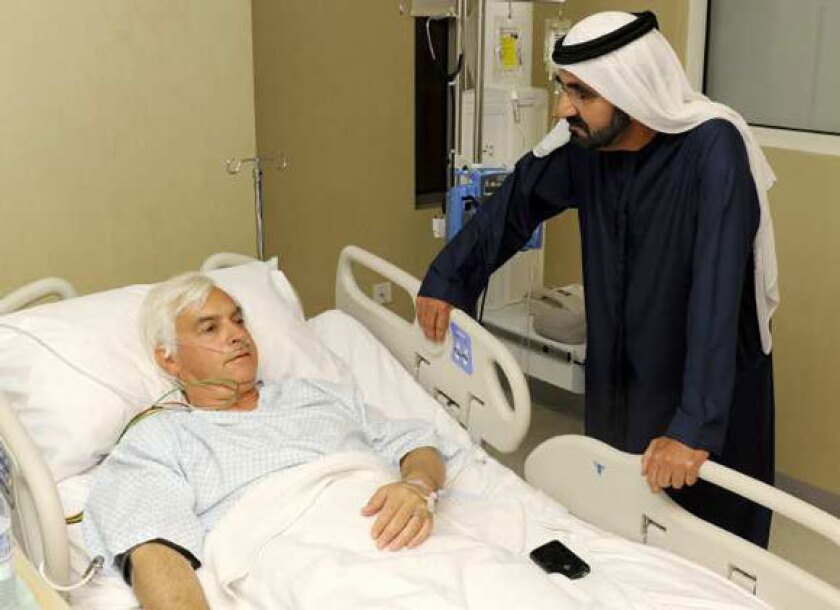 Hall of Fame horse trainer Bob Baffert, who had a heart attack last week while in Dubai in the United Arab Emirates, returned home to Arcadia on Tuesday and is now back at work.
"I'm feeling pretty good, although I'm taking it easy," he said Thursday during morning workouts at Santa Anita.
He was also there Wednesday morning but began feeling tired and went home to rest prior to the breakfast draw for Saturday's Santa Anita Derby. Baffert has three horses running in the $750,000 race.
"Yesterday I was feeling pretty tired, but I'm better today," he said.
Baffert, 59, was in Dubai because he had two horses running there March 31 – Game on Dude in the $10-million World Cup and The Factor in the $2-million Golden Shaheen.
Baffert said he didn't feel well when he was awakened by a call from the United States on March 25 at 3 a.m. his time. "At first I thought it was indigestion," he said. But his wife, Jill, convinced him it was a heart attack and called paramedics.
He had three stents inserted in two arteries. One was 100% blocked, the other 90% blocked.
"The care there was great," he said. Sheik Mohammad bin Rashid Al Maktoum, the ruler of Dubai whom Baffert has trained for, visited Baffert in the hospital and made sure he was well taken care of.
"I think fatigue from the flight there and the time change may have contributed to my heart attack," Baffert said.
However, he said he had no problems on the 16-hour flight back home.
He said overall the heart attack was a positive.
"It was a wake-up call for me," Baffert said. "I've got to take care of myself as well as I take care of my horses."
ALSO:
Trainer Bob Baffert has heart attack in Dubai
Gregg Williams urged Saints to 'kill the head'
Deron Williams, Jordan Farmar cope with Net losses
Bob Baffert is back in the U.S. and back at work
---
Get the latest on L.A.'s teams in the daily Sports Report newsletter.
You may occasionally receive promotional content from the Los Angeles Times.