Ducks to play regulars, but will Selanne play next season?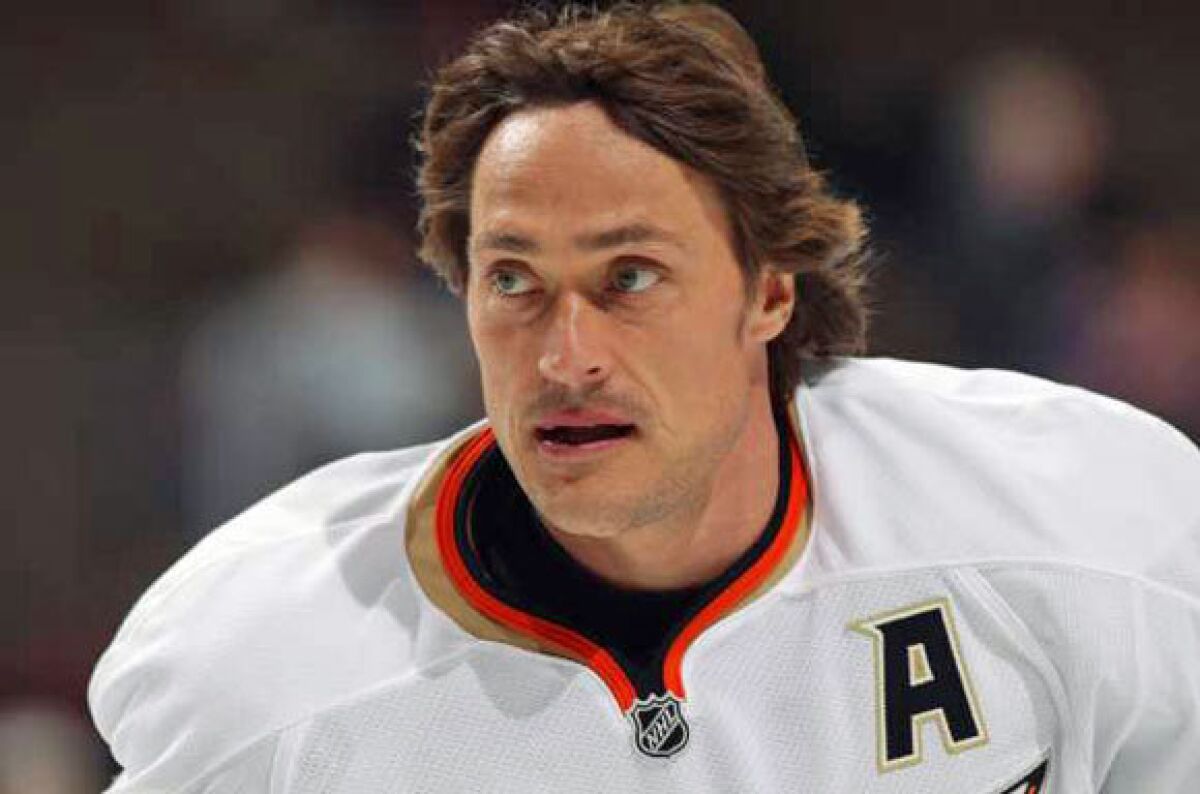 With the Ducks on the verge of mathematical elimination from the playoff picture, two key questions remain about their lineup:
Will they play their regulars the rest of the way, or will they try to look at some of their minor-leaguers and perhaps have an impact on the West playoff race?
And will Teemu Selanne return next season at age 42?
Coach Bruce Boudreau said Wednesday he will play his regulars in the remaining six games, though he might not start goaltender Jonas Hiller in all six. Hiller is scheduled to set a club record Wednesday with his 70th appearance but he can rest when the Ducks face Edmonton twice in the next week without affecting the playoff scramble because the Oilers have been eliminated.
More on that in a bit.
There's no answer about Selanne's future. He said after the team's morning skate at Honda Center that he doesn't know what he will do and that he will consider his future over the summer, a pattern he has followed the last few seasons.
"I'm not going to think about it before the season is over and then give it a couple weeks and get a feel from there," he said after the Ducks practiced in preparation for Wednesday's game against Pacific division-leading San Jose.
"There are so many highs and lows during the season. I have to feel the situation."
Selanne leads the Ducks with 63 points in 76 games, a decline from his production of last season, when he had 80 points in 73 games. Then again, the Ducks had a longer first-half slump this season than they did last season and fell out of the playoffs the last few weeks. Last season, they won their final two games to finish fourth in the West.
Selanne said he will stay in California until mid-June and then head home to Finland. He said he's not leaning either way, though he said he was disappointed over the Ducks' imminent elimination.
"We know the situation. And obviously we still have to try to play well and get a better taste for this season and finish strong," he said. "The first half was just too much. We put ourselves so bad behind the eight-ball, no team could come back.
"I thought we were close. But it was grinding for a long time and we did really well but it was too much."
Boudreau refused to concede the Ducks are done, saying, "It's definitely not a good-looking situation as far as continuing playing too much in April." However, he said he will continue to tell players to play hard, though he said they don't really need that reminder. After facing the Sharks on Wednesday, the Ducks will play at Phoenix on Saturday, play host to Edmonton on Sunday and end the season with games at Vancouver, Edmonton and Calgary.
Vancouver has clinched a spot but could still be competing for the overall points title; Calgary could also still be vying for a playoff berth.
"I think personally we have an obligation to every team in our conference to play the best that we can, every night and to put the best lineup out every night, because [otherwise] it's not fair," Boudreau said.
"Would it be fair to L.A. if we all of a sudden put 12 callups in there to play San Jose, or go into Phoenix and start resting guys? Or on the Canadian trip, resting guys when other teams have battled all year to get into that position? I don't think it's right. I wouldn't want them to do it to us if we were in that situation."
One more Ducks note: Prized college defenseman Justin Schultz, whom the Ducks had hoped would sign with them when his season ended, remains at the University of Wisconsin and is taking classes. He has not withdrawn from school, a Ducks spokesman said. Schultz can become an unrestricted free agent on July 1 and sign with anyone, but the team remains hopeful of signing him before then.
RELATED:
Bill Plaschke: Magic Johnson is perfect fit for Dodgers
Magic Johnson-led group picked as next Dodgers' owner
T.J. Simers: Smile, it's Magic! What could go wrong? Well ..
---
Get our high school sports newsletter
Prep Rally is devoted to the SoCal high school sports experience, bringing you scores, stories and a behind-the-scenes look at what makes prep sports so popular.
You may occasionally receive promotional content from the Los Angeles Times.