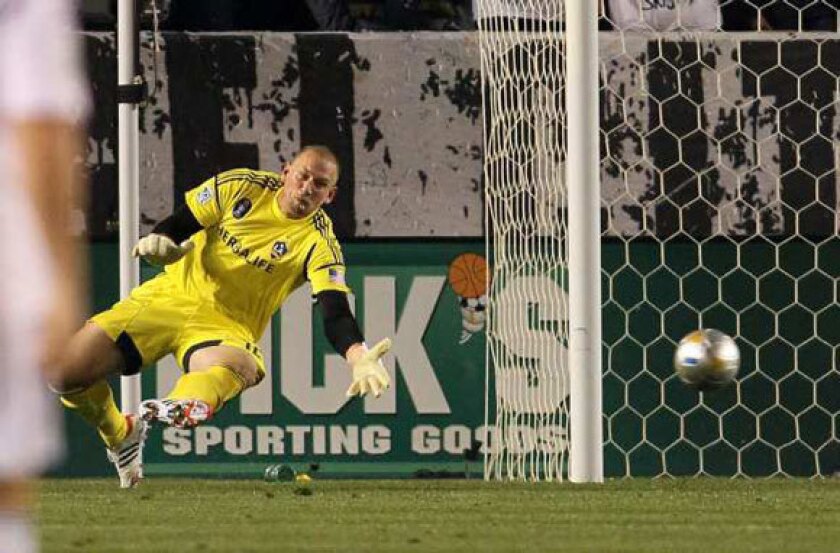 Goalkeeper Josh Saunders will be lost to the Galaxy for an indefinite period after being enrolled in Major League Soccer's substance abuse treatment program.
The Galaxy was informed last Friday that Saunders would be unavailable to play until he completes a treatment protocol. Team officials insisted Tuesday that Saunders did not fail a league-administered drug test but have been evasive in explaining his absence. Saunders missed last Saturday's tie with FC Dallas and is unavailable for Wednesday night's match in Seattle, with Coach Bruce Arena saying only that the keeper was missing for "personal reasons."
---
FOR THE RECORD:
Galaxy goalkeeper: An earlier version of this story said that New England Revolution player Shalrie Joseph was suspended for six weeks in 2010 for being in a substance abuse program. Although Joseph missed six weeks that season while he was in the program, Major League Soccer said that he was not suspended.
---
That's the same language the New England Revolution used when midfielder Shalrie Joseph missed six weeks early in the 2010 season while involved in the substance abuse program.
Joseph was also suspended for five games; Saunders could be handed a similar penalty.
Saunders, 31, a backup most of his eight-year pro career, took over as the Galaxy starter last June after Donovan Ricketts broke an arm and he went on to set career highs for games, starts and minutes played. After posting eight shutouts in the regular season he recorded two more in the 2011 playoffs, including a 1-0 win over the Houston Dynamo in the MLS Cup final.
The Galaxy rewarded Saunders by trading Ricketts, a former MLS Goalkeeper of the Year, to Montreal a week after the season ended.
ALSO:
Brooklyn Nets represent more than one fresh start
Is the Rajon Rondo suspension an appropriate length?
Amare Stoudemire could miss series after reportedly punching glass case
Galaxy's Josh Saunders enrolled in drug program
---