Packers-Seahawks: Pete Carroll always seems to be near controversy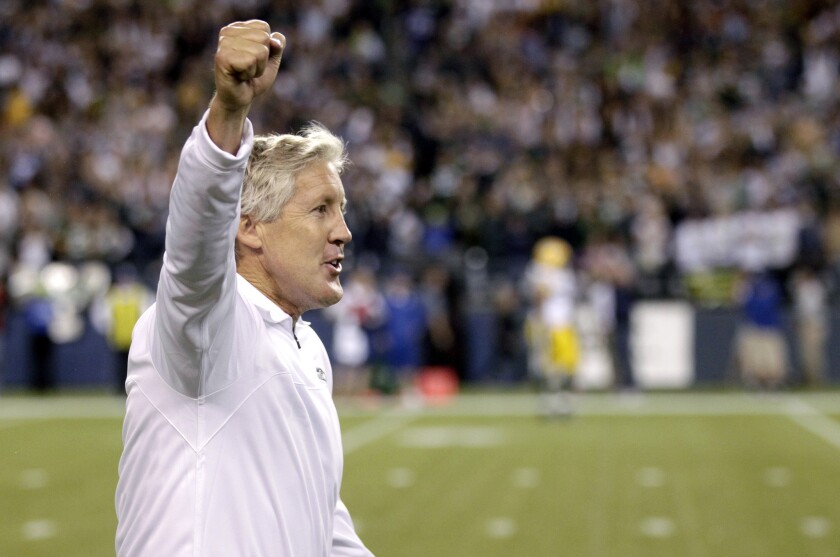 "Take this job and shove it" could be Pete Carroll's theme song given the five-alarm controversies he's been around as a football coach.
You can't make this up: Carroll was coaching USC in 2005 when Reggie Bush shoved Matt Leinart into the end zone to cap a wild Trojans' victory over Notre Dame.
We know this now as "The Bush Push."
Monday night, Carroll flipped the rivarly script when Golden Tate, a former Notre Dame receiver, helped secure a controversial win for "Just Compete" Pete by shoving a defender on the final play of Seattle's controversial win over Green Bay.
That wasn't offensive pass interference by Tate, it was third-degree assault.
We'd love to tell NFL fans fed up with replacement officials to come on over to college football, where everything is above board--but that would be a tad bit disingenuous.
The college game has had its fair share of controversial finishes. For argument's sake, let's just put the 1982 Cal-Stanford game in a separate time capsule. Cal announcer Joe Starkey's call pretty much summed it up: "The most amazing, sensational, dramatic, heart-rending, exciting, thrilling finish in the history of college football."
And yes, Dwight Garner's knee was down and Cal should have never won. At least that is what my Stanford wife, who was at the game, has brought up every four or five days for 26 years without even being asked.
So scarred are we as a family by "The Play" none of our children ever took trombone lessons.
Pro football doesn't own the market on botched endings. No sir. What about Charles White's "phantom" touchdown in the 1979 Rose Bowl?
Once, 1990, the refs gave Colorado five downs to beat Missouri.
Most controversial finish I've seen personally was the 2002 BCS title game between Miami and Ohio State. Miami rushed the field in overtime thinking it had won its second straight national title. Fireworks were blasting when we learned official Terry Porter had tossed a late interference flag in the end zone on Miami's Glenn Sharpe.
Ohio State ended up winning the national title.
But that still might top 2006, when Oklahoma was Jesse James robbed of a victory at Oregon on the botched call of the early century.
Trailing by six with 72 ticks left, Oregon recovered an onsides kick and eventually scored the winning touchdown.
Two problems: not only did an Oregon player illegally touch the ball before it went the required 10 yards, an Oklahoma player actually recovered the kick. We know this because Allen Patrick of the Sooners handed the ball to an official.
Sitting in the press box, replay official Gordon Riese didn't have a good enough TV angle to see the illegal touch. He did see Oklahoma recover the ball but, by rule, was not allowed to overturn the decision on the field.
Riese and other members of the Pac 10 crew were suspended, after which Riese basically went into witness protection.
Oklahoma President David Boren, in a fit of stupidity, asked that the result be stricken from the record books. Told they only do those sort of things in North Korea, Boren backed down and Oklahoma, to this day, continues to field a team.
ALSO:
Seahawks stun Packers on disputed play
NFL losing credibility with each blown call by replacement refs
Packers players, NFL fans tweet frustration over replacement refs
---
Get the latest on L.A.'s teams in the daily Sports Report newsletter.
You may occasionally receive promotional content from the Los Angeles Times.