Angels would like to forget this week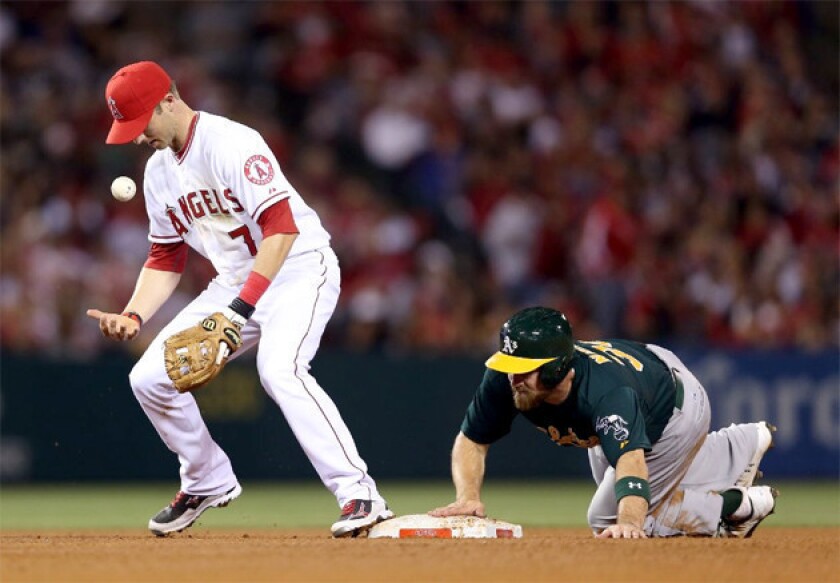 Worst week ever
The Angels lost ace Jered Weaver, shortstop Erick Aybar and third baseman Alberto Callaspo to injury last week, bad news for any team but worse for this one, top-heavy with stars and hardly any depth. The Angels have started 2-8 once before — as an expansion team.
They might have had a backup shortstop in Jean Segura, but they included him in last year's trade for pitcher Zack Greinke. Segura leads the National League with a .429 batting average, through Friday.
They tried to retain Greinke, but the Dodgers outbid them, so they shifted $125 million to outfielder Josh Hamilton, who is batting .179 with no home runs. Hamilton ended Friday's loss by getting doubled off first base because he forgot how many outs there were.
With too many outfielders, they had no use for Vernon Wells and subsidized his departure for the New York Yankees. Wells has two home runs, one more than the entire Angels outfield.
They needed a starter to replace Greinke, so they traded reliever Jordan Walden, who is pitching well for the Atlanta Braves, for Tommy Hanson, who is not pitching well in Anaheim. They needed a reliever, so they signed Ryan Madson, who has yet to pitch this season as he rehabilitates a surgically repaired elbow.
They decided Joe Blanton and Jason Vargas (eight walks and 12 strikeouts) could replace Ervin Santana and Dan Haren (two walks and 25 strikeouts) in the rotation.
They could use a good pitching prospect, someone like Pat Corbin, who shut out the Dodgers for six innings Friday. That might have been Jerry Dipoto's best trade yet — acquiring Corbin and fellow pitching prospect Tyler Skaggs for Haren — but he was general manager of the Arizona Diamondbacks then.
The unconventional DL
Greinke is on the disabled list for the third time in his career. He has thrown 24,111 pitches in his 10 years in the major leagues, yet he has had none of the usual arm injuries.
You could even make the argument he has not had a baseball injury, at least based on his three stints on the disabled list.
In 2006, he successfully battled anxiety disorder. In 2011, he fractured a rib playing pickup basketball. This time, he suffered a broken collarbone, tossed to the ground by Carlos Quentin of the San Diego Padres in a fight Thursday.
Quentin got an eight-game suspension for inciting a brawl, after Greinke had hit him with a pitch. After the game, Quentin cited a history of Greinke throwing at him and said he had no remorse, even after learning about Greinke's injury.
The Padres must have gotten to Quentin, or maybe his agent did. On Friday, although Quentin did not back down, he at least said he had "remorse that someone did get hurt."
Upton and down
The Diamondbacks dangled outfielder Justin Upton in trade talks for years, his value no doubt damaged by public criticism from owner Ken Kendrick. "He's 24 years old and it's time for him to be a consistent performer," Kendrick told XTRA last June.
Upton has been consistently spectacular in his first weeks with Atlanta, batting .349 with a league-leading six home runs as the Braves rolled to a 10-1 start.
In Arizona, meanwhile, Kendrick demanded the fans in the suite behind home plate on Friday — the ones who bought the best seats in the house — remove their Dodgers gear or move elsewhere. Looks bad on TV, you know. According to Deadspin, he was sporting enough to provide free Diamondbacks gear.
---
Get our high school sports newsletter
Prep Rally is devoted to the SoCal high school sports experience, bringing you scores, stories and a behind-the-scenes look at what makes prep sports so popular.
You may occasionally receive promotional content from the Los Angeles Times.