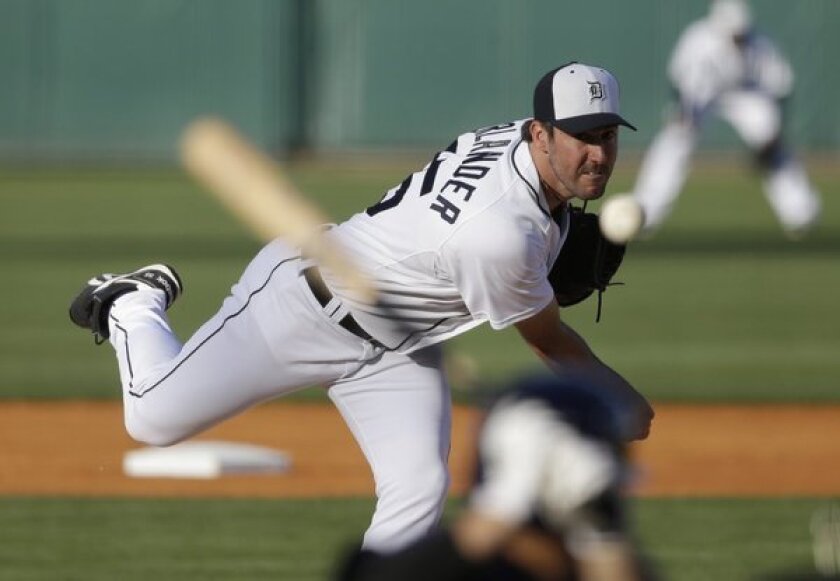 Not that the Dodgers are pinching pennies these days, but the cost of retaining Clayton Kershaw just went up.
Justin Verlander and the Detroit Tigers agreed Friday on a five-year contract extension worth a guaranteed $140 million, according to Buster Olney of ESPN. That is an average of $28 million per year, with an option for a sixth year at $22 million.
What does this mean for Kershaw and the Dodgers? Verlander and Kershaw would have been the crown jewels in free agency after the 2014 season. Verlander now has an extension that kicks in with the 2015 season, leaving Kershaw in the enviable position of best available arm in the 2014 free-agent class.
Verlander had said he would not negotiate during the regular season. Kershaw has taken the same stance, meaning the Dodgers have three days to finish a deal or table the discussions until next fall.
Verlander is widely regarded as the best pitcher in baseball, but Kershaw is not far behind. In fact, each won his league's Cy Young Award in 2011 and finished second in 2012.
Here's the big difference: Verlander is 30 and Kershaw 25, making the success of a long-term deal more likely for Kershaw than for Verlander. The total value of Verlander's deal, with the option included, could be $162 million. Add in the two years left on Verlander's current contract, at $20 million each, and the grand total is $202 million.
That is where the Dodgers would start with Kershaw. Was it just three months ago that $147 million for Zack Greinke seemed like a lot of money?
ALSO:
Kings' Matt Greene could return in late April
Watch Charles Barkley come to the defense of Doug Gottlieb
Brad Stevens loves Butler's Hinkle Fieldhouse .... enough to stay?
---