Andre Ingram 'thankful for every second' of his return stint with Lakers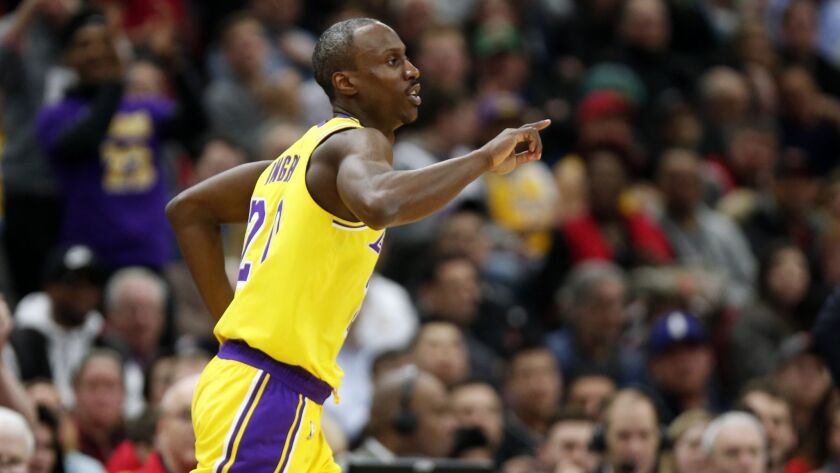 Near the end of the game in Chicago on Tuesday, fans could be heard longing for one thing.
"Pass it to Andre," one said.
They'd tried it a little bit earlier. Andre Ingram entered the Lakers' 16-point victory with 2 minutes 5 seconds to play in the fourth quarter. With 1:15 left, Rajon Rondo passed him the ball and Ingram tried a contested jumper.
"The look I got was clean, it was a great pass from Rondo," Ingram said, smiling. "I just wish I would've knocked it down. I mean, the guys were obviously looking for me. Chicago was obviously aware of it. It was still fun to be out there and be part of it."
It was the third NBA game the gray-haired 33-year-old has played. He was called up at the end of last season and played in two games that thrilled the NBA world. Ingram had spent his entire career toiling in the NBA's developmental G League.
"The reach shocked me, the reach of it," said Ingram, whose story is being turned into a movie. "I don't have social media at all. … I had no idea how far it reached out until my family members who do have those things told me. It was humbling that so many people were that touched by it and have been following me since. It was just overwhelming positivity for it all."
The Lakers signed Ingram to a 10-day contract Monday. He will be with them throughout a five-game trip that will go to Toronto on Thursday, Detroit on Friday, New York on Sunday and Milwaukee on Tuesday.
"I think it's an unbelievable story of just perseverance and just having a goal and having a dream. … He has a great spirit, even with everything he's been through, and we are happy to have him for as long as we got him," LeBron James said.
The Lakers surprised Ingram with the news last year and they it again this year. He was with his South Bay Lakers teammates when he heard. And it felt just as good this time as it did last year.
He got his first opportunity to play when coach Luke Walton put him in the game with 4.3 seconds left in the third quarter. Ingram played 2:09.
"He did his job," Walton said. "They top-locked him all over the court and they face-guarded him. So, one of the things that we wanted to bring him in for was if we do need him in special situations. Or, tonight we were hitting shots, so we were sticking with the guys making them but if we do need somebody, he creates space out there."
To Ingram, the minutes don't matter. He's 1-0 with the Lakers and that means more.
"Whether it's four seconds or four minutes, doesn't matter," Ingram said. "To be valued means something to me. To be out there on the court means something to me. I'm thankful for every second."
Sign up for our Lakers newsletter »
Follow Tania Ganguli on Twitter @taniaganguli
---
All things Lakers, all the time.
Get all the Lakers news you need in Dan Woike's weekly newsletter.
You may occasionally receive promotional content from the Los Angeles Times.