Column: Lakers do a fine job honoring legendary players. Why not coaching greats too?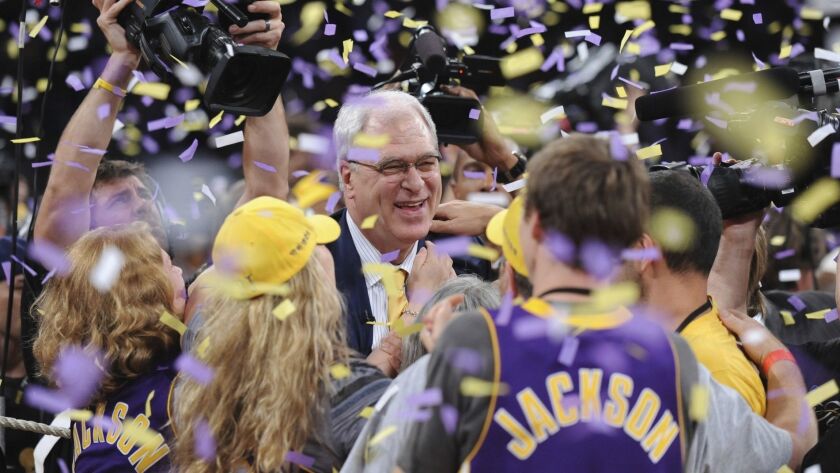 The next statue that will go up outside of Staples Center likely will belong to Kobe Bryant. We still don't know when that will be or what it will look like, or if there's a chance he might get two after getting both his No. 8 and No. 24 jerseys retired.
We can assume the next Lakers jersey to be retired will be Pau Gasol's No. 16 whenever he decides to call it a career. Gasol is a future Hall of Famer who helped the Lakers get to three straight NBA Finals and win back-to-back titles after getting traded from Memphis. The Lakers had missed the playoffs or been ousted in the first round the previous three seasons.
The Lakers do an incredible job of recognizing their Hall of Fame players who helped them win championships. If you meet both of those criteria, you're getting your jersey retired and are at least in the conversation for a statue. LeBron James likely won't be in L.A. long enough to get a statue, but if he leads the Lakers to a title before he retires, he certainly will get his No. 23 retired.
Wilt Chamberlain was with the Lakers for only the final five seasons of his career (he played just 12 regular-season games in one), but got his jersey retired after he helped the Lakers win their first championship in Los Angeles in 1972.
It is long overdue, however, for the Lakers to recognize the Hall of Fame coaches who guided the franchise to 11 championships in Los Angeles. Some of the greatest coaches in history helped the Lakers become the most successful NBA team over the past 50 years, but you wouldn't know it by looking around Star Plaza or into the rafters at Staples Center.
There's no recognition for Bill Sharman, who led the Lakers to an historic 1972 championship in which they set a record for regular-season wins (69) that stood for 24 years, and the record for consecutive wins in a season (33), which still stands. There's no acknowledgment of Pat Riley, who helped guide the Lakers to five championships (one as an assistant), not to mention winning another as a player on that 1972 team. And there's no appreciation for Phil Jackson, who guided the Lakers to five championships too.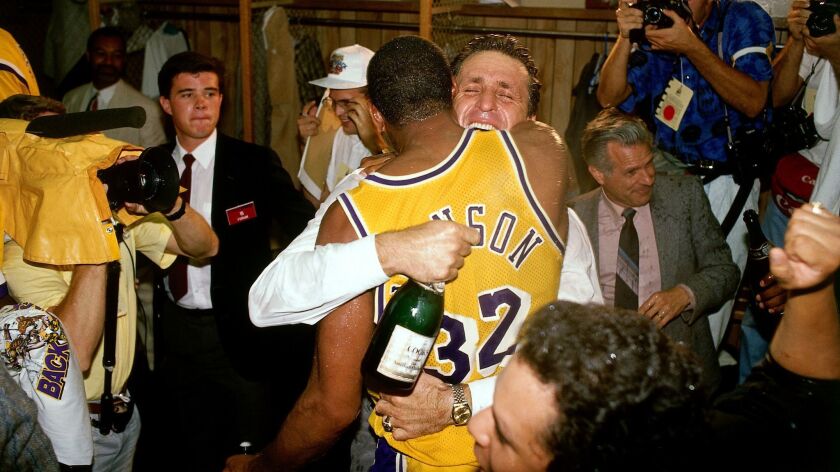 None of these Hall of Fame coaches is recognized at Staples Center. Meanwhile, Taylor Swift received a banner for selling out 16 concerts and Oscar De La Hoya got a statue despite losing his only fight at the arena.
John Kundla is the only Lakers coach recognized, as his name is on a banner honoring the Minneapolis Lakers in the Hall of Fame. It's perhaps the biggest oversight for a franchise that has gone above and beyond to recognize its most accomplished players and its most beloved broadcaster. Perhaps one day in the not too distant future the Lakers can add their other coaching greats to that list of honorees.
How about a Sparks statue?
Speaking of statues and banners, I'm looking forward to the day Lisa Leslie or Candace Parker becomes the first female star with a statue outside of Staples Center. I've felt Leslie, who was born and raised in Los Angeles, led the Sparks to their first two WNBA titles at Staples Center and was a four-time Olympic gold medalist, has been long overdue for the honor.
Is Trout as good as out?
Mike Trout is set to be a free agent after the 2020 season and judging from the questions he has been fielding at spring training, we're going to be hearing rumors of Trout bolting for his beloved Philadelphia Phillies for a while. Asked if he wanted to stay with the Angels when his contract is up, Trout said, "I don't want to comment on that." That's a pretty telling answer for a player who hasn't won a playoff game and has advanced to the postseason only once.
Mmm, Shaq-Kobe beef
Shaquille O'Neal's new restaurant, Shaquille's, opened at L.A. Live ahead of the Lakers' game against the Houston Rockets on Thursday, their first home game since Jan. 29. The menu features a "Shaq Burger" made with "Shaq Sauce" and a "Kobe Burger" made with Greg Norman prime Kobe beef. There's a joke in there somewhere about Shaq's infamous rap song dis to Kobe, but let's hope the burgers don't taste like, well, you know.
Longing for golden age
Would it be so bad if the Lakers wore their home gold uniforms at home and their road purple uniforms on the road? Seeing the Lakers wear gold on the road, especially on Boston's parquet floor, is something I'll never get used to.
They put the O in Overwatch
I recently wrote about esports' Overwatch League, which began its second season last week at Burbank's Blizzard Arena. I wondered if Los Angeles would become an L.A. Gladiators town or an L.A. Valiant town. Regardless of which team you pick, we all need to send good vibes to the Shanghai Dragons, who are now 0-42 after going winless last season and failing to win during opening week. That's longer than the longest losing streaks in the NFL (29), NBA (28), MLB (24), NHL (17), MLS (12), WNBA (20) and several other professional sports leagues.
---
All things Lakers, all the time.
Get all the Lakers news you need in Tania Ganguli's weekly newsletter.
You may occasionally receive promotional content from the Los Angeles Times.