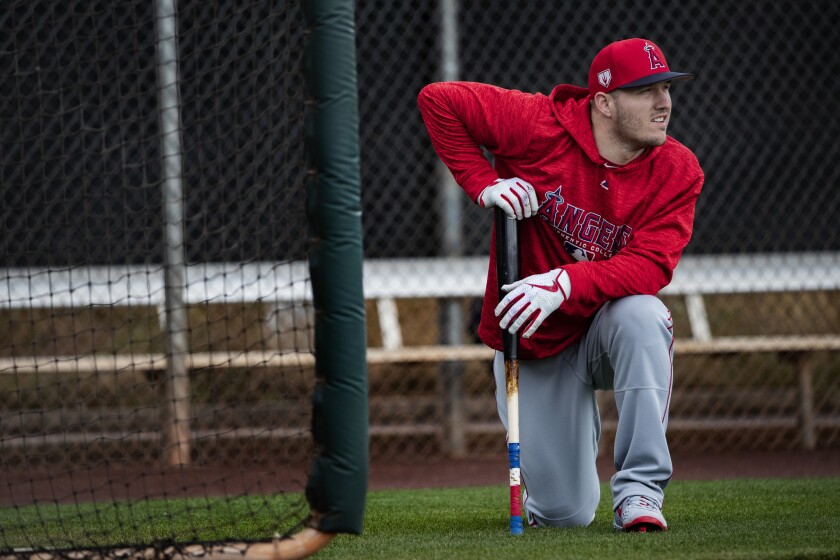 Reporting from Tempe, Ariz. —
A few hours before the Angels assembled Monday morning for their first full-squad workout of the spring, their best player rummaged through a clubhouse closet. He removed some of what he found, wiggled inside and shut the door.
Moments later, he jumped out to scare whoever came his way. The passing team staffer yelped in shock, then in delight.
Mike Trout offered a smile. And when he went upstairs a few minutes later to answer questions about how long he intends to stay in the Angels clubhouse, Trout offered another sly grin.
"I don't want to comment on that," he said.
Sign up for our daily sports newsletter »
Trout has two seasons remaining on his contract, a six-year, $144.5-million extension that went into effect in 2015. He will become a free agent if he and the Angels do not reach another extension agreement before the end of the 2020 season.
At some point, he will have to answer the question.
Angels owner Arte Moreno on Monday reiterated his intention to convince Trout, 27, to remain in Anaheim. Internal discussions have taken place but negotiations with the two-time American League most valuable player have not advanced since October.
"It's in the front of our minds," Moreno said during his annual state-of-the-team report at Tempe Diablo Stadium. "I think it also depends a little bit upon the agent and the player. So it's not like it's just us."
Trout and agent Craig Landis are likely to seek a 10-year contract that would carry him into the center fielder's late 30s.
A contract of such length already exists on the Angels' payroll in the form of the Angels' commitment to 39-year-old Albert Pujols, and it hasn't paid many dividends on the field. The oft-injured slugger has been worth only 6.2 wins above replacement, according to FanGraphs' version of the statistic, since joining the Angels in 2012.
In that same span, Trout has been valued by FanGraphs at 64.7 WAR — 27.2 more wins than Josh Donaldson directly behind him — and is a seven-time All-Star who has finished in the top two in AL MVP balloting in six of the last seven seasons. He presents a case worthy of a long-term investment.
It is unlikely Moreno would let reservations he might have about Pujols' 10-year, $240-million contract stop him from potentially offering Trout record-breaking money.
"We're always trying to sell fan experience. …That's part of the experience, I believe," Moreno said. "So I don't look strictly at production. I really look at what we're doing with the franchise long term."
Trout's decision is likely to come down to one thing: Can the Angels do enough to make him stay?
The Angels haven't been to the postseason since 2014, when they played in an AL division series and were swept in three games. In the last four years, the Angels had a .500 record once while the Texas Rangers and Houston Astros each won two division titles.
The Angels' inability to compete in recent years can be attributed in part to the Astros bursting onto the scene with high-profile talent — such as Carlos Correa, George Springer and Alex Bregman — they were able to stockpile as a result of losing 90 to 100 games each season from 2011 to 2014.
But most of the Angels' impotence is self-inflicted. They haven't made it through a whole season without significant injuries throughout general manager Billy Eppler's tenure. In 2018, as in other years, season-ending surgeries forced Eppler to dip into the minor leagues regularly for backup.
"We've been banged up the last few years," Trout said. "If we can figure out a way to stay healthy, we can make a push."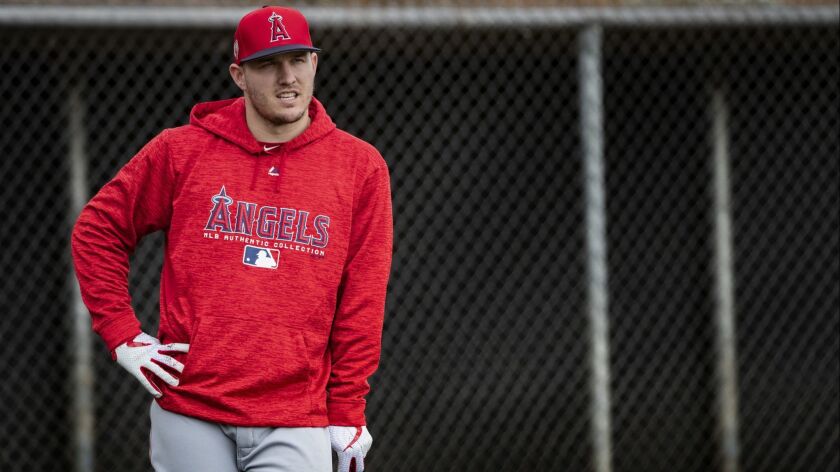 The Angels spent more than $30 million this offseason to bolster their opening-day roster. They signed pitchers Matt Harvey, Trevor Cahill and Cody Allen, and they acquired first baseman Justin Bour to fill any gaps Pujols might leave. Other changes made on the peripheries, such as bolstering the use of technology and analytics and bringing in a new coaching staff, provide positive indications about the future of the franchise.
In Trout's view, those improvements are enough to give the Angels a chance to compete in their division in 2019.
"Each year since Billy's been here, he's been bringing in guys that improve the team," Trout said. "That's all you can ask for."
Eppler in final season of contract
Moreno said he's pleased with the work Eppler has done since taking over baseball operations in October 2015. Eppler's contract expires after this season, but has an option for 2020.
The team and Eppler have not discussed his future, Moreno said.
"Billy's done a good job," Moreno said. "His people are doing a great job."
Extra bases
Outfielder Justin Upton has patellar tendinitis in his right knee and will take it slow during the first few weeks of the spring, manager Brad Ausmus said. … The right-handed Harvey is expected to soon ramp up his activity after straining his left gluteus during agility exercises last week.
---