Clippers trying out a big lineup for size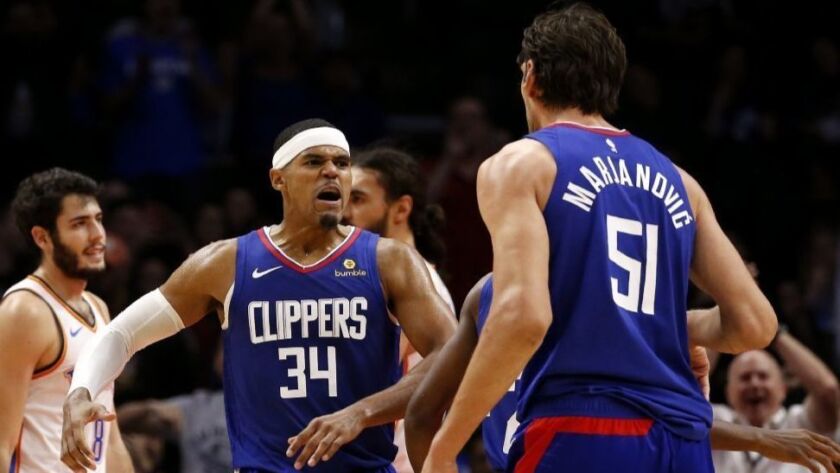 The risk versus reward of Clippers coach Doc Rivers deciding to start his gigantic lineup of 6-10 Danilo Gallinari and 6-9 Tobias Harris at forwards and behemoth and skilled 7-3 center Boban Marjanovic has yet to be determined.
Rivers used that lineup for the first time this season at Orlando and found some success in the victory.
But in an NBA where small-ball is all the rage, Rivers still wonders how his big guys can be an effective group.
"Don't know yet," Rivers said before the Clippers practiced Sunday at the team's facility in Playa Vista. "It doesn't change with the Gal and Tobias factor [because] it's the same. Like, it doesn't matter who you start with them. Every night a team has to decide who they are going to put on Gal or Tobias. Teams switch that a lot. They try to figure it out a lot. So that doesn't change that dynamic at all. It makes us a bigger team having Boban in. It makes us another factor if he rolls, so that helps."
The 290-pound Marjanovic is as skilled as any big man in the NBA, his ability to score down low, deftly pass, block shots, set screens and run the offense from his position are a big reason why he scored 10 points, collected 11 rebounds and handed out two assists against the Magic on Friday.
The multiskilled Harris had 21 points, seven rebounds and two assists against the Magic, and the all-around play of Gallinari netted him 13 points, two rebounds and three assists.
"As I said, I don't know if I'm going to do that every night," Rivers said about using the big lineup. "I'm going to do it at times and we'll just see. I like our five as a revolving guy and we're going to do that more and more."
Essentially, Rivers said it's smart of the Clippers to use their best players. He just happens to have a lot of size at his disposal that he's not afraid to play.
"We're not small," Rivers said. "We're big and so let's not try to be small, know what I mean? We can play small. We can play Gal and Tobias at the five and the four. I would rather have the versatility that we have than not having it. Some teams, the small lineups give them the advantage, where this team, our big team gives us the advantage and we should take advantage of it."
The Clippers will face a Minnesota team Monday night at Staples Center that starts 7-0 Karl-Anthony Towns at center and 6-9 Taj Gibson and 6-8 Andrew Wiggins at forwards.
Naturally, Rivers was asked if he'll stick with his big lineup of Gallinari, Harris and Marjanovic against the Timberwolves.
"Most likely," Rivers said. "But we haven't really talked about Minnesota yet. So I'm not sure."
Gortat benched
Marcin Gortat had started the first eight games at center for the Clippers and his last 186 straight before he was replaced by Marjanovic.
Rivers said Sunday that Gortat not starting and not even playing against Orlando was "not like a controversy or anything. I decided to start Boban."
Rivers said obviously Gortat "wasn't thrilled."
"But it wasn't to a point where he was upset," Rivers said. "That's it. It's what a coach does, he changes lineups. It happens."
CLIPPERS VS. MINNESOTA TIMBERWOLVES
When: Monday, 7:30 p.m. PST
On Air: TV: Prime Ticket; Radio: 570, 1330
UPDATE: The Clippers are looking to break a six-game losing streak to the Timberwolves, L.A.'s longest active losing streak against a single opponent. Minnesota's embattled guard Jimmy Butler, who began the season requesting a trade, leads the team in scoring (22.3) and steals (2.64), which also leads the NBA.
Twitter: @BA_Turner
---
All things Lakers, all the time.
Get all the Lakers news you need in Dan Woike's weekly newsletter.
You may occasionally receive promotional content from the Los Angeles Times.