Lakers put their efforts into wooing Carmelo Anthony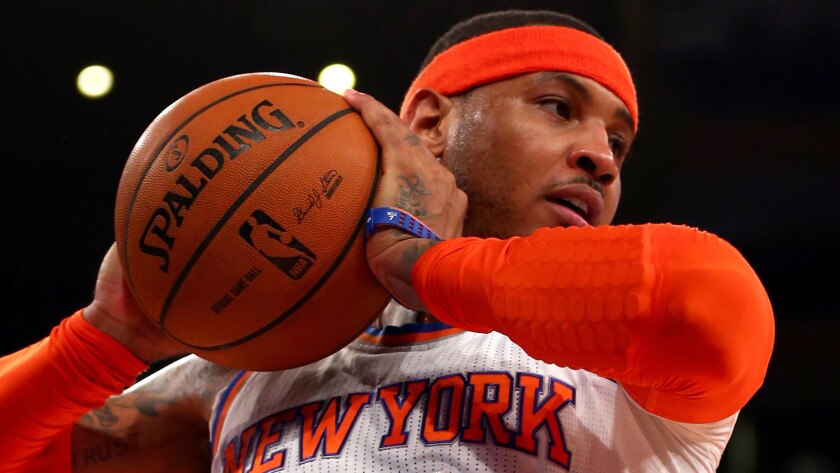 The Lakers think they have a substantially better chance of landing high-profile scorer Carmelo Anthony than two-time champion LeBron James, The Times has learned.
They believe they can pry Anthony away from a New York return even though he can make more money with the Knicks.
They weren't certain they would be granted a sit-down with James, and even if they did, the belief around the league was that James would return to Miami if the Heat improved the nucleus of a team that lost in the NBA Finals to San Antonio.
Anthony, 30, planned to meet with the Lakers on Thursday after opting out of a contract that would have paid him $23.3 million next season.
He will have visited Dallas, Houston and Chicago before arriving in Los Angeles, where he owns a home. His last visit, however, will be with the Knicks, the team that has employed him the last 3 1/2 seasons.
Each team faces pluses and pitfalls while pursuing Anthony, who averaged 27.4 points last season.
The Lakers finished 27-55 after injury-prone reality hit aging stars Kobe Bryant and Steve Nash, and they wouldn't be able to sign much talent beyond a max deal for Anthony because Nash and Bryant will make a combined $33 million next season.
But the Lakers have something none of the above teams can come close to matching — 16 championships.
General Manager Mitch Kupchak made no secret he would pitch Anthony or James with the Lakers' tradition in the forefront. If the meeting is at the Lakers' facility, it's easy to envision Kupchak sweeping his arm toward the 10 trophies they have earned since the late Jerry Buss purchased the team in 1979.
Dallas has a solid nucleus to offer Anthony — Dirk Nowitzki, Monta Ellis and center Tyson Chandler, Anthony's former New York teammate who was acquired last week. Nowitzki hasn't signed yet but has said he would for an appropriate amount to help the Mavericks attract talent such as Anthony.
The main problem for Dallas is geography. The Mavericks are in the uber-competitive West, where they barely scraped into the playoffs with an eighth-place finish and then lost to San Antonio in a hard-fought seven-game series.
Houston already has two vital pieces in place: perennial All-Stars James Harden and Dwight Howard. But the Rockets have to clear close to $15 million in salary (i.e., part-time point guard Jeremy Lin) to have enough room for Anthony and might lose restricted free agent Chandler Parsons in the process.
Chicago is in the inferior East, presenting an easier path to the Finals, but there are questions about the health of injury-prone Derrick Rose. The Bulls also need to trim salary from their roster even if they waive Carlos Boozer via the amnesty provision, meaning prized power forward Taj Gibson could be on the way out.
Anthony loves New York and has seemingly found a home since his high-profile trade from Denver in 2011. But the Knicks are hamstrung by an overinflated payroll and didn't make the playoffs last season.
Still, they can rebuild in a year after the contracts of Amare Stoudemire and Andrea Bargnani expire, all under the watchful eye of newly hired team President Phil Jackson.
And they can offer Anthony $129.1 million over five years, while any other team can offer the lesser sum of $95.9 million over four years.
One free agent the Lakers no longer need to track is one of their own. Jodie Meeks agreed to a three-year, $19-million contract with Detroit after averaging a career-high 15.7 points last season.
Randle's foot
The Lakers are sending first-round pick Julius Randle to a foot specialist in Indiana to determine if another surgery is required on his right foot.
Randle had a procedure on it about 18 months ago but played his freshman season at Kentucky without any major problems. Dr. David Porter, the foot specialist, will help decide whether a screw should be removed from Randle's foot.
Times correspondent Eric Pincus contributed to this report.
---
All things Lakers, all the time.
Get all the Lakers news you need in Dan Woike's weekly newsletter.
You may occasionally receive promotional content from the Los Angeles Times.