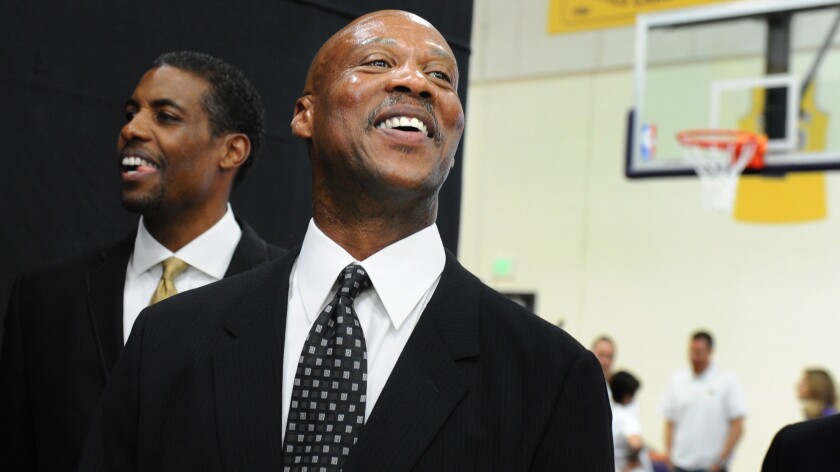 Somehow, some way, it felt as if Byron Scott was a player again.
He was asked about dunking on Chris Mullin twice. In one quarter.
And to reflect on his "Showtime" playing days. And his thoughts on the legendary Chick Hearn.
Scott, 53, was subjected to plenty of queries at the Lakers' annual media day, a two-hour surge of interviews with players and coaches at their training facility Monday.
To be fair, the new Lakers coach was also probed about the more important decisions he will make this season. There will be few easy ones.
Imagine telling Kobe Bryant he might have to sit out games to preserve his 36-year-old body. Or informing two-time NBA most valuable player Steve Nash he won't start at point guard because, yeah, he's injury-prone and 40.
Not to mention coaching a team with very low expectations. Very un-Laker expectations.
"I love the fact that pretty much everybody has written us off, given us fuel for the fire," Scott said, adding, "I love the fact that everybody's doubting us… I've always had a chip on my shoulder, we have players in the locker room with that same chip. I hope a lot of guys feel slighted."
Everything, though, starts and ends with Bryant, who intersected with Scott in 1996-97 — Bryant's rookie season and Scott's last in a 14-year playing career.
Bryant played only six games last season, coming back in December from a torn Achilles' tendon and quickly leaving again because of a broken bone in his knee.
What to do with a player entering his 19th NBA season with 54,224 career minutes (including playoff games)?
Might be time to curb his playing time.
"There's just a certain amount of minutes that we think he can be comfortable with every game and still be strong towards the end of the season," Scott said, declining to name the number he had in mind. Bryant averaged 38.6 minutes in 2012-13 before sustaining his Achilles' injury.
He might also sit the first or second night of back-to-back games, something the Lakers encounter 16 times this season. Or he might have his playing time reduced in such situations.
Scott will figure it out with Bryant and longtime Lakers trainer Gary Vitti.
"We'll come to an agreement and try to stick to it as much as possible," Scott said.
Ever the competitor, Bryant might not want to sit, especially as he starts a two-year, $48.5-million contract extension.
"I know that. I know him," Scott said. "Believe me."
So that will be interesting to monitor. At the very least.
For what it's worth, Scott liked what he recently saw of Bryant in informal five-on-five games.
"I saw enough. He was able to raise up on his jumper and get it off with everybody guarding him," Scott said.
It's easy to forget sometimes, but there are other Lakers players besides Bryant.
Jeremy Lin didn't wait long to assert himself as a team leader, predicting games beyond April 15 for the Lakers.
"I'm expecting us to work hard and play defense and I believe we can make the playoffs as well, so I'm going to add that on there," he said.
Strong stuff from a player who lost his starting job in Houston and joined a team that was 27-55 last season.
The Lakers could probably use the encouragement. They haven't missed playoffs in consecutive seasons since 1975 and 1976. Few so-called experts think they'll make the postseason next April.
Like Lin, Carlos Boozer became a forgotten man, benched in the fourth quarter toward the end of his tenure with Chicago.
He had a quick answer for a reporter wondering whether he had anything left. "Come watch the game and find out," Boozer said.
The Lakers begin training camp Tuesday and their season opener is Oct. 28 against Houston.
It's too early to tell how soon rookies Julius Randle and Jordan Clarkson can crack the starting lineup, if at all.
It's also too soon to predict how much Nash can offer the Lakers in the final season of a three-year, $28-million contract. He played only 15 games last season and hoped to overcome chronic nerve discomfort in his back.
Like Bryant, he also took part in unofficial scrimmages at the team facility last week.
"It's a lot different playing a few pickup games one week than it is playing every single day," he said. "I didn't want to overdo it early. I'm just trying to give myself the best possible chance, but we'll see."
---