Lakers acquire veteran guard Jose Calderon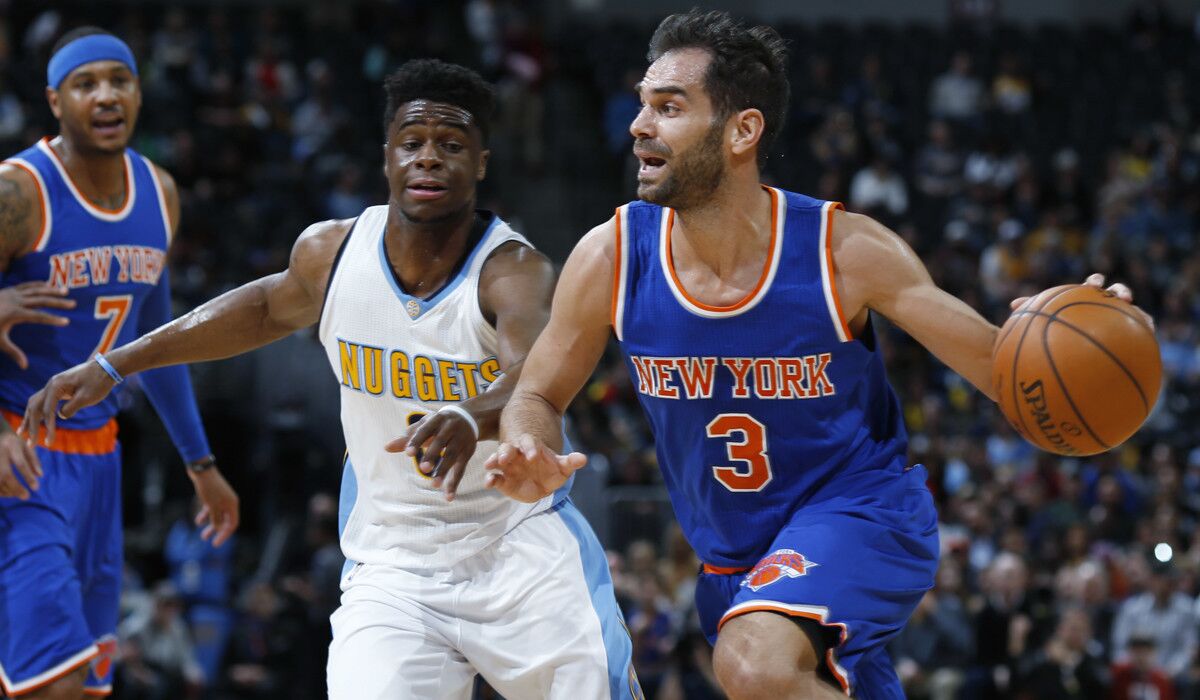 The Lakers acquired veteran Jose Calderon from the Chicago Bulls, adding a point guard near the end of his career with three-point touch and solid passing skills.
No other current players were involved in the deal, though the Lakers received two future second-round draft picks from the Bulls, according to a person familiar with the situation. The Lakers will trade Chicago the rights to an undetermined player, probably someone they drafted long ago who had little or no impact in the NBA.
Calderon, who turns 35 in September, is in the last year of a contract paying him $7.7 million next season. He averaged 7.6 points and 4.2 assists in 72 games last season with New York.
It was not immediately clear how he fit into the Lakers' backcourt plans, though he probably would be a backup.
The Lakers used the second overall pick last season to draft D'Angelo Russell and recently gave restricted free agent Jordan Clarkson a four-year, $50-million contract. They also have veteran guard Lou Williams for two more years and $14 million.
Calderon was acquired by Chicago as part of the Derrick Rose deal two weeks ago. He gives the Lakers some outside touch, sitting at career 41.2% accuracy behind the arc, and is an 88% free-throw shooter.
The Lakers have under $10 million left to spend on their payroll for next season after acquiring free agents Timofey Mozgov and Luol Deng and re-signing Clarkson and Tarik Black.
The acquisition probably ends the Lakers' one-year run with backup point guard Marcelo Huertas, who averaged 4.5 points and 3.4 assists last season. Huertas had some crowd-pleasing plays as a sharp passer but couldn't consistently score and had trouble on defense.
Calderon's best season was 2008-09 with Toronto, when he averaged 12.8 points and 8.9 assists while shooting 40.6% from three-point range.
mike.bresnahan@latimes.com
Twitter: @Mike_Bresnahan
All things Lakers, all the time.
Get all the Lakers news you need in Dan Woike's weekly newsletter.
You may occasionally receive promotional content from the Los Angeles Times.