Anthony Davis and LeBron James present one new concern for Lakers
Load management. Those two words presumably will be part of the Lakers' lexicon as they navigate what they hope becomes a magical season as Anthony Davis joins forces with LeBron James.
It comes down to resting players over the course of a grinding 82-game regular season with the hope of keeping their bodies healthy for a grueling playoff run.
The subject was broached with new Lakers coach Frank Vogel after Davis' introductory news conference on Saturday, mostly because core guys such as James, Davis and DeMarcus Cousins are coming off a season shortened by injuries.
Davis played only 56 games with New Orleans because of finger, ankle, shoulder, elbow and hip injuries. Over his seven-year career, he never has played more than 75 games in a season, having done so twice.
But the All-Star forward, who spoke Saturday for the first time since he was acquired in a June trade, was not having any part in a discussion about load management.
Davis' goal is to play all 82 games.
"Oh, I'm playing," he said, laughing. "I'm 26 years old. I love the game of basketball. I'm ready to play."
How Vogel manages his players could be a big factor in the Lakers' success.
Lakers general manager Rob Pelinka, Anthony Davis and head coach Frank Vogel, from left, at a news conference introducing the Lakers' new star in El Segundo on Saturday.
(Marcus Yam / Los Angeles Times)
Davis addresses reporters.
(Marcus Yam / Los Angeles Times)
Anthony Davis at the news conference, held at the UCLA Health Training Center in El Segundo.
(Marcus Yam / Los Angeles Times)
Laker LeBron James looks on in the background at Davis' introductory news conference.
(Marcus Yam / Los Angeles Times)
General manager Rob Pelinka, Anthony Davis and head coach Frank Vogel, from left.
(Marcus Yam / Los Angeles Times)
Anthony Davis displays his Lakers jersey -- No. 3.
(Marcus Yam / Los Angeles Times)
Anthony Davis greets LeBron James and a friend after the news conference.
(Marcus Yam / Los Angeles Times)
New teammates Anthony Davis and LeBron James.
(Marcus Yam / Los Angeles Times)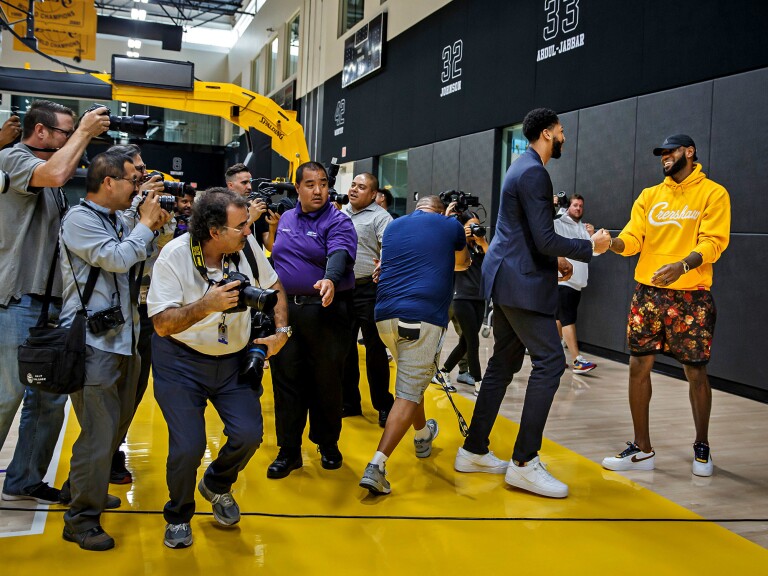 Anthony Davis and LeBron James, who will move to point guard next season.
(Marcus Yam / Los Angeles Times)
James missed 17 games last season while recovering from a strained left groin, the most he has missed because of an injury in his 16-year career. While he was out, the Lakers went from a team in the playoff hunt to one headed for the draft lottery. He played in only five of the Lakers' final 14 games.
James will be 35 in December, so health will be paramount for him and the Lakers.
Cousins, whom the Lakers signed to a one-year deal, recovered from a left Achilles tendon injury that sidelined him for most of last season with Golden State. He then tore his left quadriceps in Game 2 of the Warriors' first-round playoff series against the Clippers.
Vogel, who said Cousins is slimmer, shared his philosophy on how he'll handle the playing time.
"This is something I will rely very heavily on our medical team for," Vogel said. "To me, it's pretty black and white … We've hired Judy Seto to oversee the whole sports performance program. I have the utmost trust in her. Whatever she decides in meetings with LeBron, with AD, about what the plan is going to look like, I am going to fall in line with that."
How did Anthony Davis find out he was going to be a Laker? Davis was watching a movie when his agent called him. Twice. He let the calls go straight to voicemail. He then went to Instagram where he first saw the breaking news.
Load management was first utilized by the San Antonio Spurs, an annual contender with an aging core of players, during their run of five NBA titles in the last 20 years. It often meant the stars who fans paid to see didn't play in select games, and the practice became such a lightning rod that NBA commissioner Adam Silver sent a memo to team owners in March 2017 urging them to be judicious about resting star players.
Kawhi Leonard — who parted ways with the Spurs after a disagreement over the way the team managed his health — took it to another level last season with the Toronto Raptors, playing just 60 games during the regular season to minimize wear and tear on his body.
Leonard was named most valuable player of the NBA Finals as he led the Raptors to their first championship, and he acknowledged load management helped him get through the season. Now the Clippers, who signed him as a free agent, face the challenge of managing his load and that of Paul George, their other new star, who's coming off surgery on both shoulders.
Sign up for our Lakers newsletter »
"Guys resting, healthy rest, or healthy DNPs, have only begun since Pop started doing it," Vogel said, referring to Spurs coach Gregg Popovich. "It was more of an old-school approach before. If a guy wants to play 82 and the medical team supports that, then we'll do that today just like we did 10 years ago. So, it's not that much of a shift for me.
"I've always relied heavily on their opinions of what's best for their bodies and how to get us to the finish line. Especially here with the way we're set up, we're going to manage the regular season to win as many games as possible while having the finish line in the front of our minds."
Handy hired
The Lakers are adding Phil Handy as an assistant coach, according to a person with knowledge of the hire not authorized to speak publicly.
Handy was on the Lakers' staff with former coach Mike Brown in player development before joining Cleveland and going to four straight NBA Finals. Handy was as assistant with Toronto last season.
Twitter: @BA_Turner
---
All things Lakers, all the time.
Get all the Lakers news you need in Dan Woike's weekly newsletter.
You may occasionally receive promotional content from the Los Angeles Times.