How the Clippers landed two stars in Kawhi Leonard and Paul George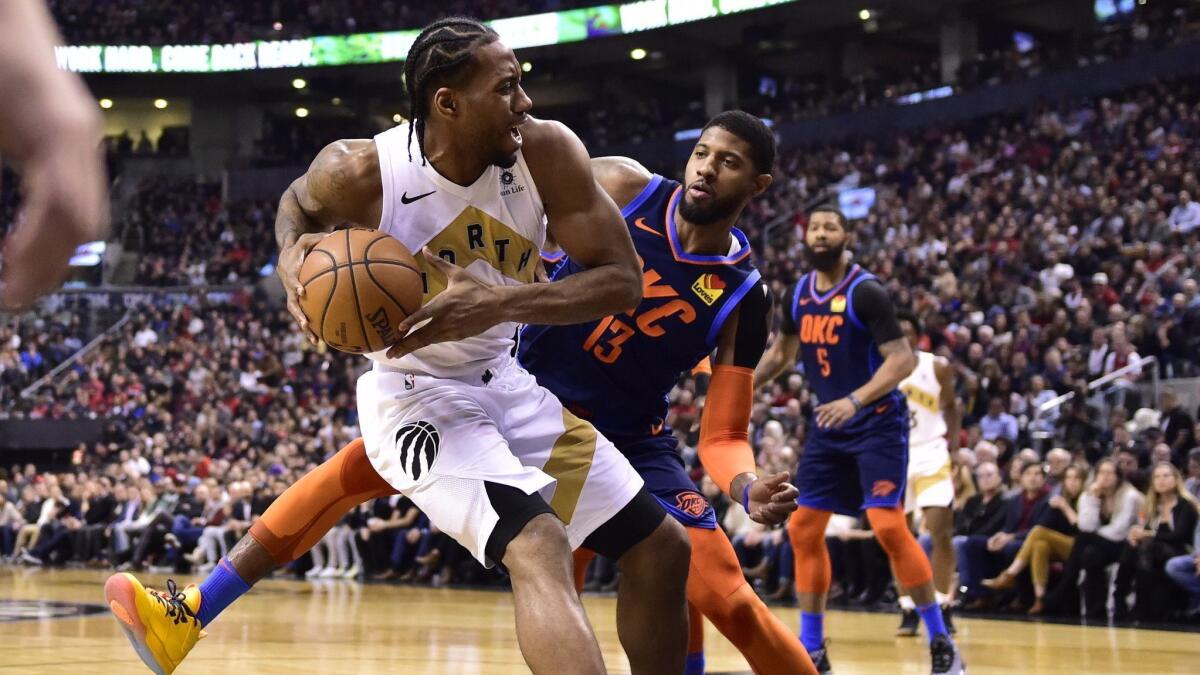 Reporting from Las Vegas —
On one arena sideline Saturday afternoon, the Clippers staked out their territory. Flanked by a pair of assistants, coach Doc Rivers squeezed into a seat near guards Patrick Beverley and Lou Williams.
Down a baseline, the Lakers held court. LeBron James and Anthony Davis sat side by side, one massive set of shoulders next to the other.
They were inside Thomas & Mack Center to watch their teams play one another in an NBA Summer League game, and at halftime, the parties mingled. Rivers laughed with James, slapping backs. Davis greeted Jerry West, the Hall of Fame player, executive and Clippers consultant.
Their easy laughs and smiles at a low-stakes summer matchup, captured by dozens who'd lifted smartphones to record the moment, belied contentious competition between the teams since free agency opened June 30 as each courted top free agent Kawhi Leonard.
By choosing the Clippers late Friday night, following the team's stunning trade for Oklahoma City forward Paul George, Leonard rebuffed the Lakers, a franchise accustomed to being the preferred destination for stars. His decision delivered what might be the league's best all-around duo to the Clippers, a team that shared Los Angeles but never generated the buzz of their rivals.
The Clippers have had marquee players before, but nearly every one arrived without a say in the matter — by draft, or trade. That both Leonard and George, Southern California natives, chose the Clippers over the Lakers was likened to a watershed moment.
Leonard's decision was the result of a dogged pursuit by the Clippers over the past year, and an equally aggressive effort by the Lakers in recent weeks.
Neither team believed they were out of the Leonard sweepstakes until the very end, just before midnight Friday.
The final push began Monday when Leonard and a few close associates met with a Clippers contingent at Rivers' house in Malibu. Rivers made an impassioned pitch to Leonard, according to people not authorized to speak publicly on the matter. They left believing they had a shot at Leonard if they could deliver a second star to play alongside him.
The next day, Lakers owner Jeanie Buss and general manager Rob Pelinka huddled with Leonard, his uncle, Dennis Robertson, and agent, Mitch Frankel, in a meeting room at the Westlake Village Four Seasons. For more than two hours, the Lakers outlined why Leonard's best fit was playing on a team that already included two of the NBA's biggest names, James and Davis.
The face-to-face meeting followed several phone conversations Leonard and Robertson had with Magic Johnson last Sunday, as free agency opened. They'd asked Johnson if the Lakers had attempted to trade for Leonard the previous summer, when he'd asked out of San Antonio after a falling out with the Spurs over the handling of a quadriceps injury. They also had questions about Pelinka, given Johnson's recent comments accusing him of betrayal. Johnson made positive comments about the Lakers and their front office, according to a person with knowledge of the conversation.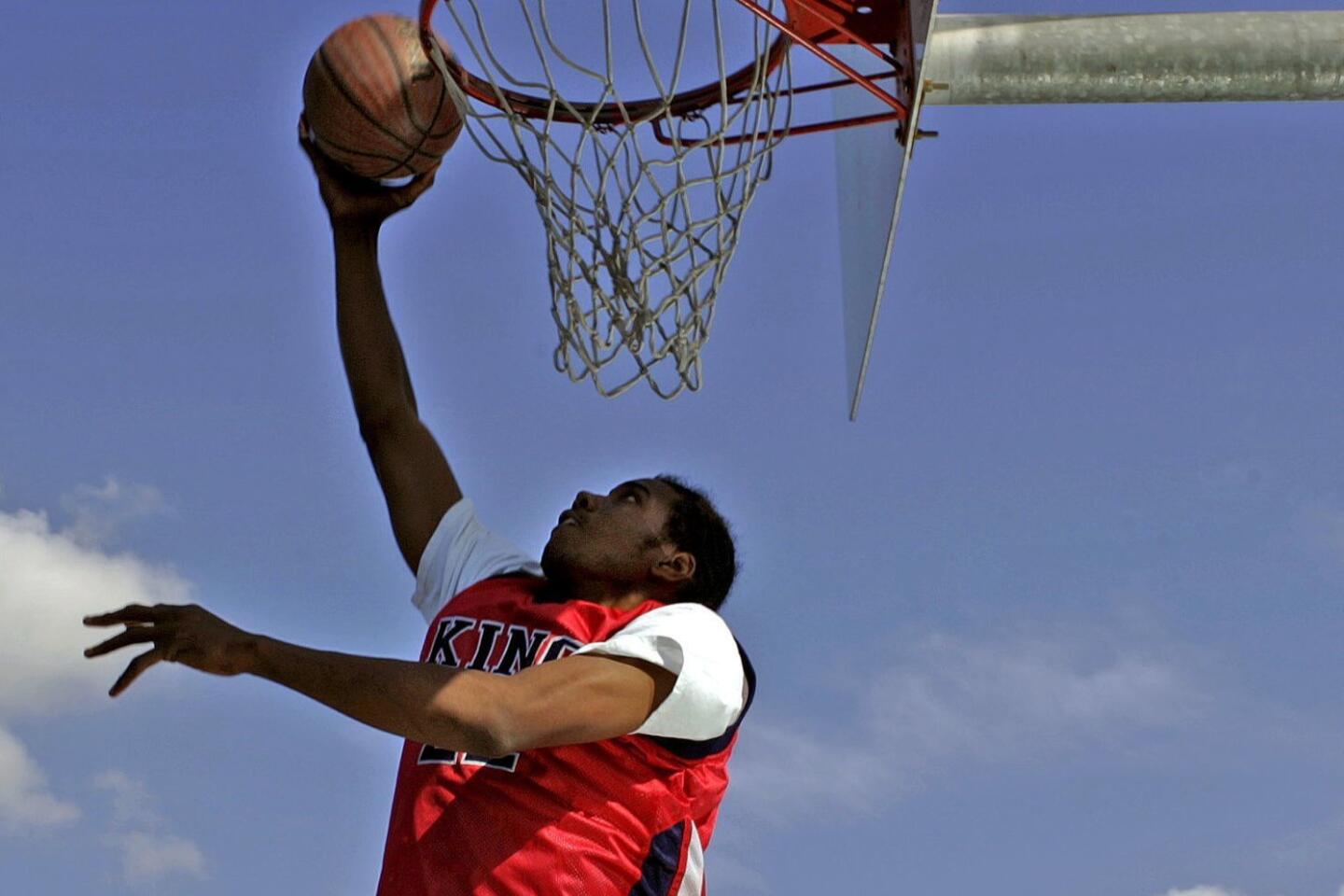 Kawhi Leonard rose to stardom at Martin Luther King High in Riverside.
(Gina Ferazzi / Los Angeles Times)
Riverside King's Kawhi Leonard is fouled by Taft's Bryce Smith a Southern California Regional semifinal playoff game on March 6, 2008.
(Richard Hartog / Los Angeles Times)
SanDiego State forward Kawhi Leonard reacts after he was mistakenly called for a foul during a game against UNLV Rebels on Feb. 12, 2011 in Las Vegas,.
(Ethan Miller / Getty Images)
Kawhi Leonard of San Diego State Aztecs takes off on a fast berak during a game against Temple during an NCAA tournament game on March 19, 2011, in Tucson.
(Harry How / Getty Images)
San Diego State forward Kawhi Leonard tries to keep possession of hte ball against UConn defenders during an NCAA West Regional semifinal at Honda Center.on March 24, 2011.
(Robert Gauthier / Los Angeles Times)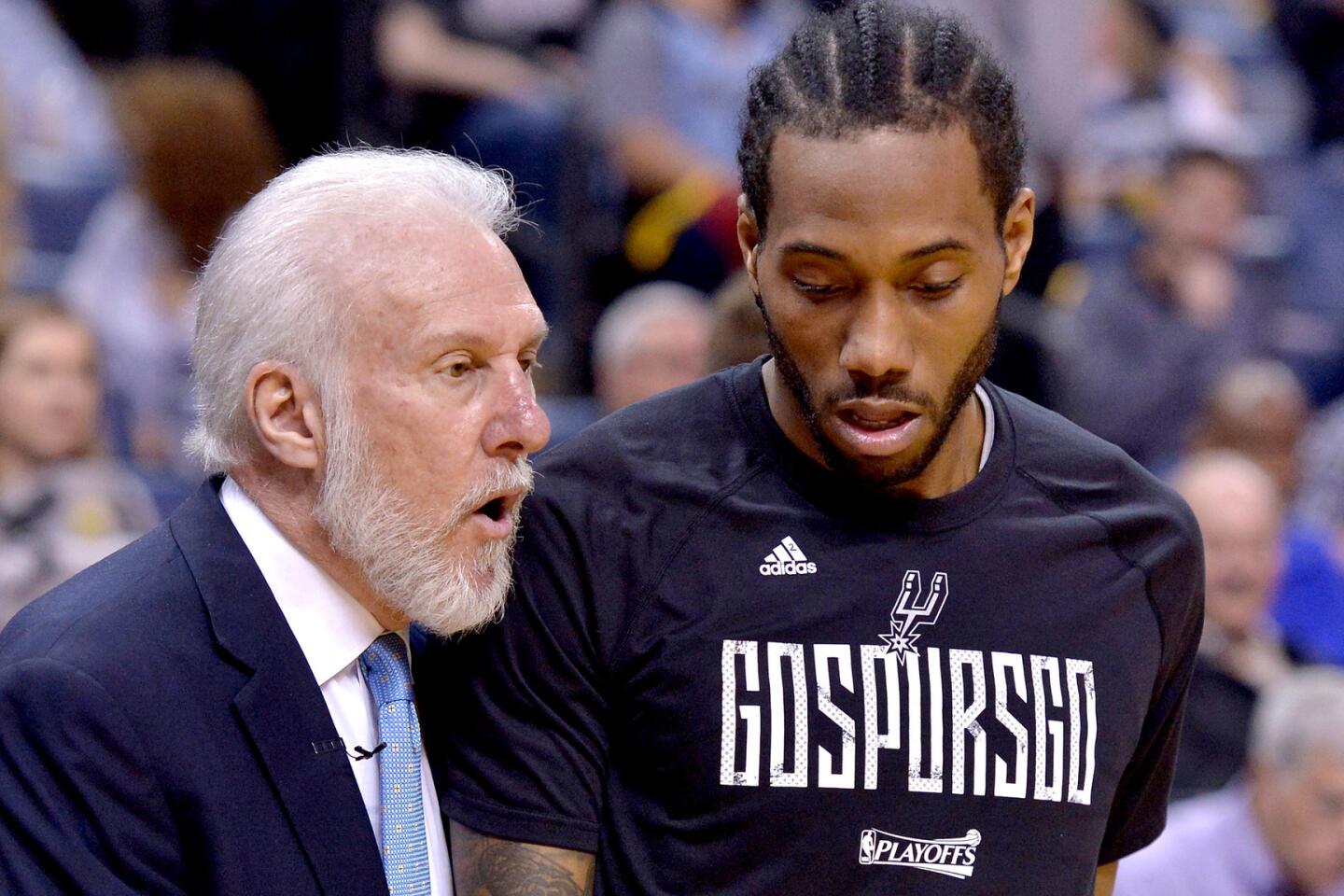 Spurs coach Gregg Popovich talks to Kawhi Leonard during a game in 2017.
(Brandon Dill / Associated Press)
Cavaliers forward LeBron James tries to drive past Spurs forward Kawhi Leonard during a game on Jan. 21, 2017.
(Tony Dejak / Associated Press)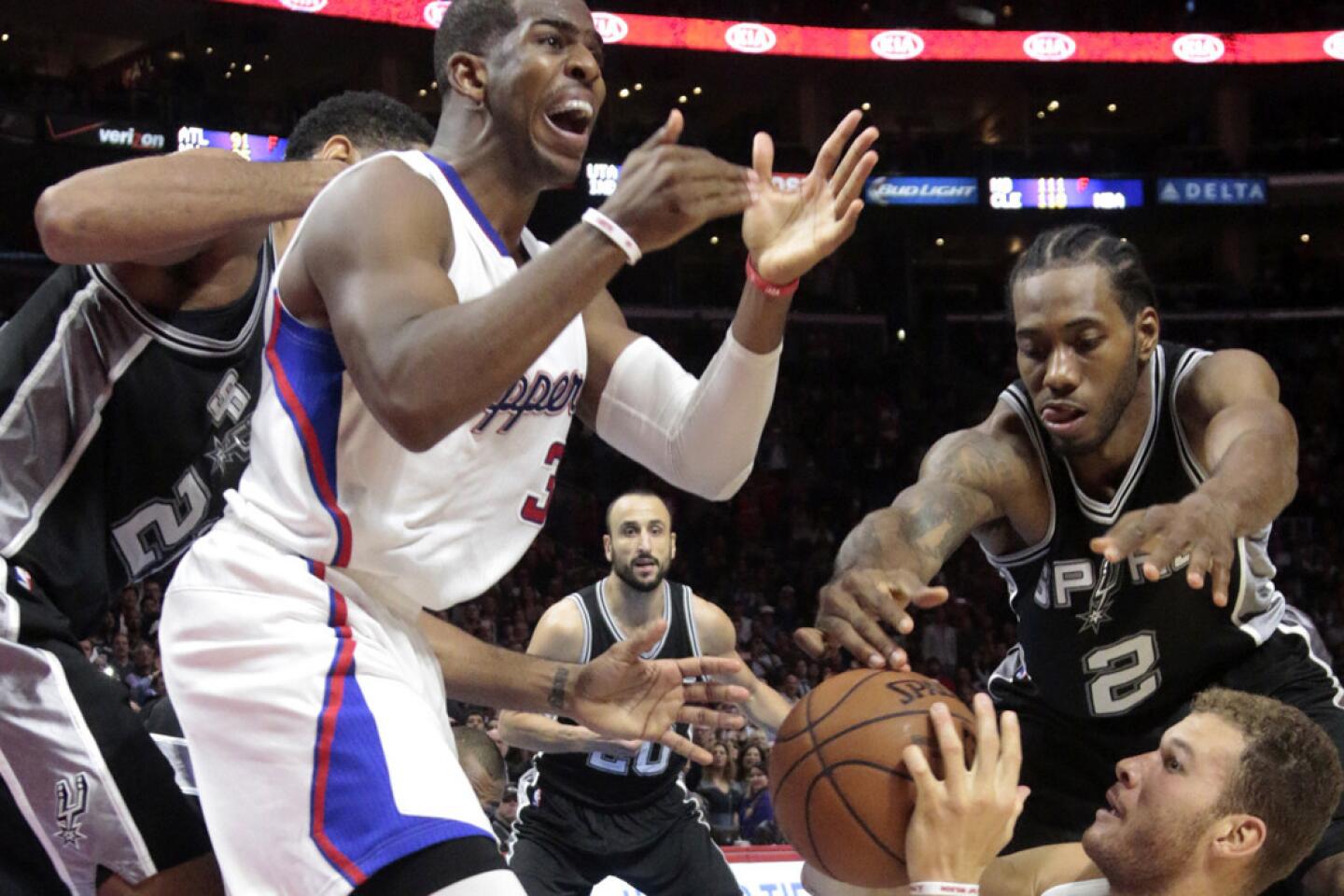 Clippers point guard Chris Paul calls for a timeout as Spurs forward Kawhi Leonard tries to steal the ball from af allen Blake Griffin.
(Lawrence K. Ho / Los Angeles Times)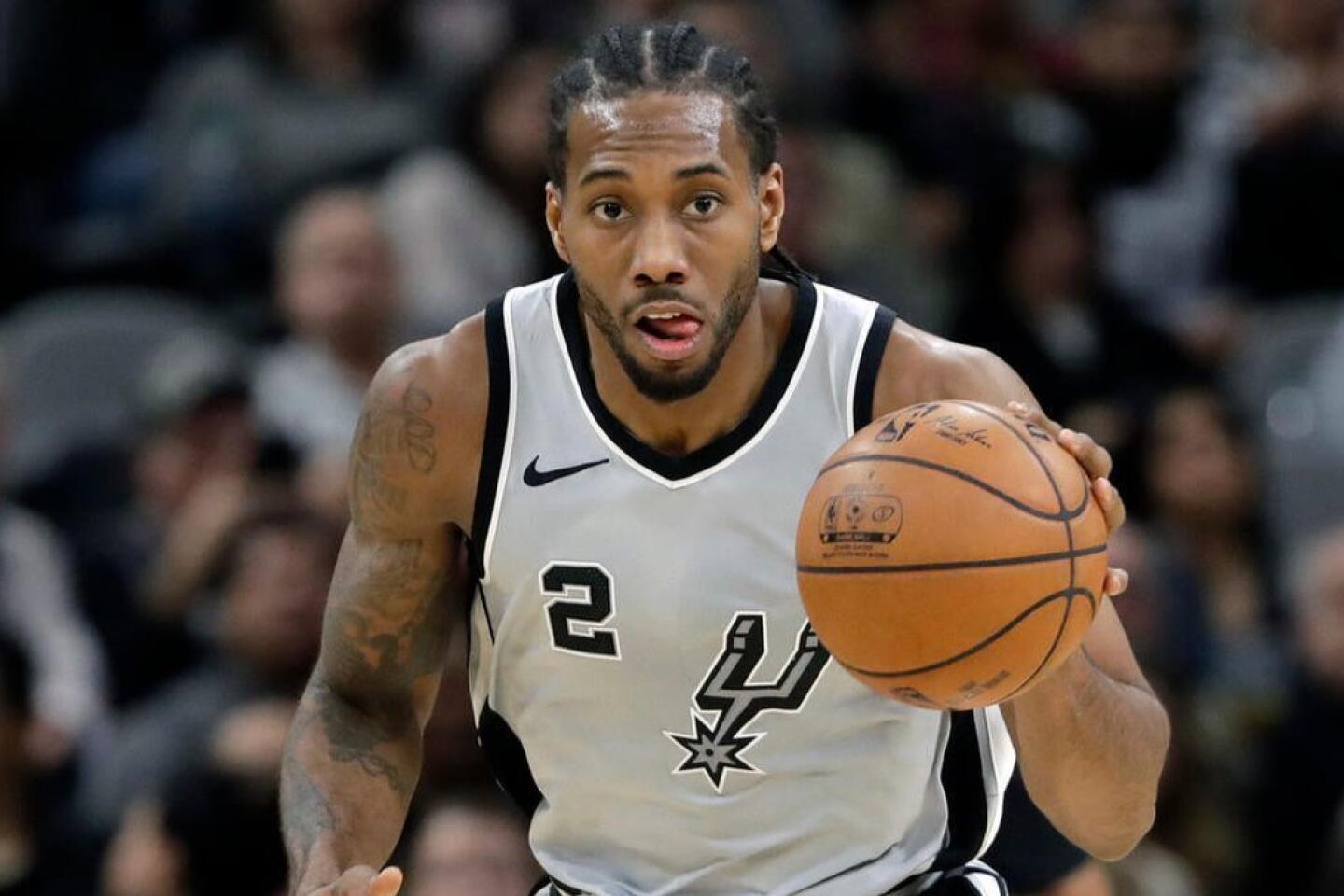 Spurs forward Kawhi Leonard only played nine games during the 2017-18 season.
(Eric Gay / Associated Press)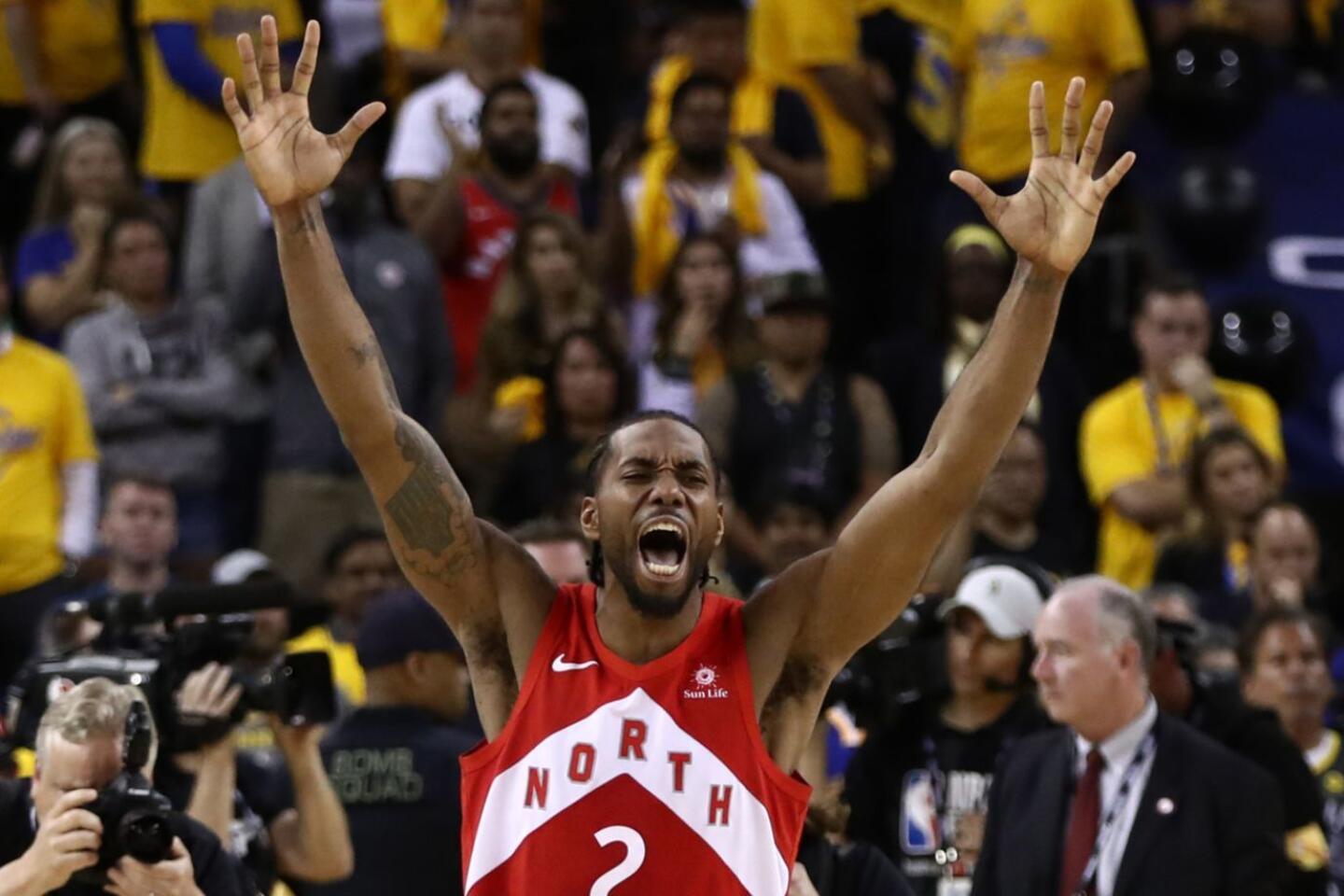 Kawhi Leonard celebrates after the Raptors won the NBA title with a victory over Golden State in Game 6 of the NBA Finals on June 13, 2019, in Oakland.
(Ezra Shaw / Getty Images)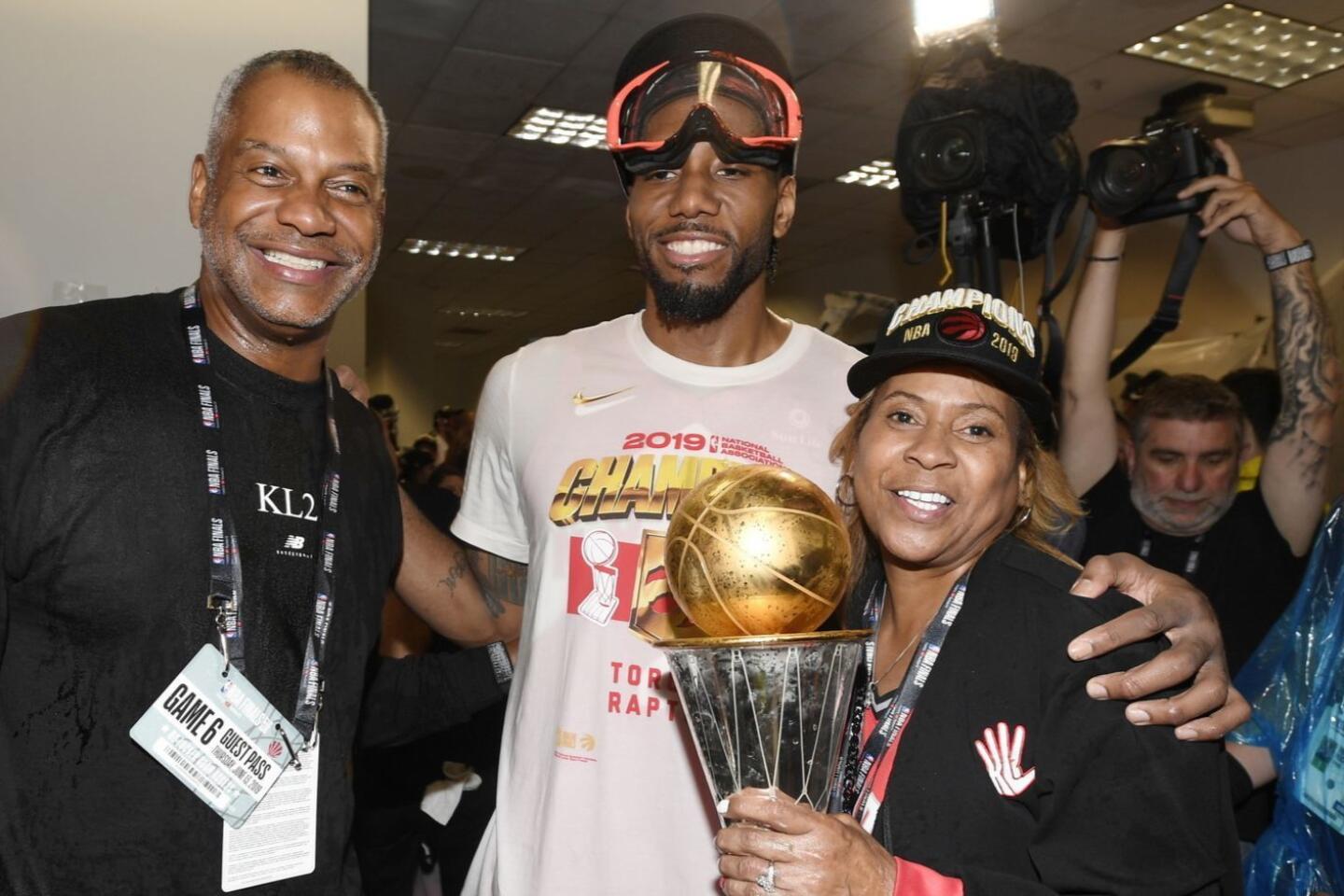 Raptors forward Kawhi Leonard holds the NBA Finals MVP trophy as he poses with his uncle Dennis Robertson and his mother Kim Robertson.
(Frank Gunn / Associated Press)
Leonard didn't say much in the hotel meeting. His uncle had questions, but Johnson's comments from May about being distrustful of Pelinka never came up, according to a person briefed on the meeting. The next day, Leonard jetted to Toronto to meet with the Raptors, the team to which he had delivered a championship less than three weeks before.
All the while Leonard was being recruited, he was also playing recruiter.
Leonard reportedly spoke with Kevin Durant about joining the Clippers late last week, but Durant was already planning to defect from Golden State and join Brooklyn, alongside close friend and point guard Kyrie Irving.
George was Leonard's next target. Both had grown up just outside of Los Angeles' spotlight — George in Palmdale, Leonard in Moreno Valley. Both competed in college outside the traditional glare afforded the country's most glamorous programs — George at Fresno State, Leonard at San Diego State. Both were first-round NBA draft picks.
Tracing similar paths, George and Leonard quickly became household names in the NBA and they kept tabs on one another as their careers rose. Leonard began recruiting George "hard" to make it a reality last week, and the idea excited George, according to a person familiar with the player's thinking. Though many reports suggested Leonard had an opinion one way or another about forming a super team, the truth was Leonard was looking for what he deemed the best situation.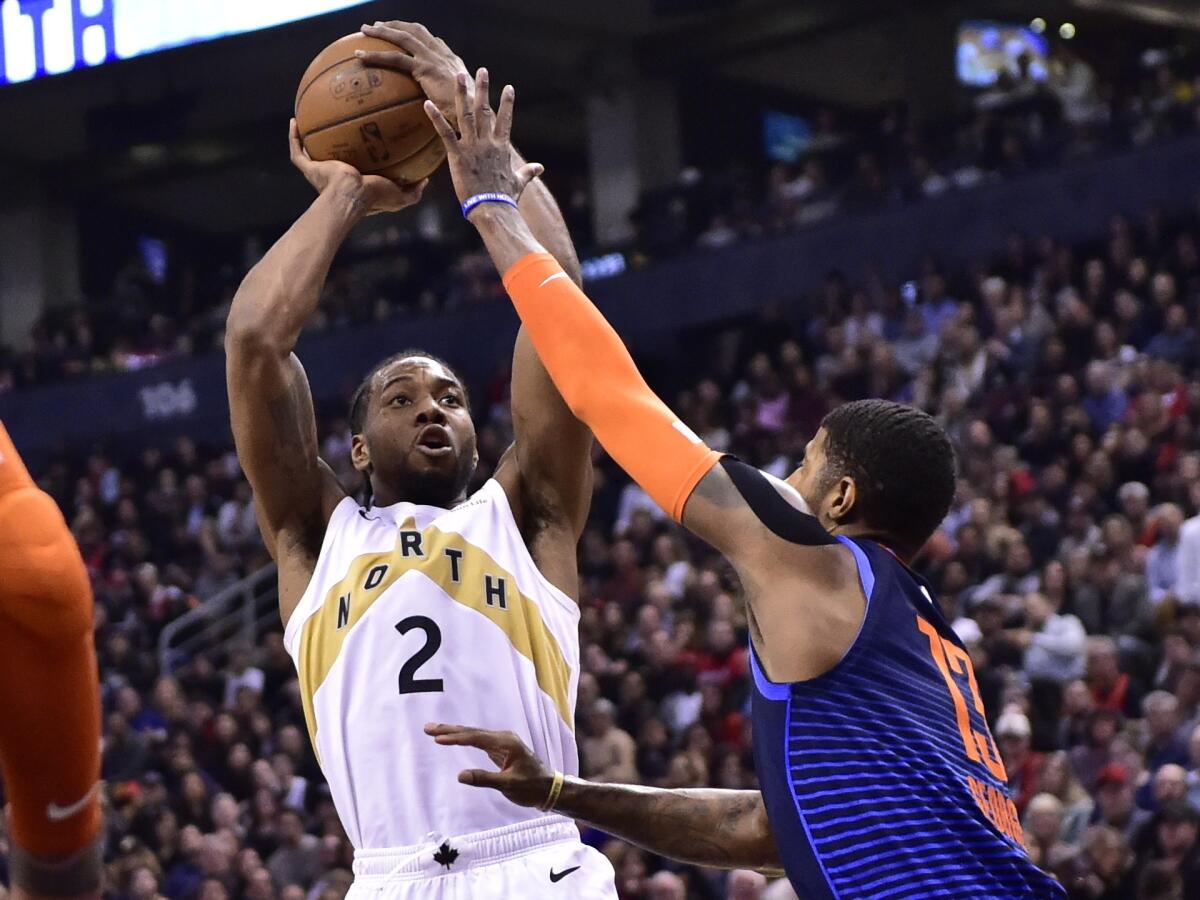 Several days ago, George requested a trade from the Thunder, according to people familiar with the request.
Oklahoma City was hesitant to give up an MVP finalist at first, but general manager Sam Presti soon recognized a chance to restore the team's draft pick reserves.
Discussions between the Clippers and Thunder grew intense Friday evening as the Clippers sensed the opportunity was close to add a pair of franchise-altering players in their prime. Pressure surrounded the negotiations. New contracts could be finalized beginning Saturday, and there was an understanding by the Clippers that landing George would probably net them Leonard too.
Sign up for our daily sports newsletter »
Also: Oklahoma City had reportedly made trade entreaties with Toronto, and some people within the Clippers' organization believed that if they fell short, Leonard would choose the Lakers instead.
The Clippers were position to pull off a trade because of the cache of extra draft picks and promising young players they'd acquired from their blockbuster trades of Blake Griffin in 2018, and Tobias Harris in February. If a star under contract wanted out, the Clippers would be prepared.
Once the Clippers understood Leonard wanted to play alongside a second star, owner Steve Ballmer gave the green light to trade a war chest of draft picks, in addition to forward Danilo Gallinari and point guard Shai Gilgeous-Alexander, in order to open the team's championship window in a Western Conference no longer dominated by Golden State's five-year reign.
Oklahoma City also will receive four unprotected first-round draft picks, another protected first-rounder, and pick swaps in 2023 and 2025, a person with knowledge of the deal confirmed. But in return, the Clippers receive two landmark stars who fit the team's hard-nosed identity.
The Lakers could not offer a trade package that came close, having sent nearly every available asset to New Orleans last month in the chase to acquire Davis.
Because the Clippers kept essential pieces of Rivers' rotation out of the trade, including starting guard Landry Shamet, and top reserves Lou Williams and Montrezl Harrell, the Clippers will surround their new pieces with depth and shooting.
Five years ago, when Ballmer bought the team, he acknowledged his big dreams for a team lacking title-winning pedigree.
"I'd love to win a championship," he said in 2014.
In one night, nearly five years later, he secured two franchise-altering stars to help him chase one.
Staff writers Tania Ganguli and Broderick Turner contributed to this report.
Twitter: @andrewgreif
Get our high school sports newsletter
Prep Rally is devoted to the SoCal high school sports experience, bringing you scores, stories and a behind-the-scenes look at what makes prep sports so popular.
You may occasionally receive promotional content from the Los Angeles Times.