Column: Lakers' trade for Anthony Davis should be a done deal for Magic Johnson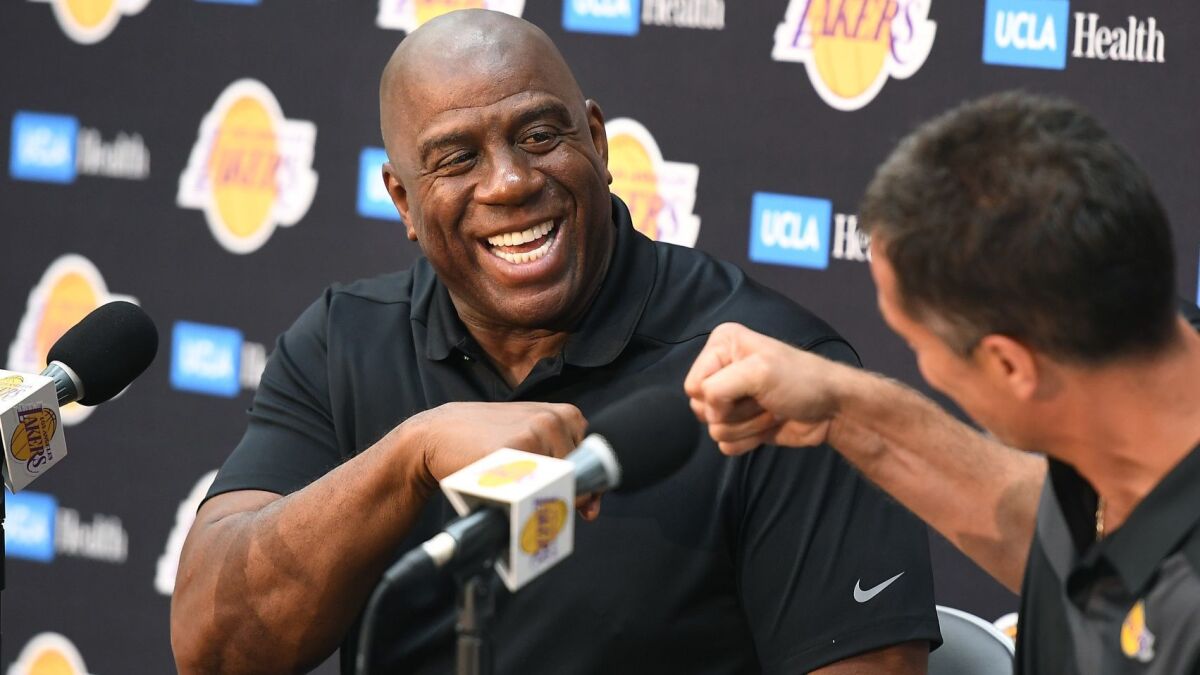 Magic Johnson is back on the fast break and, this time, he has to finish.
This time, he has to pull off the big trade that has so far eluded him. This time, he has to give up on the kids he has thus far protected.
Anthony Davis is all but publicly begging to come to the Lakers, and, this time, right now, Johnson has to get him here.
Finish with Davis, and the Lakers have a legitimate chance to finish their LeBron James era with at least one championship.
Miss with Davis, and the LeBron James era could be a complete waste.
These high stakes were sent soaring Monday morning with the news that Davis, the sport's best big man and one of its few franchise changers, has formally asked the New Orleans Pelicans to trade him.
His agent Rich Paul, who is also James' agent, told ESPN, "Anthony wants to be traded to a team that allows him a chance to win consistently and compete for a championship.''
Paul didn't specifically say that Davis wanted to go to the Lakers. But everything else says he wants to go to the Lakers, and be there yesterday.
Sign up for our daily sports newsletter »
Davis changed agents and joined James' business team in September. James told ESPN last month that it would be ''amazing'' and ''incredible'' if Davis joined the Lakers.
And now, check out the timing of this demand, which was made Monday in advance of the trade deadline on Feb. 7. That's not a coincidence. The Lakers can make New Orleans the best offer until then.
After that deadline, Davis would not available until the summer, at which point the asset-loaded Boston Celtics would be free of a contractual restraint in the collective bargaining agreement and be allowed to make New Orleans a better offer while keeping Kyrie Irving.
So, basically, Johnson has 11 days to make this happen, or risk losing a chance at Davis until he becomes a free agent in 2020, at which point James will be turning 36 and his window will be almost closed.
Magic, welcome to your own personal Super Bowl week.
Acquiring Davis — a rare 6-foot-10 talent who is a five-time All Star and still only 25 -- is Johnson's biggest personal challenge since taking over two years ago as president of basketball operations, and that includes last summer.
While Johnson certainly deserves credit for bringing in James, the wooing didn't appear that difficult considering James already had his heart set on playing in Los Angeles.
Making the big trade is much trickier and, for Johnson, has been much more problematic.
When Paul George was angling to come here from the Indiana Pacers a couple of years ago, Johnson was reportedly unwilling to part with Lonzo Ball and Brandon Ingram, and the rest is Oklahoma City history.
When Kawhi Leonard was hoping to land here from San Antonio last year, Kyle Kuzma was reportedly protected, the Spurs traded Leonard to Toronto, and now he may wind up with the Clippers.
It appears the Lakers are already meeting to discuss the process of formally chasing Davis, and if this doesn't work, it can't be for lack of trying. Johnson needs to offer them everyone but Lawrence Tanter. He needs to shed every bit of ego behind the drafting and development of their young stars. He needs to forget any whispered promises that were made before Davis became available. He needs to be willing to package the whole lot and ship them overnight.
The Pelicans will want Kuzma. Done. They will want Ball. See ya. They're apparently interested in emerging 7-foot-1 Ivica Zubac. Nice knowing you. They may even still want Ingram? So long. Draft picks anyone? The Lakers don't have any decent ones, but offer them anyway.
That these young players have been either awful or injured during long stretches of James' current groin-strain absence doesn't help Johnson's chances. While essentially auditioning for the Pelicans, the kids have continually blown their lines.
But here's hoping the Pelicans can be sold on potential, on flashes, on a future of kids who may just shine when they are no longer walking on eggshells around basketball's greatest player.
One thing the Pelicans surely must believe is that, with Monday's demand being so public, they cannot hang on to Davis until this summer when the Celtics' riches become available, especially since Davis could kill any Boston deal by saying he will never sign there.
As much as the Lakers need Davis now, the Pelicans need to get rid of him now. Seriously, how do they sell their fans on their final 32 games when their team leader doesn't want to be there? Better yet, how does the rest of the team deal with that?
The Pelicans once had hopes that they could re-sign Davis this summer when he is eligible for an extension, but those hopes are now gone. They once had notions that this team could make the playoffs, but that idea is also cooked.
With his agent's pronouncement Monday, Davis has basically turned the entire Pelicans franchise into one giant lame duck and, until they get rid of him, their situation is going to be awkward and even ugly.
The same could be said for the Lakers if they don't get Davis. At this point, with rising concerns that James' bionic body is finally wearing down, the Lakers might not be the preferred destination of the best potential free agents. They suddenly might not be able to make that big summer score.
With Davis, everything changes. They will again be an attractive spot for that second free agent for whom they have saved salary cap space. And even if that doesn't work, Davis could be all they need.
The Lakers have a history of winning championships with two great players and the veteran role players who will flock to their side while chasing a ring. They did it with Shaquille O'Neal and Kobe Bryant. They did it with Bryant and Pau Gasol.
They might not be able to overcome the mighty Golden State Warriors this season, but with James and Davis alone, they can push them in the conference finals, and wouldn't that be fun? Then, when the Warriors implode this summer and the Lakers collect a full team around their two stars, a championship could beckon.
Since that monumental day in July when James agreed to join the Lakers, that's what this is all about, right? Leading the Lakers back to a championship?
With the great reward of LeBron James comes great responsibility. In signing him, Magic Johnson started the fast break toward greatness. Now he must finish.
Get more of Bill Plaschke's work and follow him on Twitter @BillPlaschke
---
All things Lakers, all the time.
Get all the Lakers news you need in Dan Woike's weekly newsletter.
You may occasionally receive promotional content from the Los Angeles Times.