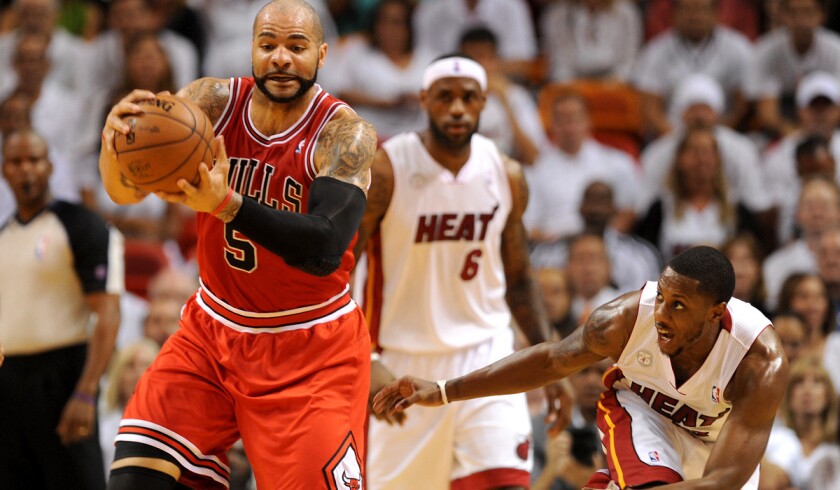 The amnesty market turned out a lot better for the Lakers than the free-agent market.
They successfully submitted a bid Thursday for power forward Carlos Boozer, waived by Chicago two days earlier via the amnesty provision.
The Lakers' put in their offer of $3.25 million directly to the NBA office, outbidding an unspecified number of teams.
Boozer, 32, averaged 13.7 points and 8.3 rebounds last season for Chicago. He lost playing time to up-and-coming power forward Taj Gibson late in the season and his days were numbered after the Bulls signed Pau Gasol to a free-agent contract this week.
He seemed confident, though, despite averaging only 9.6 points and 7.8 rebounds as the Bulls lost to Washington in the first round of the playoffs.
"I know I can play at a high level," the 6-foot-9 Boozer told the Chicago Tribune last month. "My body feels great. I still have 30-35 minutes a night in me and can average a double-double or close to it."
The money the Lakers bid for Boozer becomes his salary next season and is given to the Bulls to help offset the $16.8 million they owe him.
As per terms of the amnesty process, the Lakers cannot trade Boozer next season. He becomes a free agent next July.
The Lakers now have five big men on their roster: Boozer, Jordan Hill, Robert Sacre, rookie Julius Randle and Ed Davis, who accepted a two-year, $2-million contract Wednesday.
They also hope to add Ryan Kelly to complete their big-man rotation.
The bid for Boozer is a relative bargain compared to some past players via amnesty, which allows teams a one-time chance to cut a player without having to pay luxury taxes on his salary.
Luis Scola was claimed by Phoenix for $13.5 million in 2012, Travis Outlaw was claimed by Sacramento for $12 million in 2011 and Brendan Haywood was claimed by Charlotte for $6.2 million in 2012.
The Lakers used the amnesty provision on Metta World Peace last year. Nobody claimed him and he became a free agent, eventually signing with New York.
Under league rules, bids may be submitted for an amnestied player only by teams under the salary cap. The Lakers were one of nine that could have bid, including Utah, where Boozer spent six years of his career. He has averaged 16.6 points and 9.8 rebounds over 11 NBA seasons.
The successful claim marked a rare victory for the Lakers this off-season.
They failed in their attempt to woo free agent Carmelo Anthony, who stayed with New York amid better contract terms — five years and $129.1 million instead of four years and $95.9 million with the Lakers, the most they could have offered.
Then they lost Gasol, who agreed to a three-year, $22-million deal with Chicago after declining more money from the Lakers, who offered three years and $29 million.
Boozer could easily become a Lakers starter and could also play center if necessary, though he would be undersized for the position.
The Lakers now have effectively 11 players on their roster: Kobe Bryant, Steve Nash, Nick Young, Jeremy Lin, the five post players mentioned above and two players without guaranteed contracts — Kendall Marshall and second-round draft pick Jordan Clarkson.
The main spending tool they still own is the "room" exception, which allows teams that fall below the cap to offer a player $2.7 million next season. Other than that, the Lakers can offer only minimum-level contracts such as the one Davis accepted Wednesday.
---