Lakers want Brandon Ingram to have fun and enjoy his time as a young player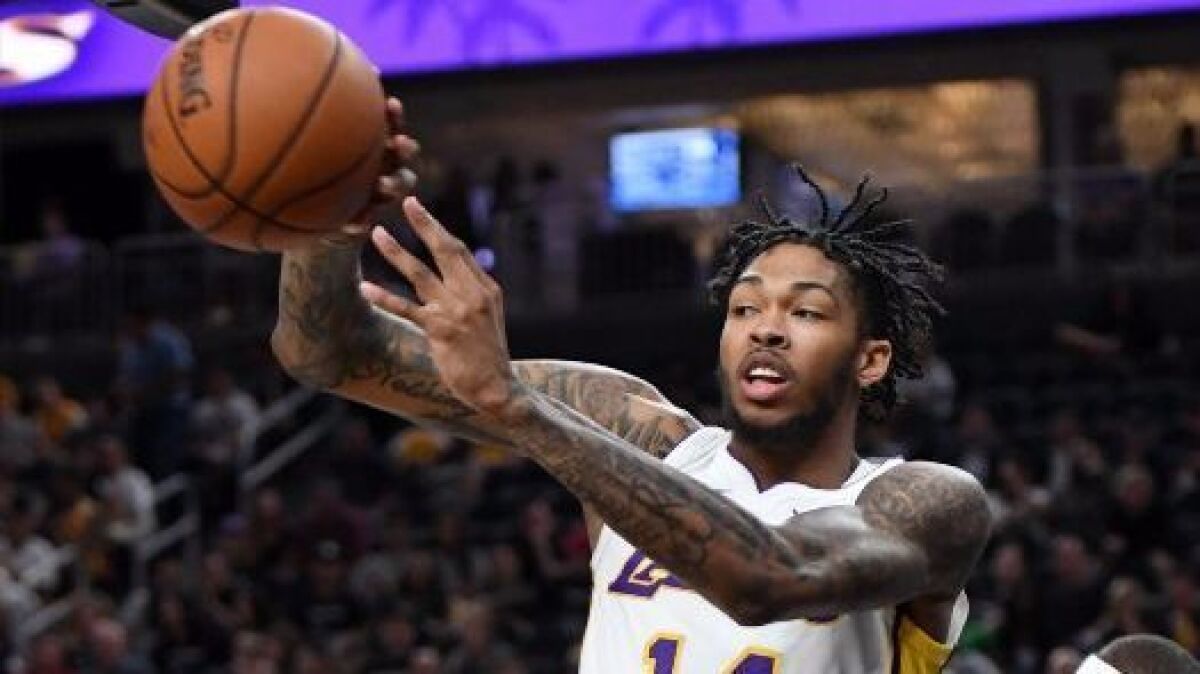 On Sunday night in Las Vegas, Magic Johnson, a man with great expectations for Brandon Ingram, made an observation to the second-year forward.
He hadn't seen Ingram have fun yet this preseason. And he wasn't alone in feeling that way.
"I think [Lakers coach Luke Walton] and Magic have been trying to tell me just go out there and have fun," Ingram said. "Just try to go out there and relax a little bit and play my game."
Ingram did change over the summer. His body filled out a little bit. He gained confidence he didn't have as a rookie. He entered training camp eager to show what was different. As he enters his second NBA season, the Lakers imposed some big, public expectations on Ingram, whether those be that he lead the Lakers in scoring, or that he take over and make the Lakers his team.
But all that progress from the offseason hasn't yet translated onto the court.
"I feel like offensively it is not going so well, at all," Ingram said Monday. "Kind of figuring out how to do different things on the basketball floor. I know I put in a lot of hard work in during the summer so it got to come sooner or later."
It's early, but Ingram has averaged eight points, 4.3 rebounds and 2.7 turnovers per game this preseason.
"He wants to be great so bad and he's worked so hard that he wants to show everyone how good he is," Walton said. "I think because of that he's had some possessions where he definitely is trying to do too much. My message to him is look, we're going to be together for a lot of years and you're going to be a great NBA player. So just keep working the way you work and enjoy it. Have fun with your young teammates, growing together and let the game come to you as opposed to trying to go out there and force some things."
Perhaps most worrisome, at least for now, are his shooting numbers. Ingram is making only 26.7% of his field goals and 12.5% of his three-pointers. Last season Ingram shot 40.2% and 29.4% from three. Ingram shot the ball well in college and had hoped to improve his numbers this year. To that end, he spent time with Lakers assistant coach Brian Keefe working on that, and teammates said they noticed a difference in his form.
"Feels good," Ingram said of his shot. "I am just a little uptight sometimes."
Walton said Ingram came into training camp with some minor injuries that affected his routine. He thinks that might have something to do with Ingram's cold start and said Ingram has recently been able to get back to the routine with which he feels comfortable.
"To me it's similar to how last year went," Walton said. "Early on we kept telling you how good this guy is and the numbers weren't matching up. And then he got his rhythm later in the year and was really good from January on. I think right now it's just about him finding his rhythm and comfort again."
Ball ruled out for Tuesday
Lonzo Ball will not play in Tuesday's exhibition game against the Utah Jazz at Staples Center.
Ball is still recovering from a left ankle injury he suffered on Oct. 2 against the Denver Nuggets. Ball blocked a shot taken by Nuggets guard Emmanuel Mudiay, then came down awkwardly on Mudiay's foot.
Walton has not ruled out Ball missing the rest of the preseason, which would include Tuesday's game and Friday's game against the Clippers. Although he expects Ball to be back before the start of the regular season on Oct. 19, it's possible Ball misses the Lakers' opener.
On Monday, Walton ruled out Ball for Tuesday's game because Ball missed Monday's practice. Before Ball plays in a game, he'll need to go through a practice.
Cuts begin
The Lakers made their first cuts to their roster on Monday, waiving Stephen Zimmerman and V.J. Beachem.
Zimmerman spent most of his childhood in Las Vegas and played basketball for one year at Nevada Las Vegas. He was waived a day after the Lakers returned from playing in Las Vegas.
Beachem was signed to a training-camp deal as a rookie out of Notre Dame.
The Lakers roster is down to 18 players. They must reduce their roster to 15 players by Oct. 16. The team has 14 players under guaranteed contracts with one spot that will go to someone on a partially guaranteed training-camp deal.
It's likely that remaining roster spot will go to Andrew Bogut, the Australian big man who signed with the Lakers the week before training camp. Bogut was ruled out of Tuesday's game as well as he recovers from a groin injury.
Follow Tania Ganguli on Twitter @taniaganguli
All things Lakers, all the time.
Get all the Lakers news you need in Dan Woike's weekly newsletter.
You may occasionally receive promotional content from the Los Angeles Times.