Five takeaways from the Lakers' 108-103 win over the Chicago Bulls
Reporting from Toronto —
The big news from last night's postgame locker room?
Kyle Kuzma's coat.
As Kuzma began his postgame news conference, his teammates suddenly started howling for him to put on the coat. It was camel-colored with an exaggerated fur trim and hot-pink silk lining. A laughing Julius Randle walked over, picked up the coat and put it around Kuzma's shoulders. Seconds into the interview, Jordan Clarkson gave his assessment.
"See the pink there," Clarkson said, folding out one side of the jacket. "And it's silk. All for the ladies. They're gonna get right in there, be real comfortable. You ain't slick, man — taking a page out of my book."
Kuzma later said his teammates were just jealous of the look and the only one who could pull off said jacket was Clarkson. Clarkson also is probably the only one who would try to pull it off.
It was a happy locker room after the Lakers' fourth consecutive win (all against Eastern Conference teams). They have won eight of their last 10 games.
Here are five takeaways from the Lakers' 108-103 victory over the Chicago Bulls.
1. The Bulls are not a good team. In the mildest of terms, they are rebuilding. For a lot of the season, the Lakers have had a habit of playing worse against bad teams, which led to some losses they should not have taken. Friday's game showed that the Lakers are doing a better job of taking a counterpunch. They led by 17 points, lost that lead entirely, but still managed to pull away late in the game. This is progress.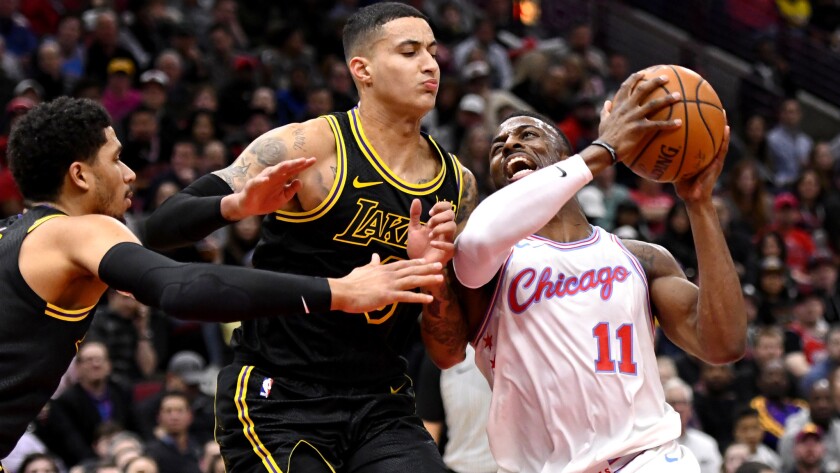 2. Brook Lopez has to be frustrated with his situation, which in some ways is unavoidable. The Bulls went with a smaller lineup often enough that it diminished Lopez's chances on the court. Lakers coach Luke Walton said Lopez was the Lakers' best and most consistent player in the game. He scored 17 points through three quarters, enjoying the matchup against his twin brother, Robin. But Lopez did not get any playing time in the fourth quarter, partly because of the Bulls' lineups, and his postgame interview was curt.
3. Brandon Ingram is fully coming out of his injury. Ingram missed two games with an ankle sprain, and when he returned, he wasn't as aggressive. When asked whether Ingram's injury was lingering, he said, "It was, but I just had to be stronger mentally … sharper mentally. I knew I needed to be out there with my teammates and just try to be as effective as I could." Ingram scored 25 points on 10-of-18 shooting.
4. Jordan Clarkson scored 19 points, making all six of his free throws, with four assists and two rebounds. Walton was asked what he likes about Clarkson's play lately. "Everything," he said after the game. "He's really found a nice rhythm for himself. They were all over him tonight. They were hounding him. He missed some shots he's been hitting, but he was still aggressive. He was still competing."
5. Lonzo Ball isn't any closer to returning, but the Lakers are getting better at playing without him. They lost the first eight games he missed, but since have won four in a row. The play is happening by committee as different players have helped fill the gap left by the rookie point guard.
Follow Tania Ganguli on Twitter @taniaganguli
---
All things Lakers, all the time.
Get all the Lakers news you need in Tania Ganguli's weekly newsletter.
You may occasionally receive promotional content from the Los Angeles Times.