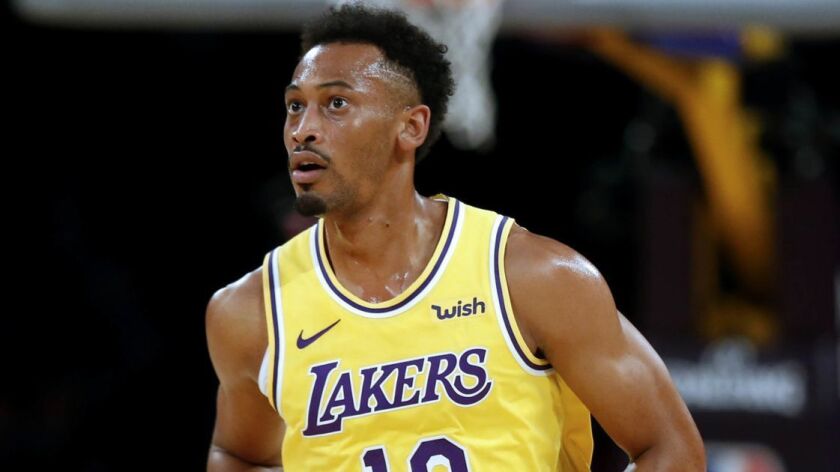 The Lakers have extended qualifying offers to Alex Caruso and Johnathan Williams, making them restricted free agents.
Williams would become a two-way player if he accepts, which means he would not affect the salary cap.
Both players became important parts of the Lakers' rotation toward the end of the season when the Lakers had shut down or lost several players because of injury issues. With a lineup packed with players who'd spent at least some of the season with the South Bay Lakers, the Lakers played with a renewed energy and joy.
Caruso played in 25 games last season with four starts averaging 9.2 points, 3.1 assists and a steal in 21.1 minutes per game. Having played college basketball at Texas A&M, he has been with the Lakers for two seasons as a two-way player, first making a name for himself at Las Vegas Summer League in July 2017. In his first season with the Lakers, he played in 37 games, starting seven. His shooting percentage improved from 43.1% in his first year to 44.5% in his second season. Caruso also averaged 1.1 more assists per game in his second NBA season.
He played in all of the Lakers' last 18 games, and averaged more than 37 minutes in each of their last four games. He accomplished double doubles in the last three games of the season.
Sign up for our Lakers newsletter »
Williams, who played college basketball at Gonzaga, saw his first NBA action last season. He played in 17 of the Lakers' last 18 games, and more than 20 minutes per game in their last four games, scoring at least 12 points in each of those games.
His season high came earlier in the season when he scored 18 points against the Boston Celtics.
Williams notched three double doubles last season, while averaging 6.5 points and 4.1 rebounds per game.
Follow Tania Ganguli on Twitter @taniaganguli
---