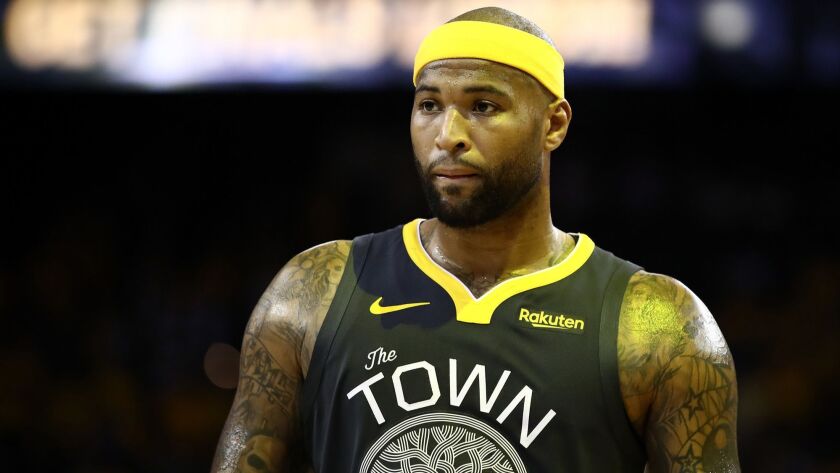 The last time DeMarcus Cousins and Anthony Davis played together, they loved it.
"Me and A have talked about it numerous times, about being teammates again," Cousins said on a conference call Wednesday evening. "We never wanted it to end but everything happens for a reason."
They played together for the New Orleans Pelicans for about one season, a formidable pair for a time. Then Cousins tore his left Achilles tendon and that was the end for them. Until this season. Davis helped recruit Cousins to the Lakers, with whom Cousins signed a one-year deal worth $3.5 million. And now Cousins can't wait to resume the partnership. Especially on a roster like this one.
"We realized how much better we made one another and how much we made the game easier for one another. I think we both appreciate each other's presence," Cousins said. "To add LeBron James to the mix, his resume speaks for itself. One of the greatest players ever to play this game added to that. It should be an exciting season."
Cousins spent the first six-and-a-half years of his career with the Sacramento Kings, one of the league's premiere big men during his time there. The Kings traded their mercurial star to the Pelicans at the trade deadline in 2017. In New Orleans he found a rhythm and many thought he was playing the best he'd ever played. He played 48 games for the Pelicans the next season before the devastating injury.
Cousins entered free agency at the end of that season and signed with the Golden State Warriors on a one-year deal worth $5 million. He didn't play until mid-January — a week shy of the anniversary of his torn Achilles. It was a luxury the stacked Warriors could afford. But then he tore his left quadriceps muscle in the second game of the playoffs, against the Clippers, and the process began again.
The day before that game against the Clippers, Cousins had been thinking he was finally feeling back to his old self.
It's changed the way he looks at basketball.
"I love it that much more" Cousins said. "Everything I've gone through in the past three years it just helped me realize how fast this thing can be taken away from you. I love it that much more. I'm grateful for every opportunity. I learned the hard way."
While he returned for the NBA Finals, he didn't seem fully healthy. Cousins now says that his quadriceps muscle is 100% healthy.
The Miami Heat reportedly had interest in Cousins too, but he felt comfortable with the Lakers' message. He heard the same message from Davis as he did from LeBron James, Rajon Rondo (also a former Pelicans teammate), the Lakers' coaches and management.
"We're all here this season to compete for a championship," Cousins said. "That's that. I think we can all agree on that. With that being said it was an easy decision."
Being on a one-year deal gives him something to prove. But then, Cousins always has felt that way.
"I've kind of been doubted my whole life," he said. "I use that as fuel to continue to push every single day. One of my biggest fears is to be proven wrong by somebody that doesn't agree with me or doesn't have my best interest at heart. With that being said I'm always seeking to prove those types of people wrong."
Sign up for our Lakers newsletter »
Follow Tania Ganguli on Twitter @taniaganguli
---