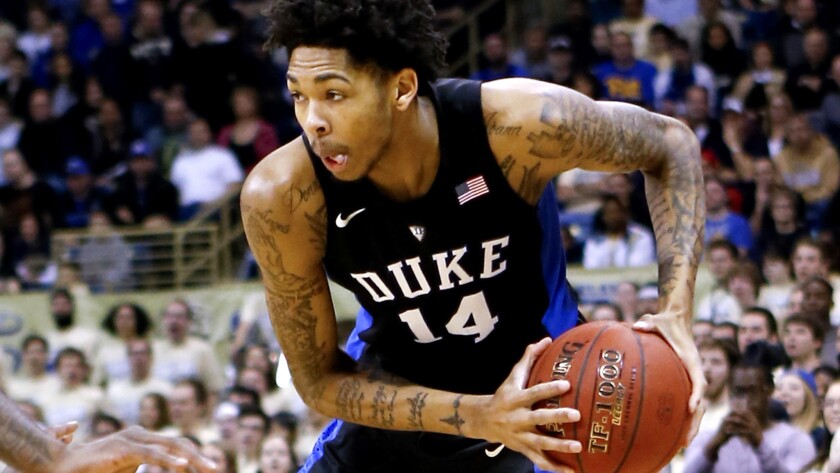 Here we are again. The most enthralling part of the NBA postseason is upon the Lakers.
No confetti. No Game 7s. Just 14 ping-pong balls in a plastic drum that bounce around via air current, blowing franchises into or out of contention for the world's top three amateur players.
It's another mid-May, and instead of trips to purple-and-gold-hating arenas, the Lakers will send General Manager Mitch Kupchak to a New York hotel for Tuesday night's draft lottery.
It's routine these days, the third trip in a row to lotteryville for the Lakers. The stakes seemingly increase every year, and the key number this time is 55.8% — the chances the Lakers stay in the top three and don't lose their pick because of the Steve Nash trade four long years ago.
There are five Lakers possibilities Tuesday. Two of them are solid, one is calamitous and two others are only so-so while attached to a degree of uncertainty.
1) The Lakers win the top pick (19.9% chance).
If this happens, Kupchak is allowed to (A) open up a magnum of Veuve Clicquot, and (B) pour it on his head on live TV.
Seventeen measly victories in an utterly heinous season will have paid off with the Lakers choosing between Louisiana State forward Ben Simmons and Duke forward Brandon Ingram at the June 23 draft.
There will be some debate about whether to take 6-foot-10 triple-double threat Simmons or the smooth-shooting 6-9 Ingram.
Each player has a minus — Simmons took only three three-point shots in 33 college games and Ingram weighed a reed-thin 190 pounds — but they are the players best equipped to quickly change a team's fortunes in this draft.
Don't be surprised if the Lakers take an extra long look at Ingram, a well-rounded personality who, unlike Simmons, gladly went through the interview process with teams at last week's draft combine.
And he can make three-pointers. Can he ever. This is important to new Coach Luke Walton and, presumably, Lakers followers dying for a more exciting offense.
2) The Lakers win the second pick (18.8% chance).
Not a bad runner-up prize. Wait for the team with the No. 1 pick to draft Simmons or Ingram. Take the other guy. Easy.
3) The Lakers finish with the third pick (17.1% chance).
Uh-oh. No-man's land. Simmons and Ingram are clearly the top picks but finishing third opens up all sorts of Lakers questions.
The good news is they keep the pick. The bad news is the glut of players who didn't separate themselves for this spot throughout the college and international season.
The candidates, after a deep breath: Croatian power forward Dragan Bender, Providence point guard Kris Dunn, Oklahoma guard Buddy Hield, Kentucky guard Jamal Murray, California guard-forward Jaylen Brown, Marquette forward-center Henry Ellenson and Utah center Jakob Poeltl.
That's a lot to wade through between now and the draft. But it beats the fourth possibility.
4) The Lakers drop out of the top three (44.2% chance).
This would be devastating for the Lakers. Dev-uh-state-ing.
That historically painful 2015-16 season? All for naught if a mere two teams pass the Lakers on lottery night.
It happened to New York last season, the Knicks falling from two to four faster than you can say Ernst & Young, the accounting firm in charge of verifying the actual closed-doors drawing.
If the Lakers lose their pick, they'll say everything's fine and, hey, at least we definitely keep our first-rounder next season! But it would truly be a gut punch to fall below third.
The Lakers are in prime drafting position after finishing with the NBA's second-worst record. It's highly unlikely they finish with as few as 17 victories again next season. They have too much free-agent money to be this awful again, so their chance at a top-three pick will wane because someone will take their money this summer, even if it isn't Kevin Durant.
So this is it. Dropping out of the top three would be a debacle for the Lakers. A Nash-sized one.
5) The Lakers trade the pick if they keep it.
The variable in the equation, the unknown ingredient in the soup.
If the Lakers finish with a top-two pick, it's hard to envision them dealing it. But if they finish third, everything is in play.
The key is to find someone (Sacramento) who falls in love with a player over the next five weeks (Sacramento) and has an unhappy veteran on the roster (Sacramento).
There are occasional trades involving top-five picks — Minnesota acquired Andrew Wiggins two years ago in the Kevin Love deal — but, as always, it takes more than one team to make a trade. These things just don't pop out of ping-pong-ball hoppers, though. That's reserved for Tuesday.
Twitter: @Mike_Bresnahan
MORE SPORTS NEWS
Western Conference finals will feature some of the most prolific players in the NBA
Candace Parker's 34 points lead Sparks over Seattle, 96-66, in season opener
Dave Roberts loses a game of managerial chess, and Dodgers lose to the Cardinals, 5-2
---