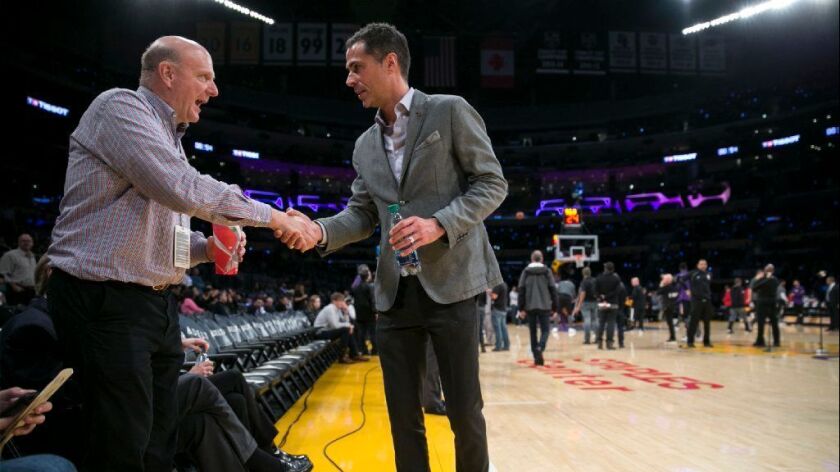 That it takes a few All-Star players to win a championship in the NBA is no secret.
That the Lakers aspire to win a championship as soon as possible is no secret either. It's why owner Jeanie Buss turned over the team's front office nearly two months ago.
So how quickly can Lakers general manager Rob Pelinka and president of basketball operations Magic Johnson turn the Lakers' roster into one that can compete for a championship?
It's complicated.
"I anticipate that there are many stars that understand how unique this Los Angeles Laker platform is. I am fully convinced we will have one or more than one come," Pelinka said. "To put a timetable on it, I can't do that."
Pelinka spoke on Thursday amid exit interviews. He, Johnson and Lakers coach Luke Walton met with each player to discuss their expectations for them and their evaluations. They'll expect most players to take some time off to refresh after the season, then return to Los Angeles for offseason workouts.
The Lakers haven't determined which players on their roster now are part of their future. The front office's evaluation isn't over yet.
"Guys that aren't committed to excellence won't be here," Pelinka said.
In the coming months, the Lakers will explore trade possibilities and study their options in the draft. The Lakers will keep their lottery pick only if it is in the top three, and they have a 47% chance of that happening. Pelinka said the Lakers have plans to return the team to prominence no matter what happens with that pick.
Part of that will involve potential free agents. While this summer's crop of free agents isn't expected to be very deep, next summer's could be. And while top free agents have shunned the Lakers for the past few years, Pelinka thinks that is changing.
"Whereas in past years it was, 'Gosh I don't even know if we're going to get meetings with certain players,' you can just feel a current shifting now towards us," Pelinka said. "There's an excitement of, 'Gosh that's a huge destination,' whether it's people … saying they want to be drafted here now or whether it's just rumblings you hear about players that want to come to L.A., you can feel the current shifting our way."
Ingram to work with Kobe
During Brandon Ingram's exit interview Thursday, Johnson and Pelinka suggested he spend time with Kobe Bryant this offseason to learn from Bryant's expertise.
"Just saying what I should look for in this organization, how I should be in this organization," Ingram said. "They definitely thought Kobe should be one of the people I should talk to just about how he felt at 19 years old, 20 years old, being in this organization."
Before the All-Star break, Bryant and Ingram communicated about possibly getting together.
"Kobe has been receptive to working with lots of players in the offseason," Pelinka said. "He benefited so much because he was aggressively reaching out to the greats [in his own career]."
Walton hopes when Ingram and Bryant meet, the benefit for Ingram will be both mental and physical. Walton hopes they can work together in a gym so Bryant can show Ingram some of the drills he spent countless hours perfecting.
"I can coach Brandon, [but] Brandon's a much better basketball player than I was," Walton said. "There's certain players that need guidance from certain players. … He can learn a lot from someone like Kobe that's been through it and has a certain kind of skill at a level that's much higher than me or anyone on our staff had."
Bryant has been around the organization some lately. He attended Pelinka's introductory news conference and also spoke at Shaquille O'Neal's statue ceremony at Staples Center.
"The Lakers are my family," Bryant said, when asked last month if those appearances were a sign he'll be more involved with the team. "I'll always be available for [owner] Jeanie [Buss] and the whole organization. They know I'm only a phone call away."
Lakers move on from World Peace
Metta World Peace isn't likely to return to the Lakers next season.
"Magic said he's probably not going to bring me back," World Peace said Thursday at the team's training facility in El Segundo after a brief meeting with members of the front office. "They really appreciated a lot of the things that I brought to the table this year with the rookies. And just working hard every day."
The decision to inform World Peace that he would not be on the team next season was made swiftly to ensure that he would have a chance to work out for other organizations.
World Peace has said he wants to play for 20 years. So far he's played 18 seasons — 17 in the NBA and one overseas. Six of those seasons were spent with the Lakers, where he helped them win an NBA title in 2010.
He scored 18 points, the most he has scored since November 2013, in a home finale against New Orleans on Tuesday.
The Lakers considered adding World Peace to their staff in some capacity before the 2016-17 season, but World Peace wanted to keep playing. Walton has long thought World Peace would make a good coach.
"We'd love to have him back," Walton said. "Come back and talk to us and see how we can have you be around and continue to help these young guys."
Said Pelinka: "Everyone loves his work ethic. Everyone loves his commitment to being the best version of himself.… He was a leader all season long."
Follow Tania Ganguli on Twitter @taniaganguli
Follow Lindsey Thiry on Twitter @LindseyThiry
---