Lakers struggle to reset their clocks after trip to China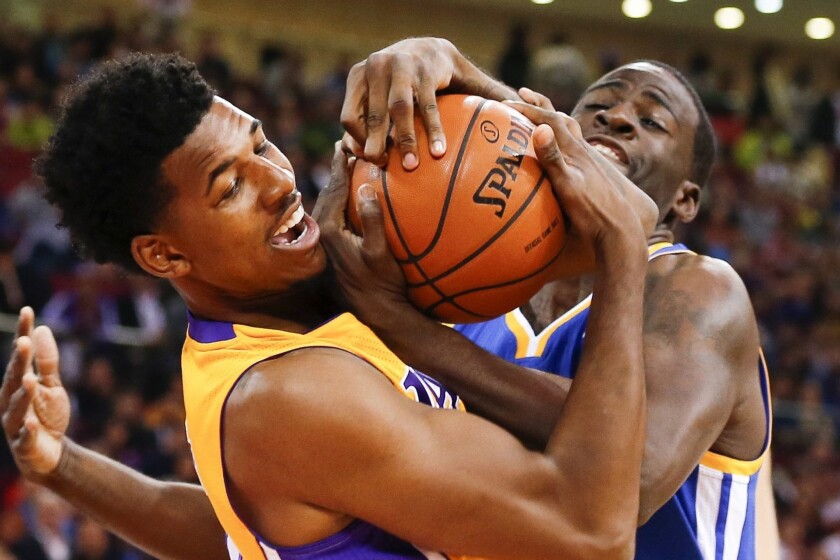 The Lakers were dragging for a team that landed before it took off.
Their charter flight touched down at Los Angeles International Airport late Friday night, about three hours prior to an early Saturday morning departure from China.
The 12-hour flight and accompanying 15-hour time change left their body clocks wildly askew once they reconvened for practice Sunday in El Segundo.
Coach Mike D'Antoni called off practice a little early and noticed a few players were nodding off during a film session.
"Of course," D'Antoni quipped, "that could be normal too."
Forward Nick Young said he didn't fall asleep until after 5 a.m. Saturday and spent most of the following night staring at the ceiling.
With only eight days left before their season opener, the Lakers must quickly get back into a normal routine.
Not that they want to erase the memories of their trip.
Young said he loved tobogganing down the Great Wall and was thrilled to hear a fan shout his nickname — Swaggy — amid all the Kobe Bryant chants.
Forward Pau Gasol said he enjoyed a bonding dinner in Beijing with his teammates and their spouses and girlfriends.
The highlight for D'Antoni was a dinner with former Houston Rockets sensation Yao Ming that included several Chinese delicacies.
"We asked him what was this, what was that," D'Antoni said. "He goes, 'In China, you eat first and you ask later.' "
A banner season?
Staples Center took on a foreign feel while the Lakers were overseas.
The team's championship banners and retired jerseys were covered with massive pictures of Clippers players in a move Clippers Coach Doc Rivers said would showcase his team's top players during its home games.
Of course, it also happens to obscure the Lakers' storied past.
"Oh, that's disrespectful," said Young, who has played for both teams. "We've got to talk to Doc. He can't have that. We've got to do something about that."
Their first chance comes in their opener Oct. 29 against the Clippers, which will be a designated Lakers home game. The first time the teams will play with the Lakers' banners covered will be Jan. 10. Mark it down.
"That's their court at that time," D'Antoni said. "So, yeah, I probably wouldn't have Lakers stuff overhead if it's my court. So I don't blame [Rivers]."
Young apparently does.
"I think he shouldn't come in and have that much pull like that," Young said. "He has to earn his keep."
Even though Rivers won an NBA title with the Boston Celtics?
"But," Young said, "he hasn't won a title in L.A."
Etc.
Chris Kaman did not practice because of a stomach virus and Steve Nash was limited because of stomach issues, D'Antoni said. … The coach said he still did not know when Bryant might participate in his first practice since tearing his Achilles' tendon in April. … Young, on Bryant: "I didn't know he had a little sense of humor too. I thought he was just a robot."
Twitter: @latbbolch
---
All things Lakers, all the time.
Get all the Lakers news you need in Dan Woike's weekly newsletter.
You may occasionally receive promotional content from the Los Angeles Times.