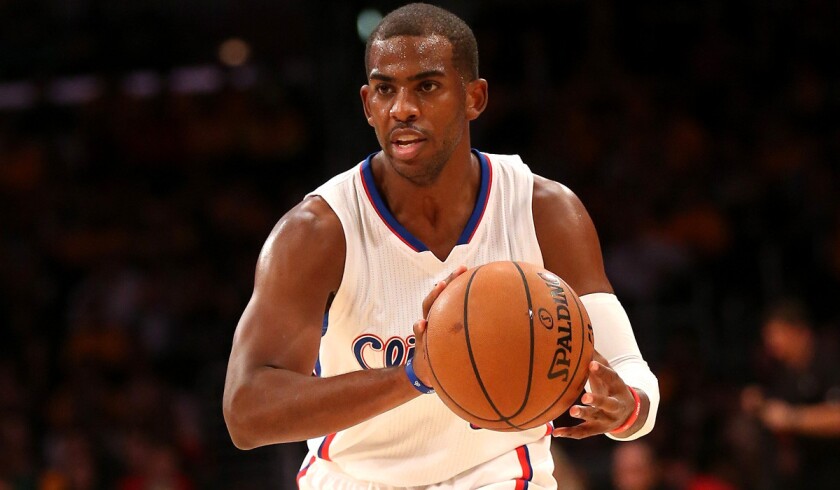 It's always a problem for the Lakers, this whole Chris Paul thing.
Especially when he zips and whips around them in another Clippers victory, jamming the latest needle in the side of a fan base that still blames David Stern.
With the Lakers so low to start this season, it was hard not to revisit the Paul story lineespecially with him totaling 12 points and 10 assists in the Clippers' 118-111 victory Friday.
Who could forget the former NBA commissioner citing "basketball reasons" for vetoing the trade that was supposed to send Paul to the Lakers, Pau Gasol to Houston and Lamar Odom to New Orleans in December 2011?
The Lakers appeared to have acquired their most dynamic point guard since Magic Johnson, but then small-market owners raised a racket, Cleveland's Dan Gilbert in particular calling the trade a "travesty" in a lengthy letter to the league.
David Stern said no. The deal was off.
"Sometimes you want to say, 'Dammit, David Stern,'" Lakers Coach Byron Scott said before Friday's game. "When they made the trade, before David kind of X'd it, I was like, 'Wow, that's going to be fantastic.'"
Then again, Scott might never have become the Lakers' coach, the franchise going down a presumably more optimistic path with Paul than the one that took them through Mike Brown and Mike D'Antoni, not to mention Steve Nash, acquired from Phoenix in July 2012 for two first-round and two second-round picks.
Nobody seemed more surprised by the death of the deal than Paul, who wrote "WoW," on Twitter that day.
The Lakers were privately appalled by Stern's decision and appealed it, General Manager Mitch Kupchak summing it up politely at the time by saying the Lakers "did the best we can to express our displeasure."
Paul found a way to the Los Angeles, though, a week after the Lakers' deal fell apart. The Clippers got him by sending Eric Gordon, Chris Kaman, Al-Farouq Aminu and a first-round draft pick to New Orleans.
It still struck a nerve two years later with Kobe Bryant, who found a way to jab it while his daughter and Paul's young son played basketball together during last year's All-Star festivities.
"At least lil @CP3 and baby Mamba can play together NBA can't veto this one Ha!" Bryant wrote on Twitter.
Scott could only dream of Bryant and Paul in the same backcourt.
"Mmm-hmm. I could really imagine that," he said Friday. "There would be a big smile on my face if that was the case."
Still a fan
Scott's affection for Paul comes from "some of the best times I've ever had" as a coach.
"I love Chris Paul like a son," Scott said. "He's arguably the best point guard in this league, one of the best leaders in this league. I have nothing but fond memories of being with Chris."
Scott coached Paul in New Orleans for a little more than four seasons.
Their friendship was put on hold for about three hours Friday.
"I won't like him tonight, but after tonight's game is over we'll go back to being buddy-buddies," Scott said. "We've sent texts to each other during the preseason, talking a little trash, just having some fun."
Twitter: @Mike_Bresnahan
---