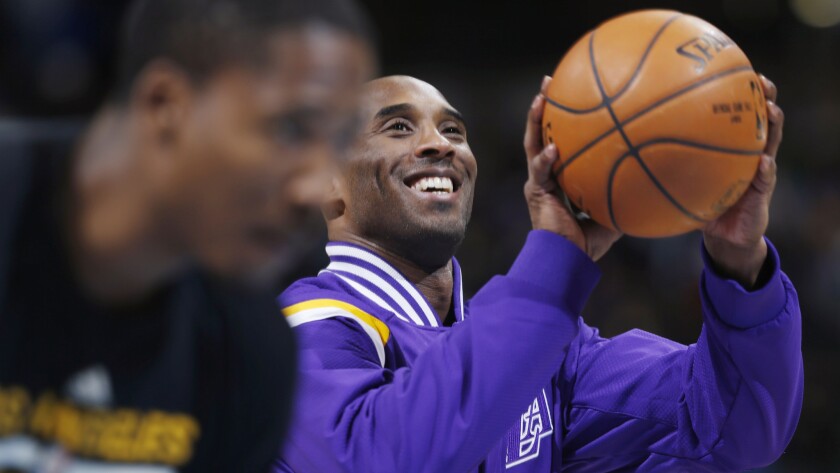 Kobe Bryant had a lecture for media members as they surrounded his locker.
He had just accumulated the 21st triple-double of his career, a 23-point, 11-rebound, 11-assist endeavor Tuesday against Denver. Time to wag the finger, Dikembe Mutombo style.
He wasn't angry at all — the Lakers had just won, 111-103 — but he firmly batted away a question about his passing vs. scoring personas.
"I don't know why it's so hard for you guys to understand that. No, I really don't," he said. "Like, it's fascinating to me. When [teammates] are open, they make shots, it's easy. I sit back.
"When they don't and we're down 15 or something points, I try to get it going. Sometimes I make them. Sometimes I don't. When I don't, you think it's because I'm not passing the ball. It's really that simple. You guys have a very hard time understanding that for some reason."
Then he turned to the reporter who asked the question.
"Not you," he said. "I follow who's slow and who's not."
Since returning from a three-game rest, Bryant has taken 21 shots while handing out 18 assists. Before he went on his week-long sabbatical, he was averaging 4.6 shots for every assist.
He said he spent some time analyzing his game while he was sidelined. He promised to not try to blow past people anymore. He wanted to get to his spots in the post and back people down.
And, sure, be more of a distributor.
It was easy to believe after watching the last two games, especially Tuesday.
"They double-teamed him from the tip," Carlos Boozer said. "He's a super-smart player, so what he did, he just started passing from the beginning. And then when he felt single coverage, he was aggressive.
"He just got everybody involved. Guys got great shots, wide-open shots, layups. That set the tone for the whole game."
Boozer had 19 points and Ronnie Price had 18.
Etc.
Tarik Black suited up but did not play against the Nuggets. Lakers Coach Byron Scott wanted to see Black get some practice time before using him in games. The rookie center was claimed by the Lakers after Houston waived him last week. … Ryan Kelly went through an individual workout before Tuesday's game and remained on track to play Friday against Memphis. The reserve forward has played only three games because of hamstring problems.
---