Lakers' Wesley Johnson faces 'frustrating' free agency again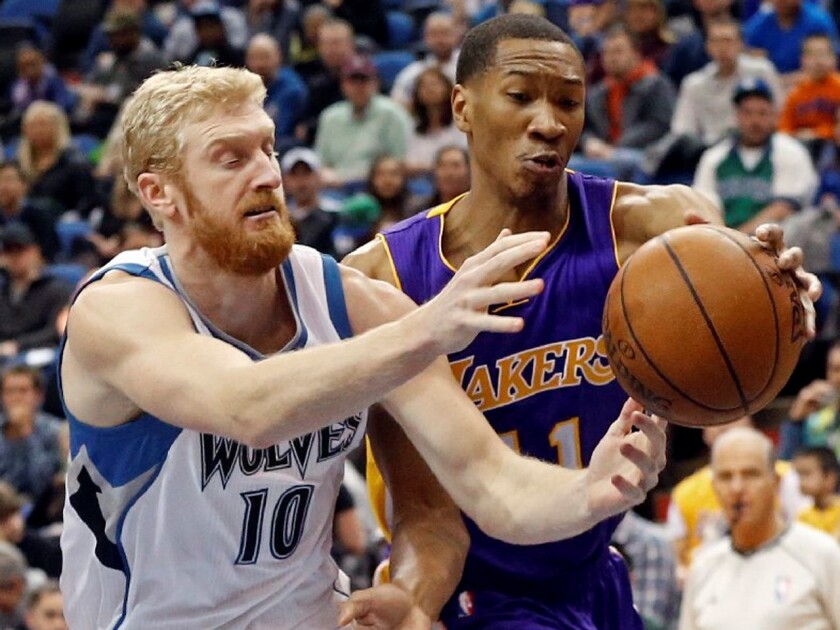 Reporting from Minneapolis —
Wesley Johnson was back, yet again, in the city where he was originally drafted with such high hopes.
The Minnesota Timberwolves took him with the fourth overall pick in 2010, and it's easy to find photos of a smiling Johnson on draft night, shaking David Stern's hand in a suit with plaid pants and smiling broadly for the cameras.
But he was dealt to Phoenix two years later, one of many pieces in a three-team trade in which Robin Lopez, not Johnson, was the biggest name to change uniforms.
It started a quiet but gradual slip for Johnson, a kind and insightful Lakers forward who will re-enter free agency a third consecutive season in July.
"It's frustrating," he said in an interview. "It's one of those things you've just got to continue to play whenever you do get to a team. I try to go out there and prove myself. Going into the off-season, we'll see what happens. It is frustrating, though."
The Lakers generally like him, though he can be difficult to predict because his motor doesn't always run at high speed.
He frustrated former Coach Mike D'Antoni to no end, scoring in double-figures and playing great defense on one night, only to follow it up with neither of the above in the following game. Or, indeed, games.
The Lakers re-signed Johnson last July to a one-year contract for $1 million, the minimum for a player with his experience level.
His production this season probably bought him another contract with someone, be it the Lakers or whomever. Johnson, 25, is averaging 9.7 points while being shuffled in and out of the starting small-forward spot.
He said he "definitely" liked his work output this season, his scoring average bordering on a career-high.
"This year has been a huge key for me especially working with Kobe [Bryant] during the off-season," Johnson said. "It was great getting a good feel for the game and talking to coach and seeing what he wanted from me."
There will be a lot of movement this summer for the Lakers, who have only four players with fully guaranteed contracts next season — Kobe Bryant, Nick Young, Julius Randle and Ryan Kelly.
They are also expected to bring back Jordan Clarkson, Tarik Black and perhaps Robert Sacre, all of whom have non-guaranteed deals, but might lose Ed Davis, who will almost surely decline a minimal player option to return.
Johnson likes Los Angeles, enjoys living in Redondo Beach. He has considered returning to the Lakers despite their reluctance in the past to offer anything more than a one-year deal.
"I actually have," he said. "It's one of those things where you definitely don't want to jump ship when something's going bad. I actually want to be a part of it to see if we can get back on the right foot. We'll see what happens this off-season, see what direction they're going."
Clarkson keeps rolling
Clarkson's effort Tuesday against Oklahoma City wasn't anything remotely like a typical second-round draft pick.
He became the first Lakers player with 30 points, seven assists, four rebounds and three blocked shots in a game since Bryant in March 2007 against Minnesota.
Clarkson's scoring output was also the first 30-point night for a Lakers rookie since Eddie Jones in 1995.
He wasn't quite as sharp Wednesday against Minnesota, scoring 20 points with five assists but making only six of 16 shots and committing six turnovers in the Lakers' 101-99 overtime victory.
Twitter: Mike_Bresnahan
---
All things Lakers, all the time.
Get all the Lakers news you need in Dan Woike's weekly newsletter.
You may occasionally receive promotional content from the Los Angeles Times.