Rob Pelinka to be new Lakers general manager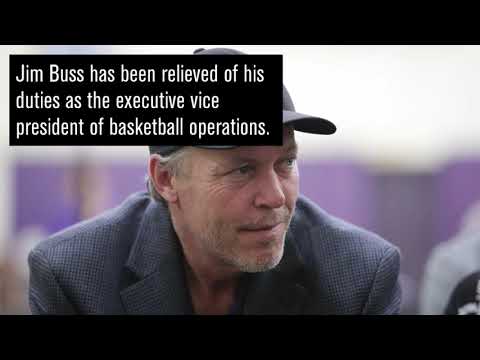 Jim Buss has been relieved of his duties as the executive vice president of basketball operations. (Feb. 21, 2017)
Magic Johnson, maybe the best basketball player ever to put on a uniform in Los Angeles, sat next to his new boss Tuesday afternoon inside a television studio and talked about his vision for his organization, the Lakers.
Johnson had been named the team's president of basketball operations earlier in the day, replacing President Jeanie Buss' brother, Jim. And, in one of his first moves behind the wheel of one basketball's most powerful franchises, Johnson needed to find someone to ride shotgun.
He knew who he wanted. The people in the room knew who he wanted. And everyone glued to Twitter following the incredible drama knew who he wanted after news broke of the Lakers' likely direction.
But, no one in the television studio in El Segundo could say it.
The people in the room, from Johnson to Buss to the hosts all knew Rob Pelinka was going to be the man. They just hoped to not accidentally blurt that out.
While a deal has yet to be announced, Pelinka is expected to be the team's next general manager.
Asked about his GM search during a nearly 30-minute interview on Spectrum SportsNet, Johnson gave descriptors like a witness to a police sketch artist.
"I want a person who understands the [collective bargaining agreement], but who also understands our team and wants to be here," Johnson said, checking off an imaginary list of Pelinka's qualifications. "And [one] who wants to work with both of us, and who knows players, knows agents — because we're gonna need all of that on his resume when he comes to work here — and who also has relationships around the league already. That's important, as well."
It would've only been clearer had Johnson said the team was searching for someone with Rob Lowe-esque features to be the new GM, a doppelganger of the 47-year-old Pelinka.
He's no stranger to the organization. Pelinka has been Kobe Bryant's agent for years, and he reportedly came with high endorsements from his most famous client.
And Pelinka knows the CBA well enough to get clients like James Harden massive contracts, and he knows the league and the world of agents.
Later in the day, Johnson would elaborate on the qualities he wanted in the Lakers' new general manager, and front-office experience, it turns out, wasn't one of them.
"Basketball has changed so much. Those days are over with. The salary cap and the new CBA has changed the game of basketball," he said. "People who understand the CBA, understand the salary cap, understand analytics — all of those things that [weren't] a big thing when I played [are] so much a part of the game."
Johnson insinuated that the deal the Sacramento Kings made in sending DeMarcus Cousins to New Orleans was motivated by changes in the CBA. Under the new league rules, Cousins was eligible to sign a five-year, $200-plus million extension with the Kings this summer.
"We saw that trade. That trade happened because of the new CBA. That's what they were saying. I can't mention names; the only thing I can say is 'that trade,'" Johnson said. "We understand they don't have to have experience. We see what happened with Golden State. We've seen teams that didn't hire guys who had experience in the front office before. "
According to Yahoo's Adrian Wojnarowski, the Lakers had hoped to lure Golden State General Manager Bob Myers — an agent who didn't have front-office experience before building the best team in the NBA.
In Pelinka, it appears, the Lakers have found someone who fits that template.
Like Myers who played at UCLA, Pelinka played in college, a reserve on the "Fab Five" team at Michigan. Both men eventually worked for agent Arn Tellem, with Pelinka founding Landmark Sports Agency, bringing Bryant with him as his most visible client. In addition to Harden, his roster of current NBA clients includes former Clipper Eric Gordon, former Laker Trevor Ariza, Boston's Avery Bradley and Golden State's Andre Iguodala.
"I think he'll be unbelievable in that role," Ariza told reporters in Houston on Tuesday night. "He knows basketball. He has a really, really good eye for talent. He knows team chemistry."
Pelinka must divest in his agency to accept the position with the Lakers.
While Johnson didn't say Pelinka's name publicly on Tuesday, it's clear he thinks he's hiring the right man.
"Look, I'm not going to have every answer, you know?" Johnson said. "But I think with Jeanie, myself, that person, Jesse [Buss], Joey [Buss], Ryan West and his scouting team, Coach [Luke] Walton, we'll come up with the right answer. It's going to be all of us working together, in communication with each other.
"That's how I built my organizations, and that's how I'll build this one, too. We just want to win — for the players and our fans."
Times staff writer Tania Ganguli contributed to this report.
MORE LAKERS NEWS
Lakers have two Rising Stars, but no All-Stars for the first time in 21 years
Five questions to keep in mind as the NBA trade deadline approaches
Lakers GM Mitch Kupchak, exec Jim Buss relieved of duties as Magic Johnson takes over basketball operations
All things Lakers, all the time.
Get all the Lakers news you need in Dan Woike's weekly newsletter.
You may occasionally receive promotional content from the Los Angeles Times.