Five takeaways from the Lakers' 108-105 win over the Miami Heat
Dwyane Wade's final game against the Lakers meant a lot to one Laker who wasn't LeBron James.
Josh Hart wears No. 3 because of Wade, a player he's always idolized.
"That's my role model, that's my favorite player growing up," Hart said. "Still is. Sometimes it's tough when you're playing that 48 minutes to separate those feelings. You want to be competitive, you're a competitor. It was awesome being in this game."
Hart came away with a souvenir that he carried with him after the game. Wade gave him his shoes, on which he had written #onelastdance.
But this basketball game wasn't only symbolic. Here are five takeaways from the Lakers' 108-105 win over the Heat.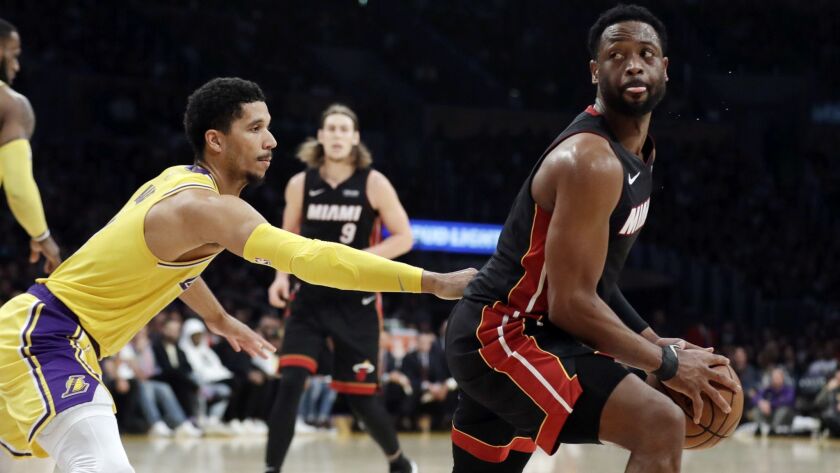 1. Kyle Kuzma had another terrific game, which is becoming sort of a thing. Kuzma has scored at least 20 points in the last five games. On Monday he led the Lakers with 33. Perhaps even more impressive is that Kuzma has had at least seven rebounds in all of those games. "Just being more aggressive, having more opportunity to score," Kuzma said. "I'm really looking to facilitate, find my teammates. Got back into a rebounding mind state and just improved defensively."
2. It's possible that Kentavious Caldwell-Pope leaves the Lakers via trade sometime soon. On Monday, he and Lakers coach Luke Walton had a confrontation that both he and Caldwell-Pope indicated was no big deal when asked about it. Caldwell-Pope was also asked about trade rumors and if they were a distraction for him. "I'm just focused on now, playing here now," he said.
3. The game was tight all the way to the end and the Heat even took a five-point lead with 8:15 left when Justise Winslow hit a three-pointer. But the Lakers closed in part, of course, due to James, who had 11 fourth-quarter points, including two threes. Walton saw it as another sign of progress. "That's another win we got tonight that we wouldn't have had earlier in the season," Walton said. "It doesn't feel as good but that's what we want. We don't want to be satisfied but it's definitely one that we scrapped out and found a way to win, and to me that continues to show growth from our guys, confidence that we can find a way, no matter what kind of game it is." He's right. They weren't winning games like this earlier this season and certainly not last season.
4. James has one triple-double so far this season, but there have been six times when he came within two rebounds or two assists of another triple double. He did that again Monday, needing only one more rebound to get a triple double.
5. Lonzo Ball had a rough start in which he missed several opportunities at the rim, but he recovered later in the game and made some very crucial plays for the Lakers. Ball finished with 10 points, four assists and seven rebounds, along with a plus/minus rating of 18.
Follow Tania Ganguli on Twitter @taniaganguli
---
All things Lakers, all the time.
Get all the Lakers news you need in Dan Woike's weekly newsletter.
You may occasionally receive promotional content from the Los Angeles Times.